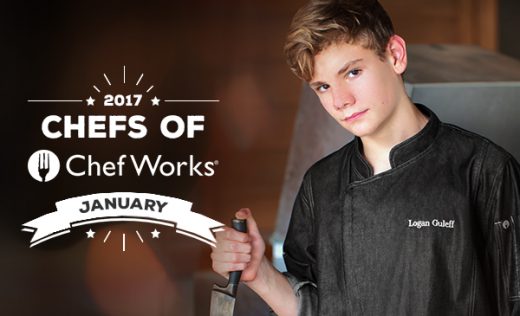 Chef Logan Guleff
The Winner of MasterChef Junior, Season 2!
Photo Credit: Jeff Crawley
---
"Just a kid." Is that even a wisecrack anymore? In this new age, being "too young" or "too old" doesn't mean a thing when you've got talent like our spotlight chef, Logan.
At 14 years old, he's cooked at the legendary James Beard House, launched his own spice blend ("Logan's Rub"), and has won several nationally recognized cooking competitions, one of which took him to the White House. Ever seen MasterChef Junior? Yeah, well…he's won that too!
You know what they say, "Kids these days". #FutureChefs.
---
Question 1:
Who do you look up to for cooking inspiration?
"Inspiration comes from my dreams. I dream about food and flavors and taste food in my mind.
But my knowledge comes from every chef I have met, ranging from the most renowned chefs to culinary students. Hearing their stories, ideas and techniques helps me learn and grow to be the best chef I can be."
Question 2:
Congrats on winning MasterChef Junior, Season 2!
What was your biggest challenge on the show?
"The biggest challenge was keeping my focus on my food and finding a "Chef Standard". I mean, I was 11 so I never considered setting a standard for my food and myself. I never viewed the competition as cooking against other kids but rather cooking against myself. If I spent time worrying about what other competitors were doing, I was definitely going to burn something."
Question 3:
What are some cool things that's happened to you since MasterChef Junior?
"I went to Louisiana to cook for Southern Living Magazine. I even had my appetizer idea served at Olive Garden Restaurants. But cooking at the historic James Beard House was my biggest accomplishment. It is a real honor to be allowed in that kitchen at age 14. I have learned so much and met some amazing people!"
Question 4:
Where do you see yourself in the next five years?
"I see myself with my own cooking show, selling my spice blends in specialty stores and maybe writing book 15 from my new Graphic Novel Adventure Cookbook. The first one is almost finished. Also, I will be 19 so I'll probably have some anxiety about getting into college too."
Question 5:
What dish are you most proud of in your career thus far?
"Well, I am always learning and the more I learn, the better and easier it is to make a great dish. I make a killer beet salad, a kick butt spice blend for steak – I mean really, it is great! But my best dish will probably be my next one. Stay tuned!"
Question 6:
What are three things most people don't know about you?
"1. I am an excellent photographer.
2. I have never eaten a chicken nugget.
3. I had a NASA mentor one summer. Thanks NASA!"
Question 7:
You have 3 wishes; Name them:
"1. A Nikon d750 camera with a bunch of crazy lenses!
2. On demand endless supply of duck, beef, pork, and seafood!
3. Every Expert LEGO Kit, I mean it I love LEGO!"
---
Get in contact with Chef Logan Guleff:
Facebook:
@LoganJuniorChef
https://www.facebook.com/LoganJuniorChef
Twitter:
@LoganJrChef
https://twitter.com/LoganJrChef
Instagram:
@Logan.Jr.Chef
Personal Website:
http://www.loganguleff.com
---
Want to be featured? Here's how:

Email marketing@chefworks.com