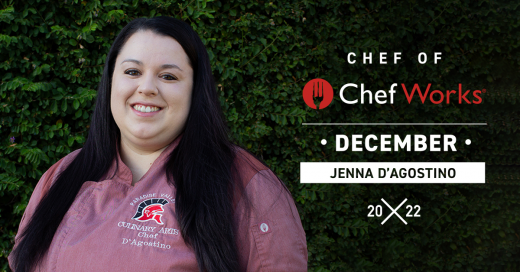 ---
Chef Jenna D'Agostino has worked in the country club sector, the food truck world, and the private sphere. Now, she's lending her craft to the next generation of chefs as a culinary instructor. If you've ever been curious about becoming or learning from a teacher of the culinary arts, you don't want to miss this edition of Chef of Chef Works.
Chef Works: Every chef has their own unique career path that led them to where they are now. What did yours look like?
Jenna D'Agostino: I did all four years of culinary in high school. My junior and senior year, I competed in C-CAP (Careers Through Culinary Arts Program), and in my senior year, I earned a full-ride scholarship to culinary school. Through C-CAP, I also got a job with Lenard Rubin at The Country Club at DC Ranch.
I've also worked on a food truck called Saucy Pasta with my best friend, making homemade pasta and sauces — right up my alley because I'm Italian. The food truck world is so cool when you can get in and do it the right way. I also started working at a private chef company called Kale Personal Chef Services, doing custom organic meal prep.
Now, I'm teaching high school culinary. I get to help my own students go through C-CAP if they want to pursue culinary as a career path, and it's awesome! I had my first student compete last year and he placed in the top 10 juniors just like I did. It's super cool to see it come full circle.
CW: What is it like teaching culinary to high school students, especially after coming from industry?
JD: I wouldn't be where I am without my high school culinary teacher, and she became family to me. The kids also enjoy that I came from industry. They're always like, "Why do you say things like that? Why do you do things this way?" And I tell them, "I didn't go to school to be a teacher, so I'm going to tell you how it really is. I'm going to be real with you." I connect with the kids on a different level because of that. They think it is so cool when I talk to them in "real" kitchen lingo. It makes me smile because then I will start hearing them using the same words as they are in the kitchen cooking.
I have learned I need patience. I get kids who don't know how to boil water to kids who can cook you a full-on meal. It's one of those things where you have to adapt for everything. But it's really about those 'aha!' moments when they realize "Oh, that's how you measure things!" or the difference between using baking powder and baking soda in their biscuits. Cooking is a life skill they'll carry on forever.
CW: Did you fall in love with cooking as a high school student yourself? Or did you always know you loved to cook?
JD: I've been cooking since as long as I can remember. We would go to my grandma's house on the weekends and make pasta for hours, like homemade gnocchi and cavatelli and ravioli. I grew up Italian, so I grew up cooking. My great aunt actually has a cookbook called Cooking With Grace, a step-by-step homemade Italian cookbook, and she also teaches cooking classes. I've grown up around people who cook, and it's just kind of something we've always done.
CW: Is there a particular style or philosophy that drives you in the kitchen?
JD:  I love watching people eat, as weird as that sounds, because their initial reactions when they put your food in their mouth will tell you everything you need to know. I made chicken and pineapple fried rice for my best friend last night, and as soon as she took her first bite, she goes, "Girl, I wish I knew how to layer flavors like this!" And I'd say that's my "thing" when it comes to cooking: layering flavors. I can't stand bland food. There are so many different ways to add flavor into something and make it taste amazing. And once you know how to do that, it will change how you think about and cook food.
CW: What advice do you have for the future chef reading this article?
JD: Don't burn your bridges. Even though this industry is huge, everybody knows everybody. Even if you don't like your job, leave on the right terms. I'm still close to my former bosses from every single job I've had, and sometimes they'll call me up asking, "Are you available to help me with this?" or "Can you send some people my way? I need employees." I've watched so many people burn bridges and it gets them nowhere!
CW: When it comes to the evolution of the culinary industry, what changes do you want to see?
JD: When I made the change from real-life industry to teaching, my mental health, social life, and quality of life became so much better. I have holidays with my family now. I hated showing up at six o'clock at night as everybody's starting to trickle out. Now I actually get to spend it with my family, and that's one of the best things that's happened.
Something I've noticed happening within the industry is that people are starting to pay better. They're realizing they can't pay somebody $13 an hour. My former boss from Kale Personal Chef Services pays her employees great — she values your time and values what you're doing for her, and that was one of the biggest selling points. Don't get me wrong, you definitely earn it. Hard work pays off.  We need more of that!
---
Want to be featured? Fill out this form