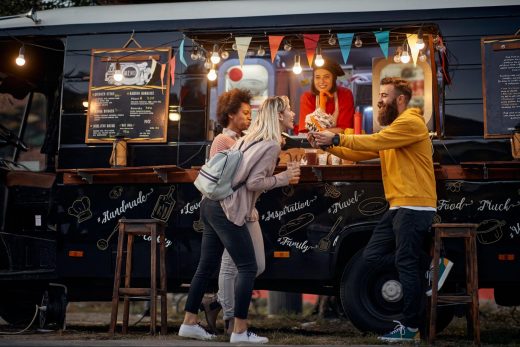 Restaurants often operate on razor-thin margins, which is why even the most popular restaurants can close after a few short years. And that's when things are going well.
This edition of Weekly Bites covers some of the creative ways industry leaders are building flexibility and resilience into their vision for the future.
The pandemic has turned the hospitality industry upside down, and injected the industry with an urgent need for more stability to survive upsets like a widespread lockdown. During this tumultuous time, chefs pivoted, and pivoted some more — exploring some truly creative ways to continue making a living by feeding people.
Now that things have stabilized, chefs and other hospitality industry leaders are often making these changes permanent. Lean, creative ideas give chefs different avenues to pursue their calling beyond the capital-heavy restaurant model. Read on to learn about what chefs are doing to stay ahead of the curve!
For many chefs, buying and operating a food truck is a relatively low-cost way to build a following and test recipes, with the ultimate goal of opening a brick and mortar restaurant. Some food truck owners, however, are defining success and expansion differently.
Becca Russell and Jeremy Hansen are the owners of Pidgin Hole in Portland, Oregon. In an interview with Back of House, they expressed no interest in expanding to a brick and mortar restaurant. For them, the food truck gives them the ability to stay nimble and experience something different every day.
Some food trucks — especially in Portland — stay relatively stationary in food truck "pods." Others rotate among local breweries, offices, and even apartment complexes. And some food trucks focus almost exclusively on catering events like weddings. Becca and Jeremy have stayed mobile, frequenting community spots and catering events.
Although food trucks are flexible businesses, they too experienced challenges during the pandemic. Becca and Jeremy lost most of their event-centric business during the pandemic, and they currently struggle to keep some of their ingredients stocked amidst supply shortages. Still, the couple is optimistic and happy that the food truck business is allowing them to design the lifestyle they want.
Virtual brands and ghost kitchens were rising in popularity even before the pandemic. If you've ever scrolled through UberEats and seen a bunch of brands that you didn't know existed in your city, that's because they don't exist as restaurants.
Virtual brands often use ghost kitchens — food prep areas that don't have any kind of dining area attached to them. Companies like Nextbite and Meal Outpost are working to connect virtual brands with brick and mortar restaurants. The idea is that the virtual brands can use the restaurants' kitchens, and the restaurants get a percentage of the profits.
One of the biggest challenges restaurants face is that kitchens aren't typically open and producing profit all day long. With high rents, every hour the kitchen isn't generating profit hurts. Some restaurants have responded to this pressure by adding brunch and lunch services, but with the labor costs associated with extra service hours, it doesn't always solve the problem.
Allowing virtual brands to operate within a restaurant's kitchen during the off-hours is a perfect way for restaurants to see some additional stable income every month.
This bite is brought to you by a flowery (pun intended) article in The New York Times about chef Rose Chalalai Singh, and her flower-only dinners.
Chef Singh loves flowers, and on an artist's farm in North Berlin, she is able to create a whole meal of flowers, in every way imaginable. The article is full of descriptions of artists and writers and dancers and farmers all coming together to be creative and eat food.
It sounds idyllic, and surely everyone on that farm has some other means of income to sustain such a life of leisure.
Putting cynicism aside, however, the number of chef collaborations has skyrocketed over the past few years. Artists, musicians, writers — everyone is attracted to the multi-modal experience of eating food. Many call these collaborations "pop-ups." These are highly creative, soul-nourishing projects that give chefs the opportunity to do something really different.
Pop-ups and artistic collaborations aren't necessarily a way to make a stable income, but they can provide chefs a break from the monotony of kitchen work, as well as an opportunity to start building a distinct brand.