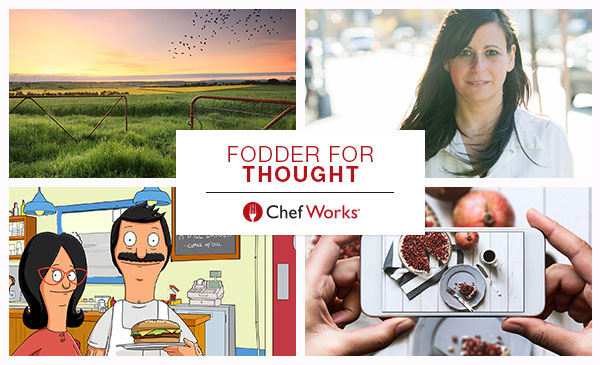 While you're busy running service, we're scouring the internet in search of the latest and greatest stories. This week, James Beard looks back at the year in review, Bon Appetit announces a Bob's Burgers pop-up to benefit the LA Fire Department, and Eater explores the science behind going viral.
---
James Beard Foundation
JBF Impact News Year-End Gratitude and Hopes for 2018
As 2017 comes to a close, the Academy Awards of the food world looks back on the year — the good, the bad, and the delicious. From the rise of women leaders in the restaurant industry, to a real conversation about eliminating food waste, sourcing sustainable meat and seafood and everything in-between, here's everything worth mentioning, and few new things to keep in mind as we move into a new year.
---
Food Republic
Why Amanda Cohen Thinks There Should Be More Female Chefs
This forward-thinking chef took the hospitality industry by storm with her op-ed in Esquire Magazine telling people it's time to listen up and take note — it's time for female chefs to ascend the stage. Now she's back with Food Republic, talking about the vegetable-focused trend for 2018, how her NYC eatery, Dirt Candy, stays up with the times, and how being Canadian means she's not always that nice.
---
Bon Appetit
A Bob's Burgers Pop-Up Restaurant Is Coming to New York City
Any good chef worth his salt is an avid Bob Burger's fan — our home office crew covets the official cookbook and constantly attempt to out-burger each other with our BB creations — and now it seems, a top chef has taken up the torch to open a specialty Bob Burger's pop-up restaurant in NYC, with specialties like the "Poutine on the Ritz" and the "Baby You Can Chive My Car" burgers. And with proceeds going to benefit the LA Fire Department, head over to Chefs Club Counter — but hurry, Bob's Burgers is only around until December 24.
---
Eater
Ever wonder how a food manages to go viral? Eater certainly did, and dives in headfirst in exploring how foods become trendy, and what gives some staying power while others fizzle faster than a Unicorn Frappuccino. Breaking it down into chapters, Eater looks into the theory, business, probability, data, and the art of going viral, giving restaurants a step-by-step guide to replicating the impossible. Good luck, next cronut maker.
---