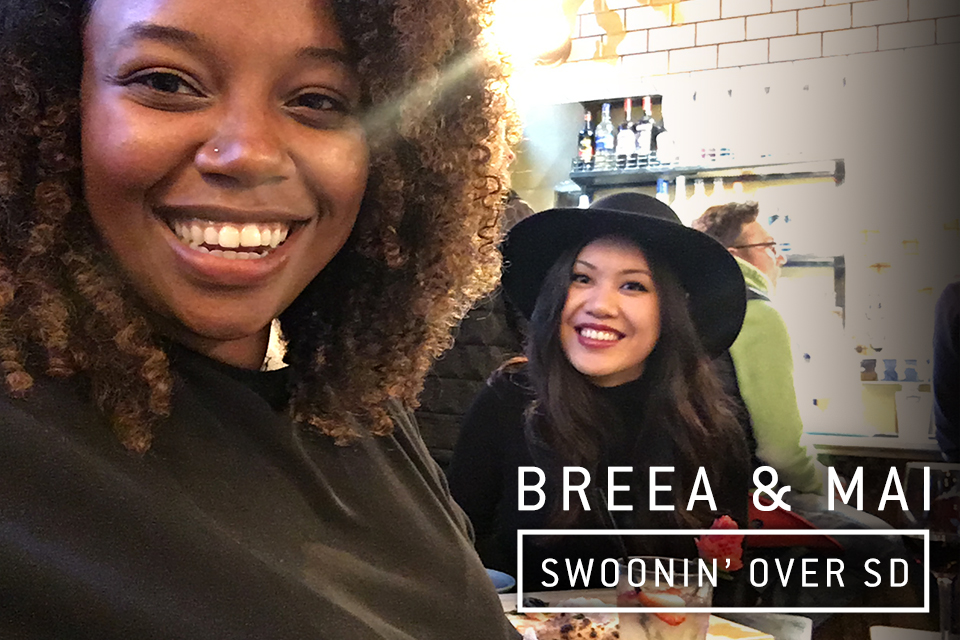 Since we work in the hospitality industry, it's safe to say we love food. And while we're constantly traveling to try the newest restaurant or coolest bar, it's our hometown of San Diego that really makes us swoon.
To celebrate our awesome hometown and Chef Works' HQ, we tapped our two favorite foodies, Mai and Breea, our marketing gurus and overall office tastemakers, to give us a virtual tour of Sunny San Diego.
So grab your handy apron and get ready to chow down — SD style!
---
What is your ultimate brunch spot to send out-of-towners?
What's a must-order dish and drink?
BREEA: So, my choice is kind of an oddball "Brunch" location. Grand Ole BBQ y Asado, in South Park is where you can easily find me on a Sunday morning entertaining some guests. Hold the bottomless mimosa; I'll take a Mexican coke. Spare me the eggs and bacon…I'll take a Tri-Tip sandwich, Chorizo, a side of Peruvian white beans and a large helping of their homemade (best I've ever had) Chimichurri. A good friend let me in on her secret, and I've been hooked ever since!
MAI: Definitely Small Bar in University Heights — All. The. Way! Whether you're visiting or a local, this place is where I pick it right back up from the night before by ordering a Bloody Mary Superior with candied bacon, the Brunch Burger with candied bacon, and a side of…candied bacon. Chef Karen Barnett, you're the reason why I get out of bed on the weekends!
---
It's a Saturday afternoon — where would we find you? What's one cool, new, buzzy thing in the city that you just can't get enough of?
BREEA: I've fallen in love with this low-key rooftop bar called the Nolen. It's in Gaslamp nestled between plenty of other buzz-worthy establishments. You enter through a small doorway, head into a single elevator and arrive at an open restaurant/bar with views for days! Grab a seat and some small eats, all of which are made to perfection!
MAI: On Saturdays, I'd most likely be at Point Loma Seafood's with one of those giant clear cups of Sculpin and some smoked fish. If I'm not there, I'm probably poking around the Little Italy Farmer's Market. These might not be buzzy or new, but it's what I'd be doing.
---
Favorite barstool in San Diego? And what should you order?
BREEA: I'll likely be with Mai at Hundred Proof, on Park Ave. in Hillcrest. Super chill…no frill, and there always happens to be two barstools waiting for us when we arrive. If you didn't already know, Mai usually picks my drinks for me…with that being said I've gotten real cozy with their "Our Lil Cupcake" boilermaker. Tequila, and a Stiegl Radler hits the spot every dang time. Don't forget that HP Burger and fries,
good lawd!
MAI: CJ's in between Hillcrest and Mission Hills. It's as big as your living room, the main source of light comes from the TV's playing sports on the walls, it's comfortable, and where I like to go to kick back and share drinks and stories. I get a Gin and Tonic with extra lime, sometimes a double.
---
You have to find a table for four on a Friday night — what's your go-to in the city?
BREEA: I'm a sucker for a night out in Convoy over the city on a busy Friday night in SD. This is my favorite area to take any foodie that would enjoy cozying up to a big bowl of ramen and a chilled Sapporo. Plus this whole street is open ALL NIGHT LONG…head around the corner for a never-ending Karaoke saga!
MAI: Brooklyn Girl, TRUST, Ironside Fish & Oyster…and if those are all booked and you can hold off your hunger for a late-night dinner, hit up Izakaya Masa for some authentic Japanese food around 9-10pm after a couple drinks and karaoke sessions at The Lamplighter.
---
Beach day! Name your favorite coffee spot and locals-only beach.
BREEA: Since beach days are pretty much all year long here in SD, I go about this in an odd way as well. First stop, Liberty Public Market. There, I'll pick up WestBean's largest cup of "Kryptonite" mint-infused cold brew on Nitro and head towards the Tide Pools at the very tippy-top of Point Loma. I enjoy the scenic ride, and the almost 360 views of the bay and ocean. Not your average beach day, I know…but I dig it.
MAI: Dog Beach in Ocean Beach! I go where the dogs are. And for coffee? I'll defer to Breea, who is a huge coffee fan!
---
Any other spots travelers should definitely go when in Sunny San Diego?
BREEA: I get my most visitors during the summer. Everyone that visits, I encourage to find a reason to go to Petco Park. I don't even care if you don't like baseball, or if the Padres are having the worst season ever. The stadium is in the middle of our city and creates a buzz so strong that I even remember the feeling from visiting in my childhood. If you're lucky, the Dodgers or Cubs will be in town and you'll see the city come out for a good ole' game of baseball.
Also, if you like Thai…and I mean GOOD THAI, head towards Bahn Thai in University Heights.
MAI: At this time of year, I recommend going to Balboa Park to see all the holiday decorations. It's gorgeous and the festive vibes are contagious. You'll instantly be in a good, loving mood. And if you're lucky enough to snag a ticket to "How the Grinch Stole Christmas" at the Old Globe inside the park, do that and tell me how it is. I still haven't been able to see the show!
---