While you're busy running service, we're scouring the Internet in search of the latest and greatest stories to hit the airwaves. This week, learn how to grill an egg on an open flame, take a look at 2017's hottest summer food festivals, check out Thrillist's best burger in the country, and stop by Trader Joes to pick up a four pack of $4 sparkling wine… you won't regret it.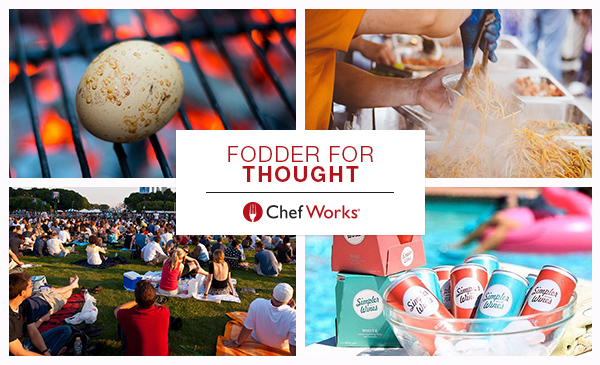 Bon Appetit | How to Grill an Egg Like it's No Big Deal
With summer just around the corner, it's time to dust off your grill and start experimenting – starting with an egg (this is real, we swear). In just under 10 minutes, you can "grill" (but really more like hard-boil) your eggs to perfection, adding a smoky taste and smooth texture that screams summer. We're dreaming of all the ways we can incorporate this into our summertime menus…
Tasting Table | 2017's Best Summer Food Festivals
If you are looking for your next summer weekend adventure, love food, and have some extra AmEx miles to spare, look no further than Tasting Table's latest roundup of hottest food festivals for 2017. From the Pinknic Festival in NYC featuring an abundance of Rosé, to the California Wine Festival in Santa Barbara, your taste buds won't regret it and neither will you.
Food Republic | Thrillist Names Best Burger In The Country
Drum roll please… after 99,000 calories, more than 30 cities, and over 330 burgers, food critic Kevin Alexander has found the best burger in the country – and it's been around for generations. Founded in 1949, Stanich's in Portland, Oregon has laid claim to best burger since opening – and the secret to this is their simplicity. With a basic structure of a single patty with melted cheese, the $8 burger (or $12 with fries…we suggest you splurge) is a heartfelt creation that focuses on genuine flavors and taste.
Tasting Table | Trader Joe's Is Selling Four-Packs of Canned Wine for $4
Budget-friendly booze is a never-ending quest in our office, and it looks like grocery story-extraordinaire Trader Joes has come to the rescue with their canned wine specials. For the price of less than a big mac, grab a 4 pack of sparkling vino frizzante and enjoy a refreshing rose or white sparkling wine to cool you down this summer. With a colorful can and refreshing taste, this may be changing the way wine enthusiasts sip and swill, at least until next payday.