While you're busy running service, we're scouring the Internet in search of the latest and greatest stories to hit the airwaves. This week, Food & Wine Magazine ranks the best beach bars, learn how empowering your staff's style can benefit your business, and check out Tasting Table's latest obsession, the frozen Negroni.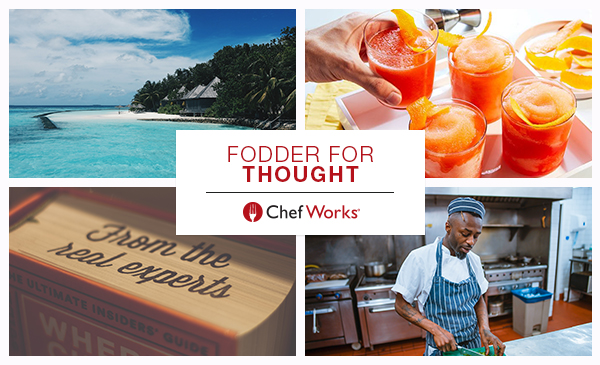 Food & Wine | The Best Beach Bars in America
Summer vibes are strong, so we're hitting the sand with a little guidance from Food & Wine Magazine. Their roundup of hottest beach bars includes a brewery on Oregon coast, a decidedly So-Cal cabana club, and a torch-lit tki bar a stone's throw away from our nation's capital.
Food Fanatics | How Individual Staff Time Can Benefit Your Business
Gone are the days of monochromic staffs and impersonal uniforms. As the restaurant bubble continues to rise, owners are trying to differentiate themselves – and are using their employees to lead the charge. Mixing branding and self-expression, hospitality pros are introducing more choice and individuality to their time on the lane – whether it is an apron, new shirt, or specialty accessory. The goal? To foster a positive work environment that draws regular customers, attracts attention, and provides great service. Denim apron and all.
Eater | Every Summer 2017 Cook Book You Should Know About
For those of you who love to cook, bake, or maybe just look at pictures of delicious food, Eater has just released the long and amazing list of must-have cookbooks for summer. Included is the highly anticipated release of Chris Bianco's cookbook, which includes his drool-worthy recipes for Mexican Ice-Cream and Ghanaian delicacies.
Tasting Table | Italian Job
Rosé's moment in the summer spotlight continues, thanks to Instagram and thirsty millennials everywhere. But rising from the shadows of the back bar, a challenger comes to the forefront in an attempt to unseat this dominant sipper – say hello to the frozen Negroni. The classic Italian cocktail gets a summertime twist with the addition of blended ice, and from coast-to-coast, bartenders – and imbibers, can't seem to get enough.