While you're busy running service, we're scouring the Internet in search of the latest and greatest stories to hit the airwaves. This week, test your Guy/Keller quote knowledge with a quiz, check out a few of the latest young chefs on the rise, New York and San Fran have a foodie face-off, and top chefs share their first jobs with Bon Appetit.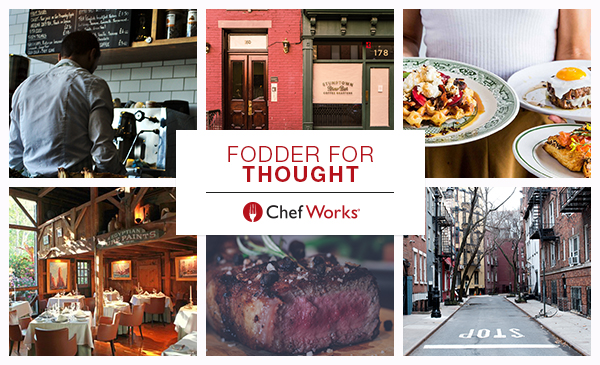 Eater | Who Said It: Thomas Keller or Guy Fieri
On the celebrity chef spectrum, it doesn't seem to get much different than Guy Fieri and Thomas Keller. But upon closer inspection, these two culinary buffs have a lot in common, and what they've gone on record to say just might surprise you.
Tasting Table | New Kids on the Block
The unsung heroes of the kitchen are finally experiencing their moment in the sun, with Tasting Table's list of 15 underground super chefs profiling young guns like Emily Yuen of Bessou and Mason Hereford of Turkey and the Wolf. Keep your eye on these guys, and make the trek to visit their spots before James Beard and the Michelin Man come calling.
Lucky Peach | Why New York is Better Than San Francisco
While we're pretty loyal to the West Coast, Lucky Peach makes a good case as to why the Big Apple is a better foodie city than San Fran. Comparing deli sandwiches to tacos and European imports to Napa wines, expect this exposé to showcase the best of NYC, and cast SF as a second fiddle culinary destination. Those looking for the counter-argument, you can find the epic New York takedown here.
Bon Appetit | These Chefs' First Kitchen Jobs Made Them Who They Are Today
There's nothing quite like your first job. Always embarrassing and for the most part short-lived, first jobs nevertheless teach you invaluable skills, and sometimes, help set your professional and personal life course. Always looking for the scoop, Bon Appetit asked a few culinary titans to share their first jobs, and it looks like top chefs are just like us – from teenage stints at Subway, summers spent as a busboy, and Ph.D programs diverted for a spot on the line. Well, kinda like us.