Trading our desks for the beach, the Chef Works team touched down in Miami for a weekend of fun in the sun at the South Beach Wine & Food Festival. As the official uniform sponsor, we managed to score a behind-the-scenes tour of the legendary Tribute Dinner, crash a pool party at the Versace Mansion and indulge in too many after-parties to count! Our main goal: to snap and snack our way through South Beach while spotting our favorite Gramercy Coat and Dorset Bib Apron on star-studded chefs from across the globe!
Want even more behind-the-scenes coverage? Follow us in real time on Instagram at @chef_works and find us on SnapChat @chef_works!
DAY 1 | THURSDAY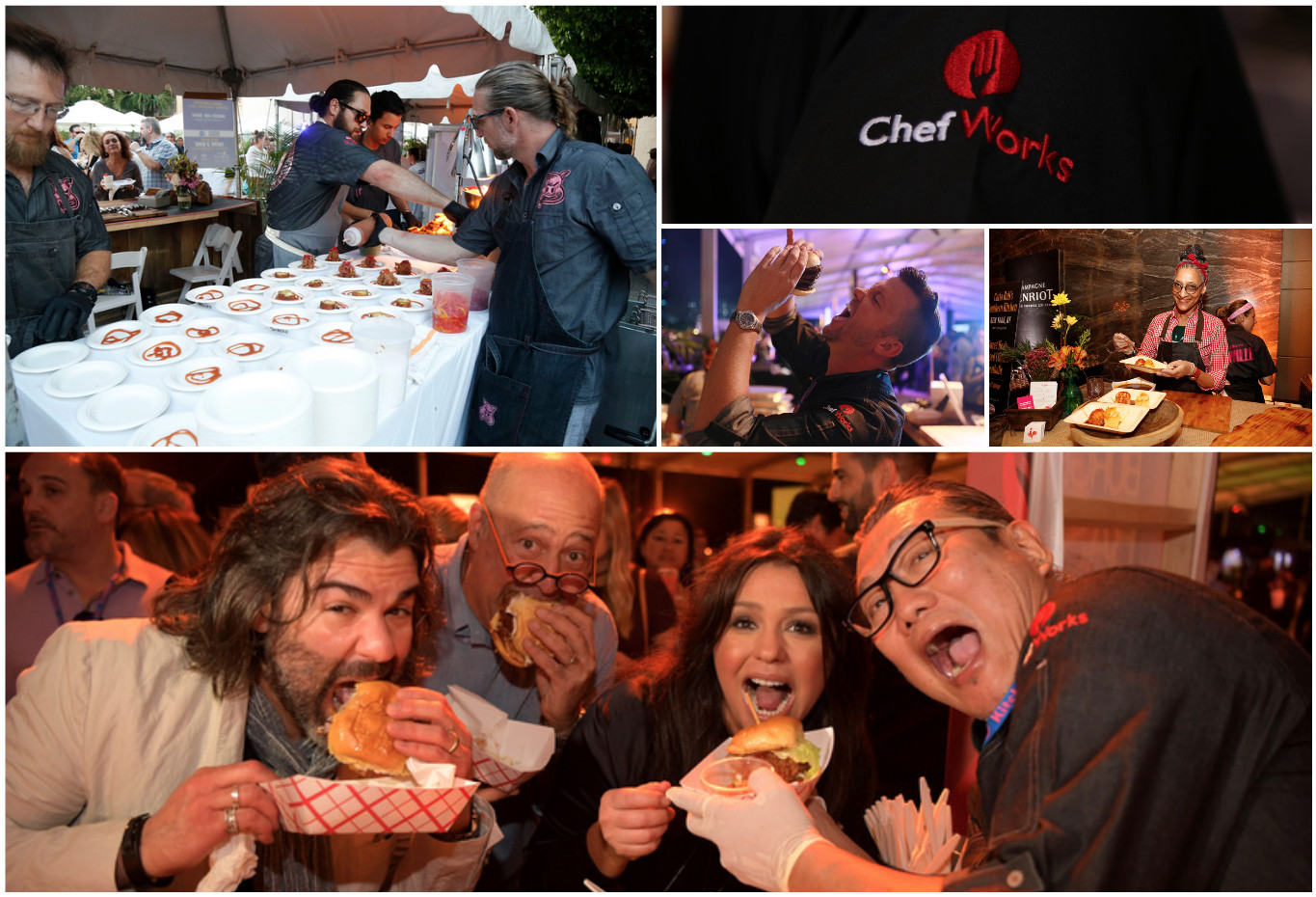 Early morning flight from a stormy San Diego had us up with the sun and ready for the white sands of Florida long before our plane landed. Straight from the tarmac, we grabbed a taxi and checked into our amazing digs at the Loews Miami Beach Hotel. Changing into our tropical best, we headed over to our very first SOBEWFF event – A Kosher BBQ Dinner hosted by Chef Alon Shaya. This top chef recently took top honors for his New Orleans-based Shaya Restaurant, earning a James Beard Foundation Award for Best New Restaurant in the US. Hanging with him and his restaurant crew, we nibbled on inventive BBQ dishes with a kosher twist.
Not wanting to miss any of the fun, we journeyed to the Tacos After Dark tasting, hosted by Chef Aaron Sanchez (Food Network's Chopped). In between bites of carne asada and pollo, we met chef crush Stephanie Izard (Food & Wine Mag Best New Chef 2010), and Chuck Bergwin (JEY Hospitality). Making our way up to the VIP balcony, we vowed we might just never come back, not with this much culinary talent and tacos around!
Fast forward to 1:00 a.m.: Chef Works and Celebrity Chef Marc Murphy bonding over our love of a good dive bar and an even better cocktail.
DAY 2 | FRIDAY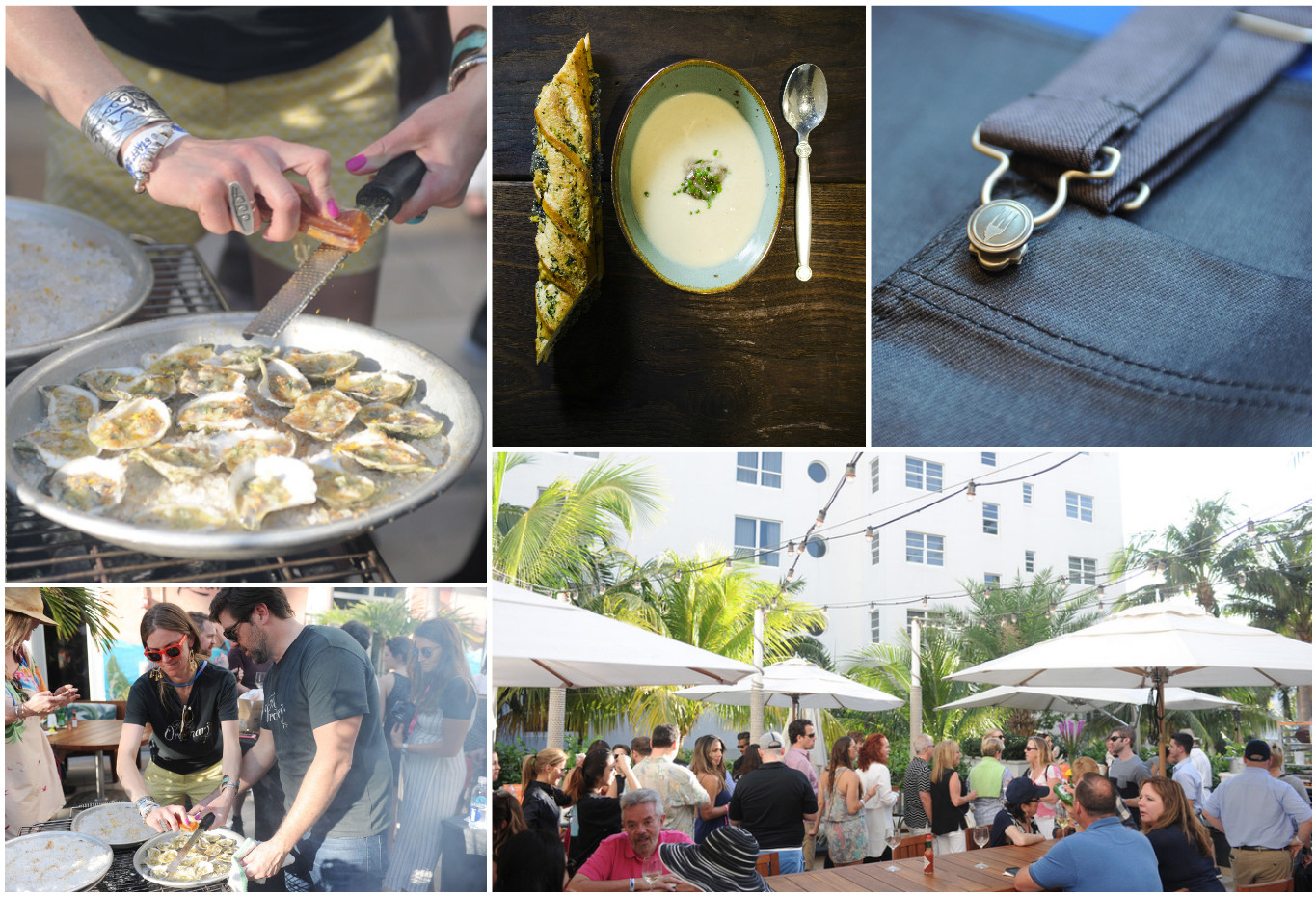 Recovered with a slice of avocado toast and plenty of coffee (and a view of the beach. We know – life is rough). Then it was out the door for the South Beach Pool Party at the Versace Mansion, where delicious madness ensued! Between Chef JJ Johnson (Minton's) jumping in the pool to loading up on barbecued oxtail sliders, we fully enjoyed our sun-kissed afternoon at this iconic estate.
At Burger Bash, Chef Works was on location, snapping all the action from behind the line with Chef Masaharu Morimoto (Iron Chef Japan). Seriously, this guy is a legend, and watching him cook was one of the highlights of our trip! Spotting Rachel Ray and Andrew Zimmern across the way, we had a complete foodie fan moment – seriously, how can so much talent be in one room right now!?
The Caribbean sun at our backs, we hit the Best of the Best event, where we hung with Chef Works friend Chef Giorgio Rapicavoli of Eating House in Coral Gables. Gaining a chef's eye view, we watched him plate for the crowd, topping off our beef tartar samples with a little bit of freshly grated black truffle. Just thinking about it makes our mouth water all over again!
DAY 3 | SATURDAY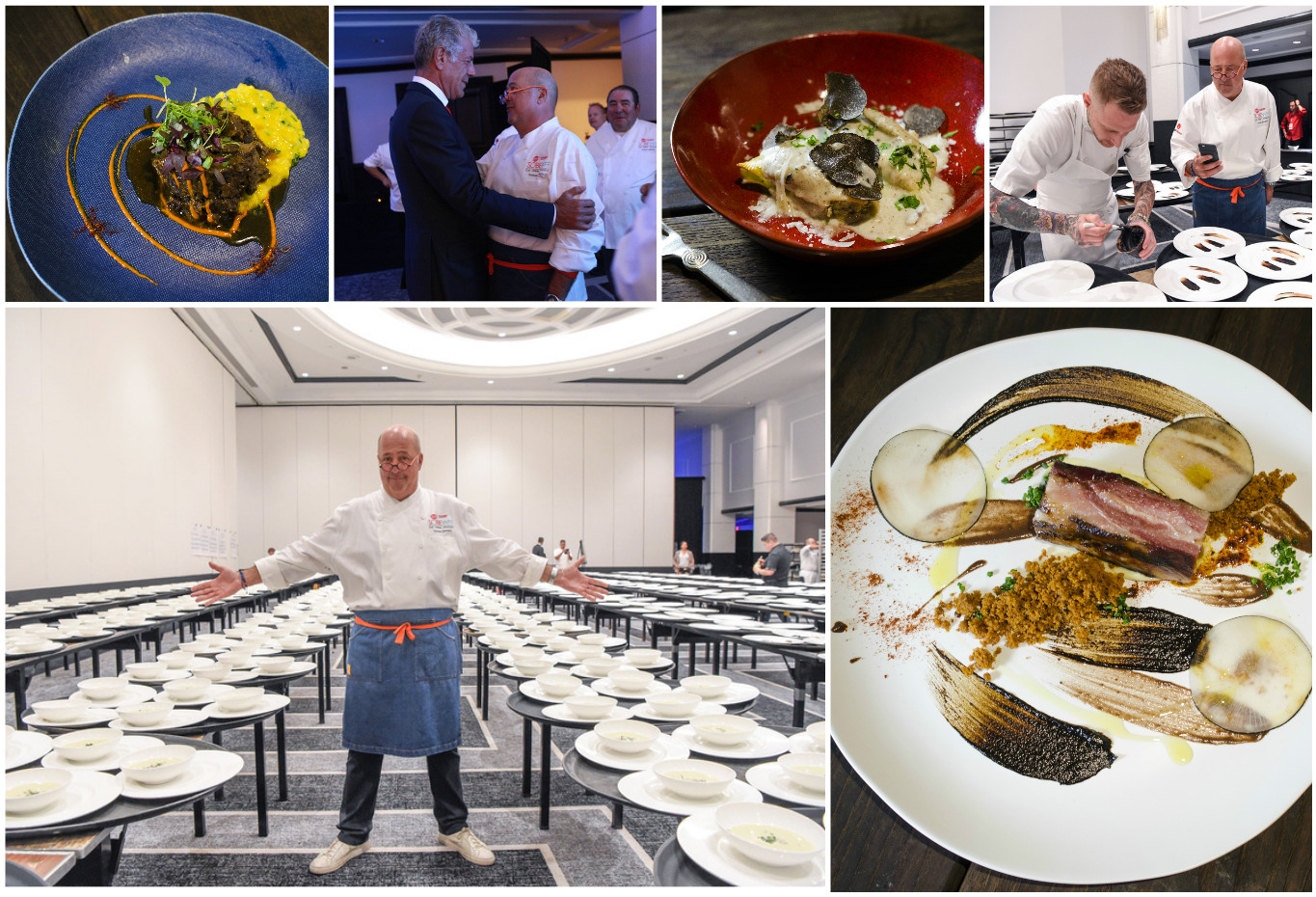 With our toes in the sand, we spent the morning relaxing at the beach, prepping our stomachs for the ultimate dining experience that lay ahead: The Tribute Dinner. Honoring some of the greatest names in culinary of our time, including Jose Andres, Anthony Bourdain, Andrew Zimmern, and Emeril Lagasse, Chef Works managed to snag a backstage pass to the action documenting dinner prep and plating for our fans on Instagram and SnapChat with the help of event photographer William Torrillo. In between bites of Zimmern's Caviar stuffed toast and glasses of Cristal Champagne, we realized just how lucky we are that Chef Works was included in this magical night!
DAY 4 | SUNDAY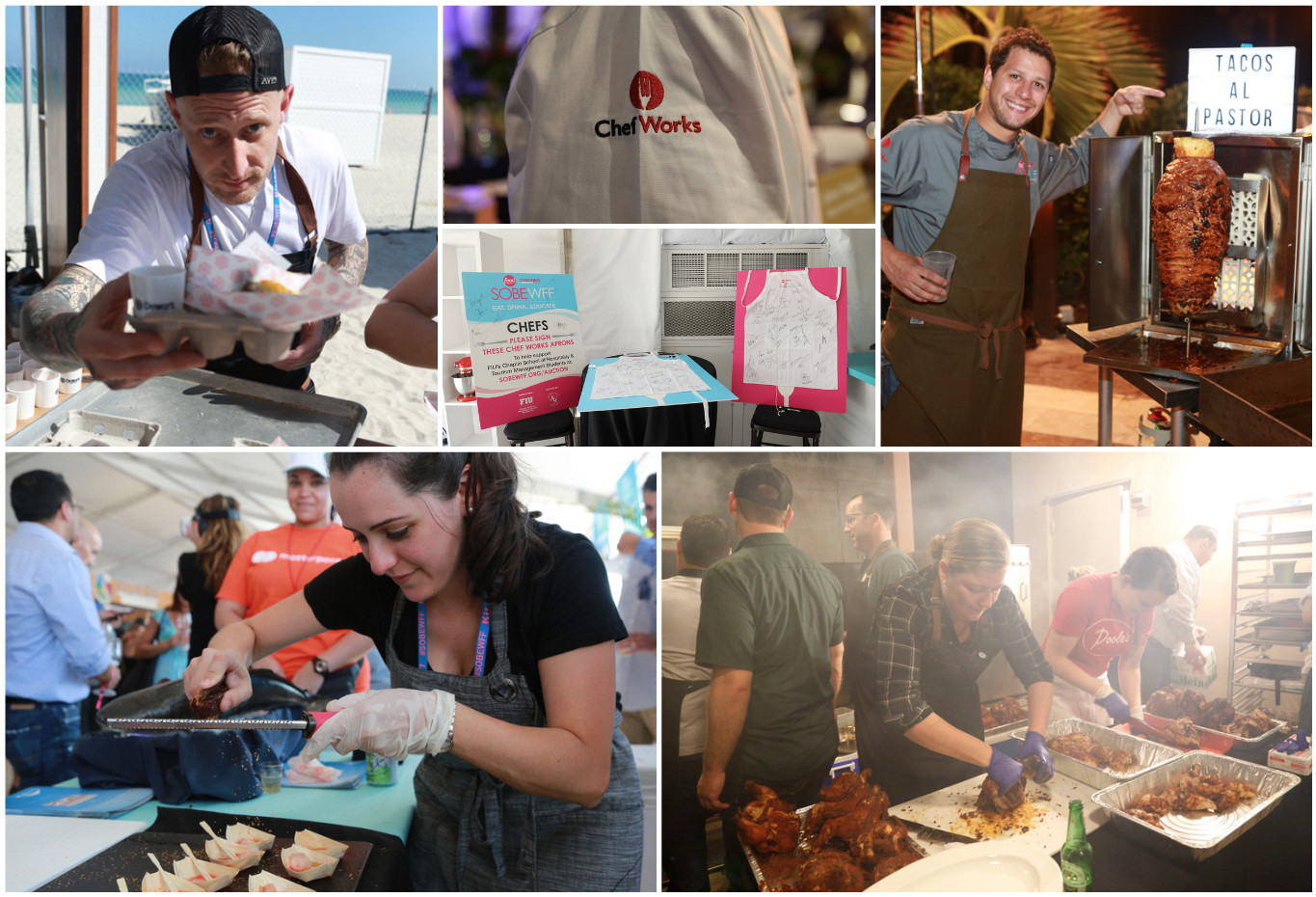 Serious #BrunchVibes at the Southern Brunch Event, where we met up with Chef Mike Lata (FIG), and Top Chef duo Janine Booth and Jeff McCinnis to feast on southern-style breakfast bites. Migrating to the Grand Tasting Village after brunch, we sipped cocktails with our new chef crew, all while gazing out onto the picturesque views of the Caribbean ocean. We spotted Zignum Mezcal's bartenders wearing customized Chef Works Austin aprons – their designs were so cool!!
Last but not least, we dodged the rain and headed to Lucky Chopsticks, where we ran into Chef Works fan Chef Ray Leung who was rocking our favorite Gramercy Coat. – DREAM COME TRUE!!