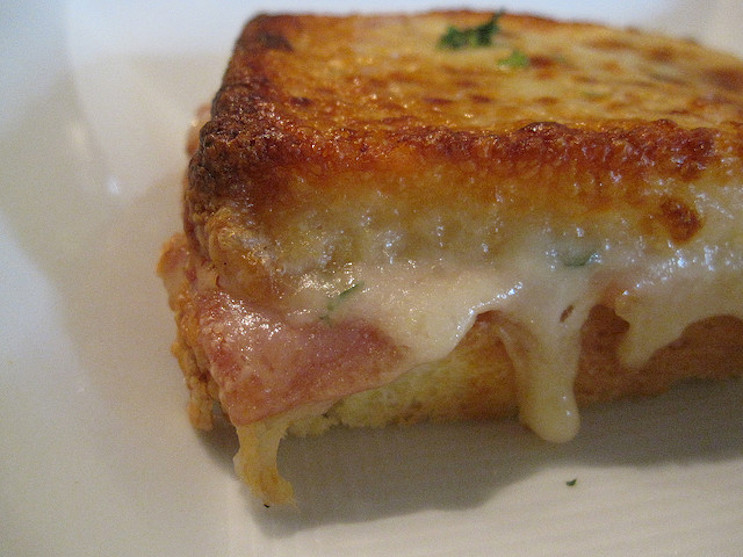 (Source: Flickr)
I remember my first croque monsieur experience. I was a college student backpacking in Europe, and had just arrived in France via train from England, and I was starving. I made a beeline for the first cafe I saw, right in the train station. Having remembered the term "croque monsieur" from verbal exercises in French class, I ordered one.
What was delivered minutes later was a hot sandwich featuring gooey, melty cheese and rich, salty ham. It was a humble meal, but one of the most satisfying and memorable ones I've ever experienced. A croque monsieur isn't necessarily fancy food, but when it's done right, it is unlike anything else you've ever tasted. It's well worth taking the time to learn how to make it at home.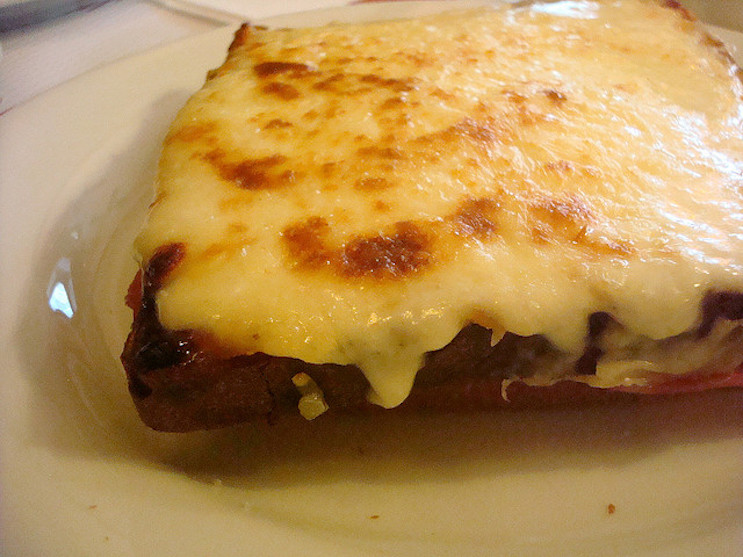 What is a croque monsieur? Chances are you've at least heard of this French sandwich. But what is it, exactly? Simply put, a croque monsieur is a type of grilled ham and cheese sandwich. But it's not the grilled ham and cheese you might get in a school cafeteria. The bread is thick, often a brioche-type variety; the cheese is a melty, gooey variety such as gruyere; the ham is flavorful and salty, and it's sealed together with a rich, velvety bechamel sauce.
In terms of construction, the sandwich is assembled, lightly dipped in an egg mixture, and then placed on a griddle, and sometimes put under a broiler directly before serving. Often, there is cheese both inside and on top of the sandwich. There are infinite varieties and augmentations which can occur in terms of added ingredients and spices, but this is the basic construction.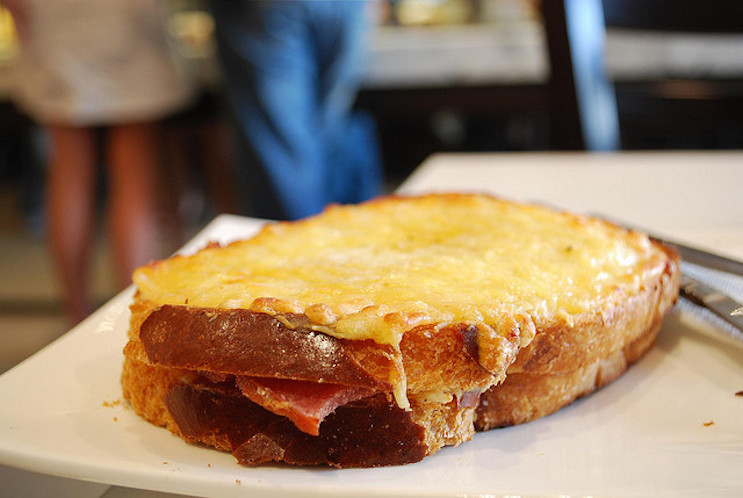 (Source: Flickr)
What about the funny name? You may be wondering about the funny name. Well, turns out it's even funnier in translation. The "croque" comes from the verb croquer ("to crunch"); monsieur means mister. Yep: this sandwich is basically named "Crunchy Mister". Origins of the name are hazy, although the sandwich has been documented on French menus since Victorian days.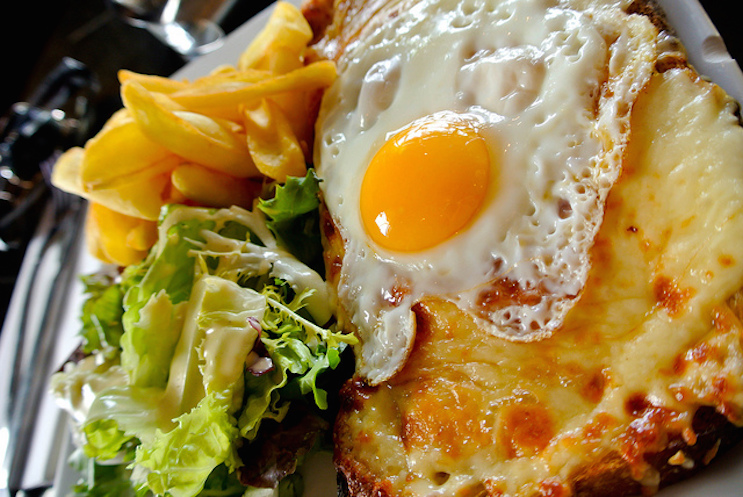 (Source: Flickr)
Does the monsieur have a missus? In fact, yes. A croque madame is a variety of the sandwich served with egg on top. Other variations of the sandwich exist, including the Croque Provençal (with tomatoes), the Croque Auvergnat (with blue cheese instead of gruyere), and the Croque Norvégien (with salmon instead of ham).
When is it appropriate to eat a croque monsieur? This versatile food can be served at virtually any time of day. It's a great brunch menu item, especially when served croque madame style; it also makes for a tasty lunch, comforting dinner, or an indulgent bar snack.
Making a Croque Monsieur: what you need to know. At this point, you're probably starting to feel hungry for a croque monsieur. Here are some of the things you should consider before you get cooking.
Ingredients: here's what you'll need to make a croque monsieur.
Bread:

a somewhat absorbent bread, such as brioche or a white country bread, is ideal for making a croque monsieur, so that it can absorb the egg mixture it is dipped in before frying.

Cheese:

use a good melting cheese like gruyere. Use the best quality

artisan cheese

you can find.

Bechamel:

make your bechamel sauce in advance using a

simple recipe

.

Ham:

I favor a thin to medium cut of ham for this sandwich. You don't need to use a whole lot, but make sure you use a nice, flavorful variety.

Eggs:

using room temperature beaten eggs for this recipe will yield the most even cooking.

Butter:

use unsalted butter in this recipe.
Supplies: here's what you want to have on hand to make a croque monsieur.
For frying:

a heavy-bottomed skillet. Make sure you have a frying pan large enough to accommodate the sandwich with clearance on all sides. If your pan is large enough, you can make the sandwiches two at a time.

For broiling:

if desired, you can give the sandwich one final crisp under the broiler. I suggest this for the most toasty, inviting presentation. If you choose to broil, you'll need an oven with a broiler setting, and a baking sheet lined with parchment paper to put the sandwiches on.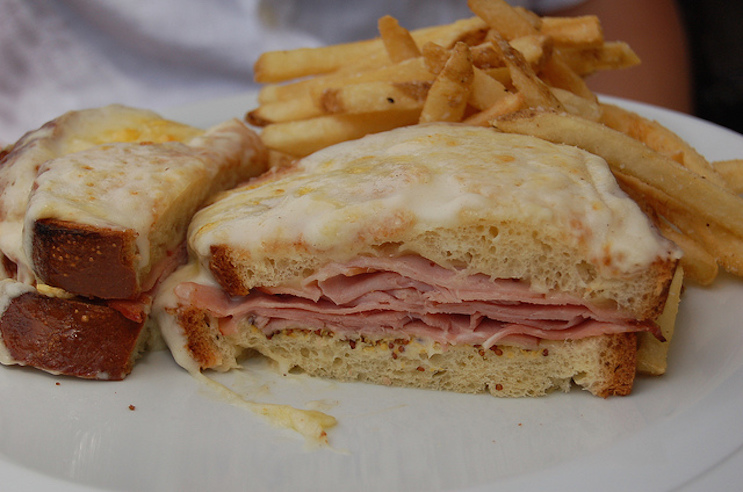 (Source: Flickr)
How to make a croque monsieur. This simple recipe yields delicious results.
Makes 2
4 slices bread

2-3 tablespoons unsalted butter, softened

dijon mustard, to taste (optional)

4 slices thinly sliced ham

4 slices gruyere cheese

1 egg, slightly beaten

salt and pepper, to taste

4 ounces cold or room temperature bechamel sauce
Directions
Set your oven to broil, and prepare a baking sheet with a sheet of parchment. Set to the side for the moment.

Spread all of the slices of bread with the butter on one side. You should be able to do this generously with some butter left over.

On top of two of the slices of bread, buttered side up, layer 1 slice of gruyere and two slices of ham. Add dijon mustard (if desired), plus salt and pepper to taste. Place the second slices of bread, buttered side down, on top of each respective sandwich. Press gently so that the sandwiches stick together.

Heat a heavy-bottomed skillet on medium heat with the rest of the butter in the skillet. While the pan heats, complete the following step.

Dip the sandwiches into the egg mixture, and coat well. Let excess liquid drip off, and place the sandwiches in the hot pan.

Fry for 2-3 minutes on each side, or until browned to your liking.

Remove from heat, and transfer to your parchment-lined baking sheet (be careful as the sandwiches will be hot).

Spread the bechamel evenly on top of the sandwiches, and then place a second slice of gruyere on top of each sandwich.

Place the tray in the oven, and broil until browned and bubbling (this will take just a couple of minutes).

Remove from the oven, let cool just slightly, and serve hot.
Storage and prep tips: While these sandwiches can be assembled a few hours ahead, do not cook or add the bechamel and gruyere topping until shortly before it's time to serve, as they can become soggy. The bechamel sauce can be made up to a day ahead of time.
Conclusion: It's not hard to see why this simple sandwich is such an enduring classic. Made in minutes, it's a true taste of French culture and a hearty, cozy meal all at once. Simple ingredients come together in perfect harmony, creating a comfort food that is just as welcome at brunch as it is a delicious as a late-night bar snack. Vive the croque monsieur!
What is your favorite grilled sandwich?