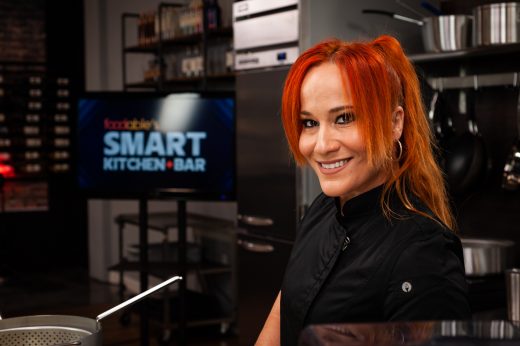 There are a lot of "shoulds" in the culinary industry that keep talented people from pursuing a culinary career. You "should" have restaurant experience before opening up your first restaurant. You "should" be male and a certain age to be head chef.
Adrianne Calvo, chef and cookbook writer, defies all of the "shoulds" of the industry. Instead, she has built up her career with a flavor-first approach. In an interview with Chef Works, we asked her all about how she got to where she is today, the Maximum Flavor style of cooking, and how she hopes to inspire a new generation of women chefs.
The Story Begins With a Lightning Strike Moment
Chef Calvo started high school with the dream of becoming a journalist. A fortuitous mistake in her schedule had her attending a cooking class as well. She describes the two weeks waiting to get her schedule changed as a "lightning strike moment." Johnson & Wales University came to do a culinary demo in her class, and from that moment on she knew she wanted nothing more than to become a chef.
After high school, Chef Calvo enrolled in Johnson & Wales University culinary program, where she participated in culinary competitions to show everyone what she could do.
"The competitions were all male. Everyone would ask, 'Who is that girl competing?' I was always winning or maybe getting second place, and then people started to ask 'How is this girl winning?' It was my flavors," Calvo says.
Those early competitions paid off, and at the age of just 19, Calvo was given the honor of catering the 2003 World Series.
One of the judges — impressed with Calvo's complex flavors — suggested that she write a cookbook. At just 20 years old, Adrianne Calvo became the youngest cookbook author with her debut, Maximum Flavor. The book was an instant hit and made the media rounds, including a feature on Montell Williams' last show.
"I was just happy because Montell Williams said that my book made him like sea scallops, which he had never liked before," Calvo says.
Bolstered by the success, Chef Calvo decided to open her first restaurant in Miami, Chef Adrianne's Vineyard Restaurant and Wine Bar. It didn't matter that she was just 22, or that her sous chef was just 21. More than 15 years later, Chef Adrianne's is still open — a huge achievement for any restaurant.
Watch our interview with Chef Adrianne Calvo  in our "Women of Culinary" series here on YouTube.
Women Putting Women in Power
Chef Calvo has always put women in positions of power at her restaurants. At her current restaurants, most of the higher positions, including marketing, executive manager, and sous chef, are female.
"This is the way that the paradigm is going to shift — women putting women in positions of power," Adrianne says.
Another way that Chef Calvo hopes to inspire young women to enter the culinary industry is through her passion for storytelling. Since Maximum Flavor, Chef Calvo has gone on to write four more cookbooks. She's featured in Chopped and Beat Bobby Flay, as well as her own segment on NBC for more than 15 years.
When asked about her vast media experience, Calvo says, "It started with the idea that I was on this uncharted path in my culinary career, especially because of my age and especially because I was a woman. I opened my restaurant without having any restaurant experience, having no path to follow. To share my story was a way to help anybody who might be inspired to follow a similar path. If it worked for me, it can work for you. I want to continue to inspire young girls who want to be a chef but don't necessarily have a role model."
Cooking With Maximum Flavor
Maximum Flavor is more than just the title to Adrianne Calvo's first cookbook — it's also her cooking ethos. Maximum Flavor is about starting with ingredients, and thinking about how to pair contrasting flavors to push people's taste buds to the edge.
"If I'm cooking lasagna, I want it to be the best lasagna you ever had. If I'm making BBQ ribs, I want it to be the best you ever had. That's Maximum Flavor," Calvo says.
How can others cook with Maximum Flavor? Chef Calvo walks us through the process:
"I'm always talking to myself when I'm surrounded by food or ingredients. Let's say I'm at the grocery store, and I see a cauliflower and the inspiration hits me. I say to myself, 'Okay, how can I make this taste as best as possible?' Or 'How can I make someone who doesn't like cauliflower love it?' Then I start putting flavors together in my head, adding ingredients with contrasting flavor profiles. I then ask myself, 'Do these flavors complement each other?' Or 'If this was on the menu, would I order it?' If the answer is yes, then I've got my dish."
How Chef Calvo Feels Like a Superhero Everyday
With so many accomplishments in her lifetime, what are some of the standout moments for Chef Calvo?
"Being able to open my first restaurant was this huge deal," Calvo says, but she also talks about the less obvious moments for her. "Every time I was ready to write the next cookbook. The excitement and initiative to me felt even more momentous than the release itself of the book."
And then there are the daily moments that stand out.
"When I put on my Chef Works chef coat everyday, I feel like Captain America when he has his shield. It's the same kind of effect of when a doctor puts on their scrubs. I go from being a civilian in my normal clothes to being this superhero chef in a chef's coat that's ready to create magic for you with food. At the end of the day, it's not brain surgery, but when I put on that chef coat I know that I'm going to serve up lasting memories that people will hopefully salivate and daydream over."
If you want to feel like a superhero that's capable of handling the heat of the kitchen, Chef Works has got you covered. From chef coats to jackets to pants, Chef Works has comfortable, stylish, and functional apparel. Click here to shop!