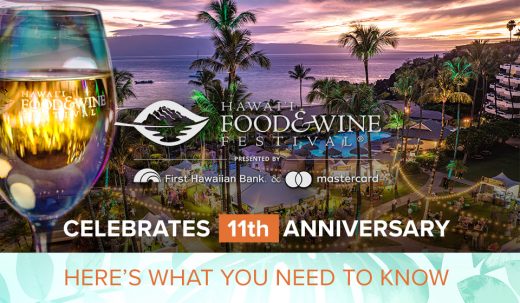 ---
An inside look into the next stop of this world-renowned food and culture festival
---
The Hawai'i Food & Wine Festival (HFWF) kicked off its first O'ahu event on October 15 after wrapping up its lineup on the Island of Hawai'i. Though the COVID-19 pandemic caused the HFWF team to adjust the traditional way of setting up the eleventh annual festival, that didn't stop them from crafting the same unique and exquisite culinary experiences they've become known for.
"For us to operate in this environment has been pretty tough," said Denise Hayashi Yamaguchi, Founder & CEO of HFWF. "Last year, we were able to do smaller events, chef collaborations within restaurants. This year, we're doing a bit of a hybrid with some chef collaboration dinners and some modified tasting events."
Checking the lineup of events, both new attendees and seasoned ones can look forward to a variety of truly one-of-a-kind dining and cultural opportunities, despite the challenges of the pandemic.
Each collaboration restaurant event features a stellar lineup of world-class chefs, the use of locally sourced ingredients showcasing Hawai'i's bounty and a theme, which dictates the dishes served and the experience that goes along with it. However, the Festival's mission doesn't stop at spotlighting Hawai'i's culinary excellence. New for 2021, each event features a local nonprofit and/or agricultural partner that works to educate guests and raise awareness about Hawaiian agriculture and culture. The goal? To "foster a greater appreciation for Hawaii's national resources by educating residents and visitors about [their] collective responsibility to 'Malama Aina' — to care for their land." 
The Festival kicked off on O'ahu with an event called Mama Mia!, an ode to classic Italian cuisine hosted at Noe at Four Seasons Resort at Ko Olina and featuring Chef de Cuisine of Noe Italian Restaurant, Ryo Tatasuka andmasters of Italian cuisine, Michael Chiarello and Alex Stratta. The Art of Food & Wine at The "Original" Roy's® in Hawaii Kai followed on October 17.
This was a particularly stand-out event since the dinner not only featured an artistic five-course feast and gala with Michelin-starred and James Beard Award-winning chefs Peter Armellino, Josiah Citrin, Gale Gand, Susur Lee, and Roy Yamaguchi, but also showcased paintings and sculptures handcrafted by local Japanese-American artists Satoru Abe, Harry Tsuchidana, and Roland Longstreet. In tandem with the Festival's mission, guests have the opportunity to bid on 40 of the artists' original pieces now through October 25. The proceeds will support the agricultural, culinary, and hospitality industries in Hawai'i. 
Also new for 2021 is Kamehameha Schools Presents Backyard BBQ & Mele on the Lawn at Bishop Museum. This unique event creates collaborative opportunities supporting emerging artists and industries in Hawai'i, including culinary, art, music and fashion. The evening showcases Hawaiian culture and traditions to residents and visitors through food, mele (song) and creative arts. Guests will enjoy a taste of the best island-raised meat products and indigenous produce prepared by top local chefs. Na Leo, Hawai'i's most celebrated female trio of vocalists, headlines the evening joined by fellow Kamehameha Schools alumni, the award-winning musical group Keauhou. The event will also feature partnerships with Hawai'i 'Ulu Cooperative, Hawaiian lifestyle brand Manaola, as well as event co-hosts and local celebrities Brook Lee and Manu Boyd.
The Festival concludes on the island of Maui with two collaboration dinners and the 24th Annual Roy Yamaguchi Golf Classic. Join Maui's finest chefs and Certified Master Chef Rich Rosendale for an evening of culinary magic at Hawaiian Airlines Presents Now You See It, Now You Don't at Humble Market Kitchin by Roy Yamaguchi on December 8. The next night invites guests to Roy's Kaanapali for Mahi Pono Presents Local Boys Are No Ka Oi, a celebration of homegrown chef talent and fresh local ingredients.
Tickets are still available to events in the Festival's December lineup on O'ahu and Maui at www.hawaiifoodandwinefestival.com.
Though most flock to the event for the delicious festivities, one of the most important components of the Hawai'i Food & Wine Festival has always been about "shining a light on Hawai'i as a rich agricultural and culinary destination while helping build better relationships between residents and visitors," said Yamaguchi. And their mission is more important than ever because of COVID-19. Yamaguchi hopes everyone can work together to build a stronger and more resilient economy. That includes better managing tourism and attracting the right kind of visitors who will respect Hawaii's culture, land, and people.
You can learn more about the Hawai'i Food & Wine Festival by visiting their website.