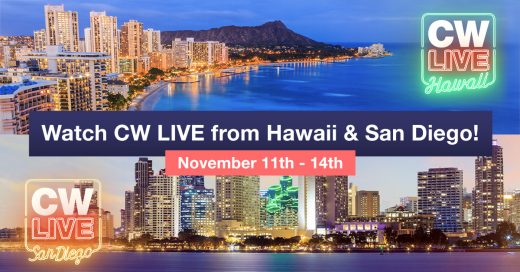 Have you always wanted to experience the VIP lifestyle, sipping champagne, visiting exotic and tropical places, and tasting mouth-watering cuisine? Good news! Your backstage access to the hottest culinary events is back with CW Live! Although you will just have to imagine what every plate tastes like. (Sorry, the Chef Works R&D department is working on virtual reality tastebuds)
This time, we aren't just covering one major festival — we're coming to you live from both Hawaii Food and Wine and San Diego Bay Wine and Food Festivals! Take a peek below at the trailer to get a taste of what's to come.
First off, take a peek at our incredible event line-up below for both Hawaii and San Diego. Find the events that most interest you, and turn on the "Remind Me" feature. This way, as soon as we go live, you will be notified to tune in. You might just want to subscribe to Chef Works Connect on YouTube, so you never miss any videos we post. And trust us when we say that we have quite the line-up coming in 2022.
---





---

CW LIVE HAWAII – CHEF COLIN HAZAMA
Colin Hazama has been on quite an epicurean journey for most of his life. For many years, guests at Waikīkī hotels got a taste of his extraordinary talent. From elevated banquets for thousands and signature breakfast items….to accompaniments paired with premium cocktails, haute cuisine for chefs' wine dinners, and everything in between. 
Hazama was named a "Rising Star Chef" by the James Beard Foundation in 2010. That award proved to be a springboard that helped his star power soar. Following that came an appearance at the prestigious James Beard House in New York City, setting the stage for 2015, which proved to be the beginning of consecutive watershed years in Hazama's young career. 
His journey continues today with C4 Table, a concept that shows off Hazama's culinary chops and business acumen he learned through the years from legendary mentors Jean-Georges Vongerichten, Alan Wong and Roy Yamaguchi. At just 38 years of age, Hazama is leading a new generation of epicurean pioneers in Hawai'i. All of this and more is exactly why we are so excited to have Chef Hazama as your host on team CW LIVE!
---
CW LIVE SAN DIEGO – CHEF RICH SWEENEY
Chef Rich Sweeney was born to be in the restaurant business. Both of his parents owned and operated bakeries and eateries in Long Island, New York. As a young man, Sweeney relocated to San Diego, where he graduated from the San Diego Culinary Institute. He accepted a position as a line cook at Harrah's Rincon Resort and Casino. After he earned his stripes in the back-of-the-house, he was offered the opportunity to learn from a prominent local chef, Chris Walsh. Starting at the bottom, Chef Sweeney quickly moved his way up the kitchen hierarchy and became Walsh's Executive Sous Chef and competed on Season 5 of Bravo's Top Chef.
Now you can find Chef Rich Sweeney as the Executive Chef of Stone Brewing Liberty Station, San Diego's premier destination for all things craft beer and gourmet farm to table offerings.
---
DON'T MISS THE FUN
Join Chef Colin Hazama and Chef Rich Sweeney as they bring the fun and flavor of Hawaii and San Diego to your favorite streaming device. Don't forget to subscribe to our YouTube Channel by clicking here, turn on those notifications, and set personal reminders on the events you don't want to miss.
If you are unable to watch our coverage of these tasty events in real-time, just head over to YouTube for the full recording of each episode immediately after the live broadcast — whether you're catching up with your favorite celebrity chefs, discovering the latest happenings in the culinary world, or looking for something from past events, like New York, CW Live has you covered.