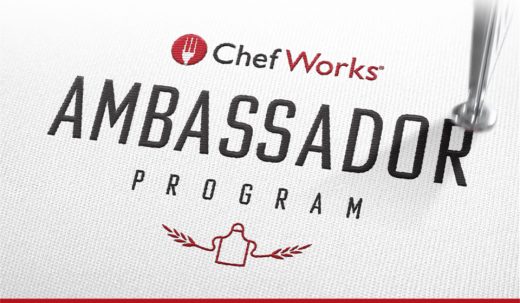 ---
Chef Works is launching its very own Ambassador Program.
---
Chef Works is launching an Ambassador Program to kick off the New Year in 2022!
We've been around since the 1960s, designing and crafting high-quality uniforms for every corner of the culinary industry. Now it's 2021 — and it's time for us to say thanks to our most loyal customers by starting our first ever Ambassador Program. 
When you choose to wear Chef Works, you become one of our most valued treasures — a brand ambassador — almost without knowing it! We recognize this and appreciate that you entrusted your brand into our hands, and we've listened to you over the years, as many of you have asked time and time again how we can do more together. 
Your excitement for your work and our uniforms is loud and clear. We've heard your requests and are excited that it's time to launch our official Ambassador Program to say thanks to our best advocates!
In return for sharing your love for the Chef Works brand and helping others find us, we'll shower you with giveaways for amazing products, exclusive early looks at some of our thrilling new releases, the opportunity to create and share content as a team, and even tickets to sponsored events, and many more perks!
Our goal is to start slow and build this Ambassador Program together. We expect it to change and grow with the industry, just like you've likely changed and grown in your career. We are truly excited to be on this journey alongside you.
If you're interested, we invite you to be one of the first to fill out an application [https://j5h6alw1ly1.typeform.com/cwambassador].
Some of the special perks of being chosen to be a Chef Works Ambassador include:

Best of all, these are just a few of the perks to get our Ambassador Program started — we'll continue to listen to you within the community for what matters most and what delights you best so we can keep showing up for you just like you keep showing up for us! 
Applications are limited for our program launch! If you're ready for a true partnership, and a unique and rewarding program for our most loyal Chef Works supporters, we hope that this is the opportunity you've been waiting for.