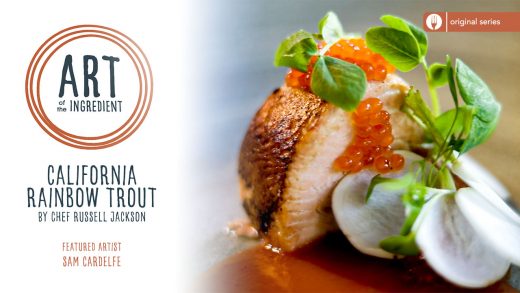 Chef Works is proud to announce the return of Art of the Ingredient, an exciting show that combines the passion of food with a love of art — we take a singular ingredient and explore   its importance  in the eyes of a chef, while an artist simultaneously creates  a rendition of it!
This season launches with Chef Russell Jackson. 
Chef Russell started in the culinary industry  at the young age of 17. From there, he catapulted forward in his career with four restaurant launches and multiple television appearances, including Iron Chef America and The Next Food Network Star, where he finished 3rd overall.
We caught up with Chef Russell in Harlem, New York at Reverence to talk about one of his favorite ingredients, the California Rainbow Trout. 
However, this California Trout actually hails from Pennsylvania? (Don't worry, he covers this in the episode!) 
Watch the full episode here:
---
To find the perfect pairing for Chef Russell, we set out on a search both far and wide. We traversed bridges, tunnels and ferries to land in Brooklyn, NY. This is where we found Sam Cardelfe, a local artisan that brought a new flare to Art of the Ingredient (AOTI).  
Sam, a designer and illustrator, chose to use watercolor to bring his rendition of a California Rainbow trout to life. His unique take for AOTI could only be matched by the exquisite dish Chef Russell prepared.
Watch our one-on-one with Sam here:
---
Catch more episodes of Art of the Ingredient every other Monday on YouTube. 
Be sure to subscribe and comment on the videos to let us know what you think. 
And, to see more of Chef Russell, check him out on CW LIVE from the New York City Wine and Food Festival in October of 2021.