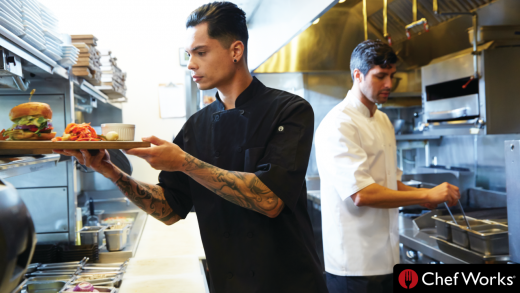 "Too many cooks in the kitchen" is a phrase we're all familiar with, but have you ever wondered how cooks get into the kitchen to begin with? If you're curious about how to land a job as a chef, this guide is for you! Whether you're an aspiring chef, an experienced chef, or a restaurant owner searching for top talent, we've got you covered.
How to find a job as a chef
1. Staffing agencies/services
One way that aspiring chefs can find jobs is through staffing agencies that specialize in the food and beverage industry. These agencies work with a variety of restaurants and other establishments to fill kitchen positions. With access to a large pool of chefs, these agencies are a great way to get your foot in the door and be seen by multiple hiring managers.
Agencies also benefit restaurant owners by providing them with a steady stream of qualified candidates, allowing restaurateurs to focus on other areas of their business. Whether you're a restaurant owner or chef, see if you can find any opportunities through a staffing agency.
2. On-demand staffing services
With the rapid pace that technology is moving, it's no surprise that many things are available to us at the push of a button. Hiring for kitchen staff is no exception. On-demand staffing services such as Qwick have become increasingly popular in recent years.
Not only do these services provide talented chefs with a platform to showcase their skills, but they also allow business owners to post job openings and reach a larger pool of qualified candidates. Qwick's platform connects pre-vetted culinary talent with businesses in need of kitchen staff.
Platforms like Qwick offer flexibility in hiring (allowing businesses to put up job postings for full-time staff or temporary positions), while also attracting valuable new team members to the business. A win-win in our book!
3. Restaurant job boards
Job boards are essential for job seekers and business owners alike. Here are some great free and paid options:
Culinary Agents: A niche job board that connects employers with food and beverage professionals from all levels of experience. The platform features applicant filtering tools, candidate matching, job post distribution, and access to a marketplace. Job listings are distributed to over 500 partner sites making it easy for job seekers to find your listing and apply.
Poached Jobs: A popular restaurant job board and employment marketplace, Poached Jobs helps job seekers and employers connect by showcasing restaurant jobs from thousands of locations. Whether you're a business looking for a sous chef or a culinary school graduate looking for their first job, Poached Jobs has got you covered.
Sirvo: Sirvo is a job board that focuses on streamlining the hiring process and connecting employers with culinary talent quickly and easily. Candidates can enjoy a robust collection of job postings while employers can feel good knowing that their posting is being seen by thousands of qualified candidates. With features like access to a resume database, a built-in applicant tracking system, and a dedicated company page, Sirvo makes it easy for employers to find their next great head chef, executive chef, or line cook in no time.
Pro tips: Post to multiple job boards to boost your efforts.
4. Referrals
A referral from a trusted source is another great way to land a gig. After all, the best people to vouch for a chef's skills are other chefs! Additionally, research has shown that employees who are hired through a referral are more likely to stay at a job longer and are more productive.
How to identify great culinary talent as a restaurateur/hiring manager
Trying to identify culinary talent for your establishment can be a challenge. Being a successful chef requires skills well beyond the kitchen. Below are some of the skills and qualifications that you should be looking for as you hire a chef. Feel free to incorporate these as you're writing a chef job description.
1. Ability to multitask & attention to detail
Chefs are responsible for a variety of tasks in the kitchen. From kitchen management to the cooking itself, chefs must balance the many duties that come with the position. On top of this, having a chef who's detail-oriented will allow your kitchen to run more efficiently and effectively. A detail-obsessed chef will be able to maintain food quality and provide the best dining experience for all guests.
2. Top-notch cooking skills
Although it sounds obvious, the best chefs are​​ those who are able to let their food speak for itself. That's why, during the interview process, it's important to sample a chef's food. By requesting a selection of their dishes before moving forward in the process, you're able to get a sense of a chef's food preparation practices, the quality of their food, as well as the quality of their service.
3. The right attitude & commitment
The day-to-day responsibilities of restaurant chefs can be demanding and often stressful. That's why it's important to find someone who can persevere while contributing to a positive work environment. Also, find a chef who acknowledges that learning is ongoing, whether or not they have a culinary arts degree. Lastly, establish whether leadership skills are important for this particular role.
Looking ahead
In the fast-paced restaurant industry, finding a job or (finding talent) can be a daunting task — these avenues are a great start! Be sure to stay connected to a community like Chef Works' Facebook group Table 1807 for even more networking opportunities.