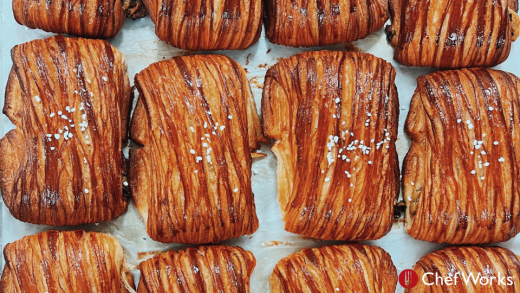 Dubbed a "rising star" by the Mercury News, Chef Gaby Lubaba has been attracting visitors to her small-town bakery from across the Bay Area. Technically precise, yet filled with heart, everything that comes from East Bay Bakery is mind-blowingly delicious. Chef Works had the opportunity to speak to Gaby about her unique journey from fashion tech to baking, how she creates harmony out of precision and creativity, and her most invaluable lessons as a business owner.
Chef Works: Can you tell us a little bit about yourself and how you got into the baking industry?
Gaby Lubaba: It's a funny story. I graduated as a multimedia communications major at Academy of Art University in San Francisco and worked in fashion tech — and I was always bringing baked goods to my coworkers. My mom's a restaurant owner, so my interest in baking and cooking has always been there. At the same time, I didn't want to follow in her footsteps; I wanted to be a baker. It's more systematic — you have to be precise. So I went to the San Francisco Baking Institute and took bread classes, and that's where I met my mentor, Mac, from the Midwife and the Baker. I worked with him for almost two years as their baker, doing everything from sourdough to laminating croissants to shaping baguettes — all the fun things. It was my first ever kitchen experience and it was the best. The way Mac runs things is very friendly and family-oriented. I fell in love with it and knew I wanted to be my own boss one day.
Chef Works: You mentioned you love the precision that baking requires. How do you balance that precision with creativity as you're developing new baked goods?
Gaby Lubaba: When you're learning a new skill, you have to follow all the rules before you can break them. So at the Midwife and the Baker, I nailed down the science of making a bread. I learned why the temperature of the water matters and why pesticide-free organic wheat matters. I learned how ancient grains like kamut and einkorn not only add flavor but nutrition benefits as well. I also learned the difference between fresh-milled flour and store-bought flour. So when I opened my bakery, my menu was very simple: just a couple of croissants and some breads. And then, once I got the hang of producing it myself, I started to create my own signature items. My very first signature item was the pandan cruffin. What's so great about being the business owner and baker is I have the creative freedom to change my menu tomorrow, next week, next month. And you know, I created the bakery not for the money or to have multiple locations — but as a creative outlet.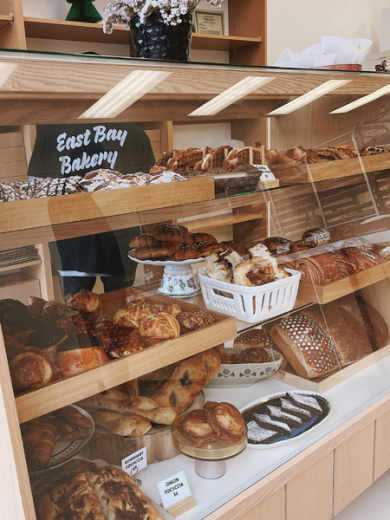 Chef Works: What challenges have you faced being both the business owner and the baker?
Gaby Lubaba: We started as a small team, working out of a commissary kitchen and only doing farmers markets. And then once we opened the storefront, it became a whole different game. I had to step back from the baking and learn how to manage a team, learn how to put my trust in my team. As a part of the hiring process, something I look for in a person is that we're able to trust each other — that I can step away for a little bit, knowing that the person's got it. Then, there are the day-to-day challenges like the POS stops working or the Wi-Fi stops working. As a business owner, you're constantly putting fires out.
Chef Works: Can you share with us some of your proudest moments as a chef and business owner?
Gaby Lubaba: When I was working at the Midwife and the Baker, we joined the best croissant competition in San Francisco, and we won People's Choice. That was really cool, especially because I had just transitioned to the hand laminating station at the bakery and was doing the croissants at that time. And then my second proudest moment would be when we first opened the store. Everything that goes into opening a store is really hard — from the city planning to the architecture to the inspection. Finally finishing everything and opening our doors to customers was one of my wildest dreams. And the third is the feedback we get from people everyday! I'm very proud of our team.
Chef Works: Your menu incorporates traditional Asian flavors — can you share about the inspiration behind that?
Gaby Lubaba: Part of it is that my husband and I are such foodies, and we're constantly thinking, What flavors go well with this and that? When we created the bánh mì danish, it was inspired by time spent in Vietnam. My parents own  the first-ever Indonesian restaurant in Hanoi, so I grew up visiting Hanoi and Ho Chi Minh. I love Vietnamese food, but here in the East Bay, very few restaurants serve bánh mì. I wanted to make my own, but it's so hard. I said, 'You know what, what if we put it in a croissant, and make it smaller, simpler?' As far as the other Southeast Asian flavors like ube — I just personally love ube. We don't plan on making everything into Southeast Asian flavors. I prefer selling the classics like traditional croissants, sourdough, and baguettes. But I want to put Indonesia on the map, and it's fun to have things on the menu that attract anybody who loves Southeast Asian flavors.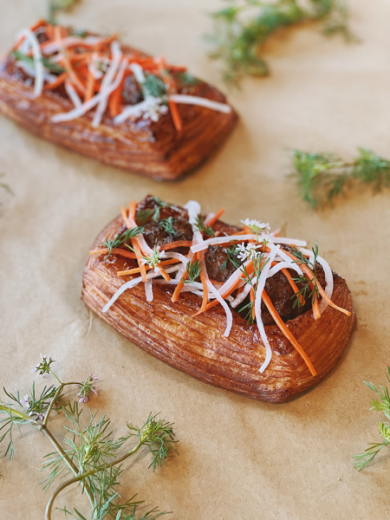 Out of your entire selection, what's your personal favorite?
Gaby Lubaba: I'm very proud of our baguette. We use 25% kamut flour, also known as khorasan. It's the one thing I can eat everyday, night and day. My second favorite would be the classic butter croissant.
What advice would you give to aspiring chefs and entrepreneurs looking to own their own bakery or get into the baking industry?
Gaby Lubaba: Persevere. Starting anything from scratch is really hard. To get into this industry, you gotta do your research. And when you're creating your menu, don't put things just because they're trendy. Sure, you'll get traction, but not for long. If you're trying to get into the baking industry, think about what makes your product really, really good. Why would people want to come back? That's the key: you want customers to come back. So you gotta create something that is craveable and genuine!
Follow Chef Gaby and East Bay Bakery on Instagram @eastbaybakeryofficial