A little while back, a group of unexpected guests showed up at my house, and it was clear they would be there for a while. I wanted to be a good host and feed them all, but didn't have any snacks in the freezer that I could just microwave and serve.
I was frantic in the kitchen looking for something to serve to them. I looked in the refrigerator…tomatoes, onions, cilantro, jalapeños, and limes? Classic pico de gallo it was.
It didn't take long to get all of the ingredients chopped, and the tomatoes draining. During the draining time I broke out the sweet tea, and thanked God my husband was there to chat them up.
When the tomatoes were ready, all I had to do was toss everything together in a bowl and serve with some tortilla chips.
Although I usually serve it chips and dip style,  you could also serve it on fish tacos, burgers, salads, or grilled chicken. It's a really easy way to freshen up a heavy dish, and a guilt-free snack on its own.
Classic pico de gallo is perfect for super bowl parties, picnics, packed into a lunch, or Mexican night at home. It also never fails to please as an appetizer at any party.
The fresh, bright flavors from the tomatoes and lime juice in combination with the kick from the jalapeños makes this a bold and exciting dish. The crisp texture is what makes me crave pico de gallo.
Once you start eating, it's hard to stop! There are a few things you can to do to ensure this effect; beginning with the ingredients.
Plum tomatoes, or roma tomatoes are the best choices for the tomatoes in this recipe. They have a lot less seeds and hold together better in the pico de gallo. It also results in a more pleasing texture.
Since we are leaving the onions raw, white onions are going to be the best choice. They have a better flavor for fresh dishes, and it melds really well with the other flavors of the pico de gallo.
When choosing your cilantro, grab the healthiest looking bunch you can find. It will take a pretty hefty bunch of cilantro to equal ½ cup, so keep that in mind while you are shopping.
For the best results, chop everything finely, so you can get some of everything onto your chip.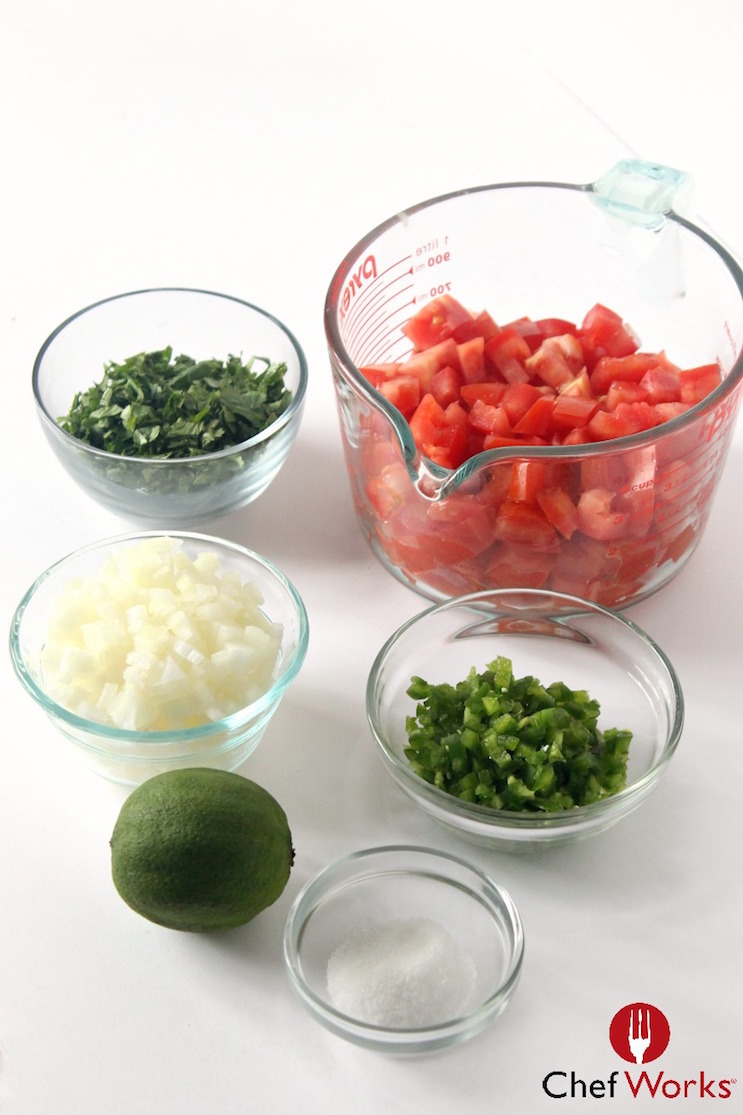 For this recipe you will need ripe tomatoes, salt, cilantro, jalapeños, white onion, and the juice of half of a lime.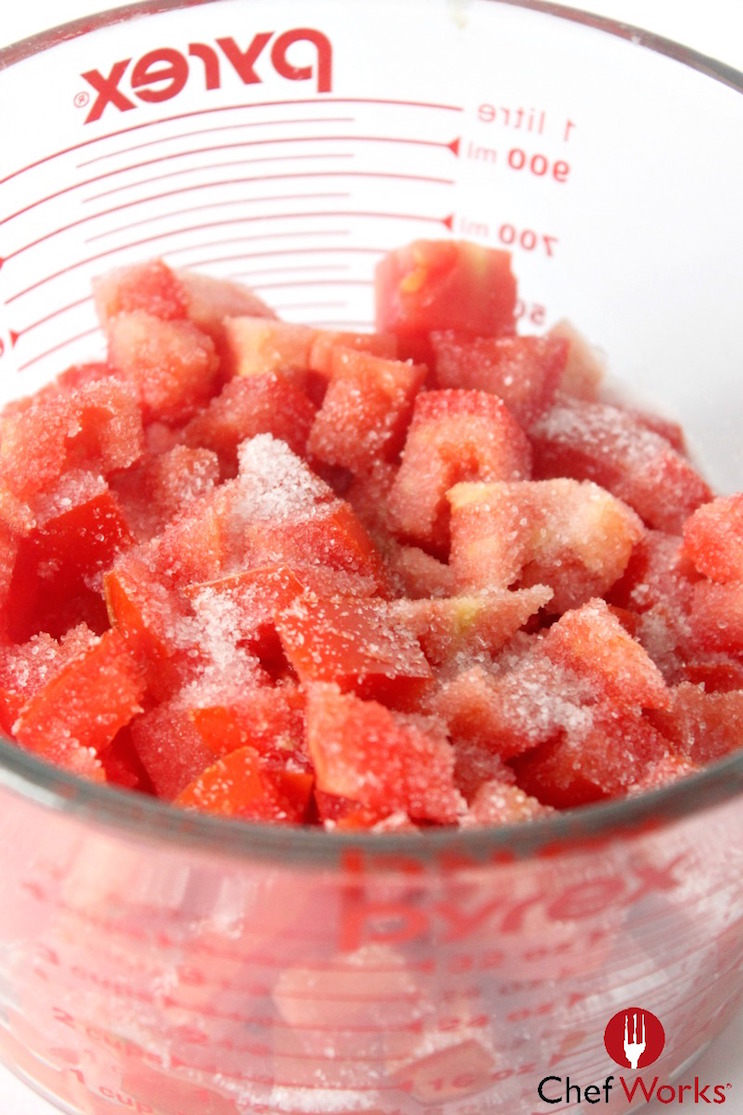 Sprinkle the salt over the tomatoes.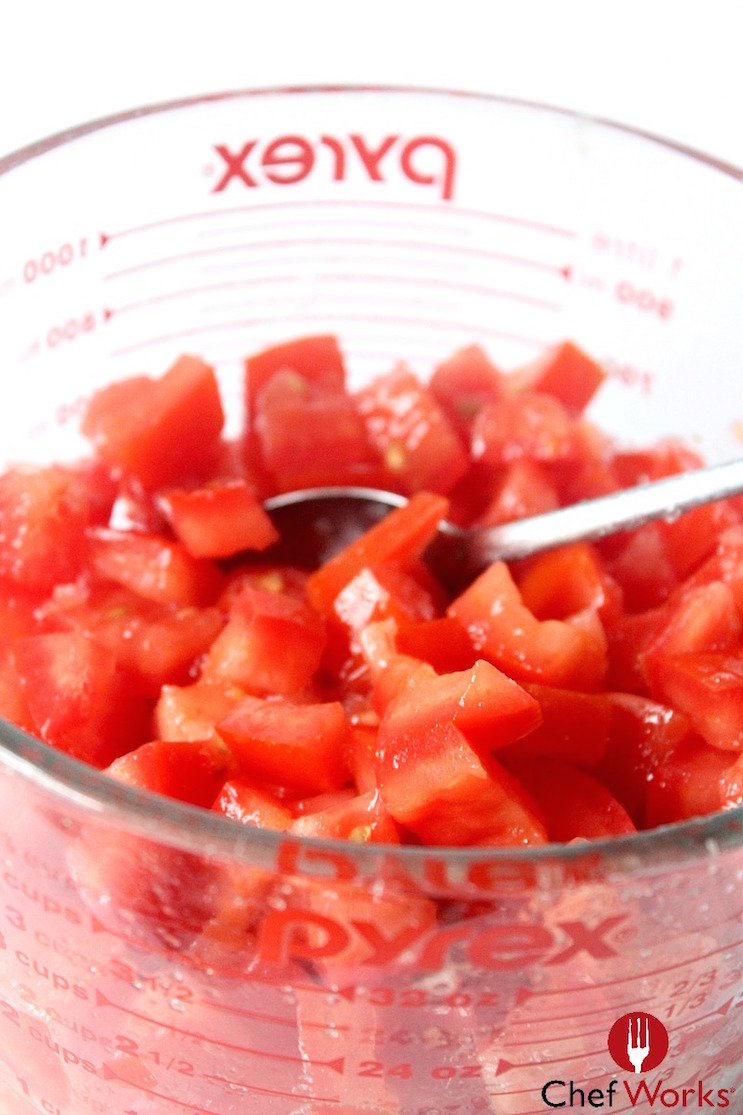 Toss it with a spoon until it is evenly seasoned. Immediately you should notice the tomatoes begin to sweat. Place a strainer into a bowl, and transfer the tomatoes to the strainer. Allow the tomatoes to sit and drain for 15-30 minutes, stirring every few minutes to maximize the amount of liquid that drains out. Discard the liquid that was collected in the bowl
This process will ensure that your pico de gallo won't become soupy later.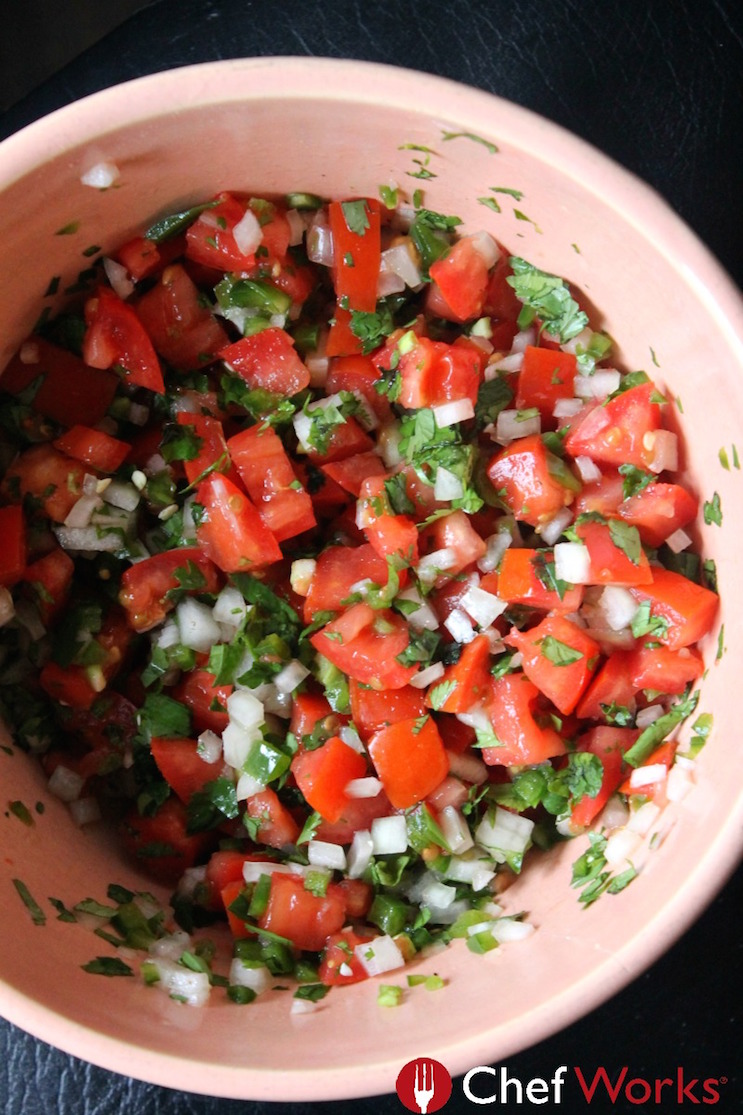 Toss the tomatoes with the remaining ingredients
Classic Pico de Gallo
Ingredients:
1 1/2 pounds ripe tomatoes, cut into 1/4- to 1/2-inch dice (about 3 cups)
1 teaspoon salt
1/2 large white onion, finely diced (about 3/4 cup)
1-2 serrano or jalapeño chilies, finely diced (seeds and membranes removed)
1/2 cup packed fresh cilantro leaves, finely chopped
1 tablespoon lime juice from 1 lime
Directions:
In a quart sized bowl, season tomatoes with the salt and toss to combine. Transfer to a fine mesh strainer or colander set in a bowl and allow to drain for 15 to 30 minutes stirring a few times. Discard liquid.
Combine drained tomatoes with onion, chilies, cilantro, and lime juice in a medium sized bowl. Toss to combine and season to taste with salt.  
Recipe Notes:
For mild spiciness, remove all of the seeds and membrane from the jalapeños before mincing. If you want a medium heat, only remove half of the seeds and membrane. If you would like it to be really spicy, leave in all of the seeds and membrane.
If you choose to leave in all of the seeds and membrane, make sure to mince the jalapeño finely for even distribution.
When seasoning the final product with salt, keep in mind that the chips you serve it with are also salty. Taste it with a chip to see how much seasoning it needs.
If you don't have a tolerance for cilantro, try cutting to back to ¼ cup of cilantro, and substituting in ¼ cup of parsley for the rest.
Pico de gallo can be stored for up to 3 days in a sealed container in the refrigerator.
What will you serve your classic pico de gallo with?