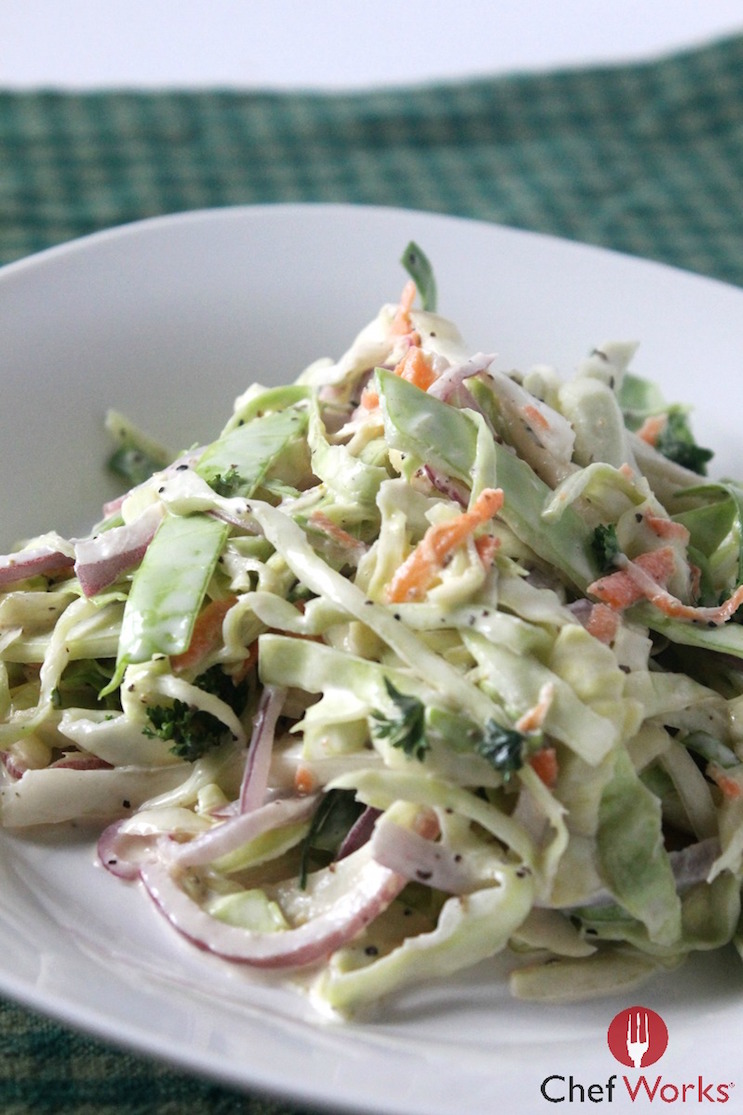 Often in spring and summer, my entire family gets together for a Southern style barbeque. We love to get together at the lake house and catch up with each other. I really enjoy the smell of the grilling ribs, and the way my mouth waters at the sight of the "Carolina Gold" sauce, made from a mixture of yellow mustard, vinegar, brown sugar and a few spices.
While people might debate between mustard based, tomato based or vinegar based wel pair almost all of them with coleslaw and potato salad. We all have our family favorites from southern mustard based with pickle relish to hot german  potato salad.
My mama's coleslaw always makes an appearance, and there are never any leftovers. Even when she brings three gallon sized tubs of it. When you live in the South, you keep your leftover gallon sized ice-cream buckets to transport food to barbeques, like potato salad, salad mix, and creamy cole slaw.
My favorite part about this recipe is that you can make it the night ahead if you need to make enough for a crowd. Preparing it ahead of time also lets the flavors mix and infuse into the cabbage. It is definitely one of those dishes that tastes even better the next day.
There are many different ways a cole slaw can taste, but to ensure quality of flavor I always always use my mother's recipe. There is a science behind it, and besides, I'm not one to mess with tradition.
This creamy cole slaw has slightly spicy flavors from the cabbage and onion, as well as a sweet and peppery flavor from the dressing. The texture is also completely unbeatable. You use salt to tenderize it a bit so it isn't tough, but it is still crisp and even crunchy.
When you let the slaw mix sit in the salt and sugar, it will soften and reduce a bit. So even if you think you have a lot of slaw in the beginning, it will amount to be about a third of the original size. So if you are bringing this to a large gathering, you will need to multiply this recipe a few times.
You could also customize it at that step. If you prefer a softer cole slaw, leave it to rest another few minutes. Keep an eye on it though to make sure you are only tenderizing it to your liking. Keeping that in mind you should end up with a perfect creamy cole slaw.
Not only is creamy cole slaw absolutely delicious, it is also good for your your health! Cabbage is a main ingredient in this recipe, and it lowers cholesterol, helps keep blood pressure from getting too high, and aids you in the process of digestion. So when you serve this alongside a meaty meal, it counters a lot of unwanted side effects of the meat.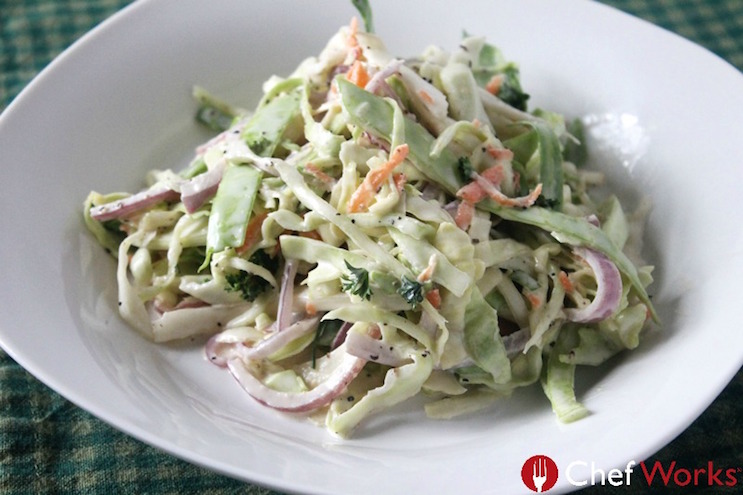 This recipe is definitely a keeper, so let me show you how to make creamy cole slaw!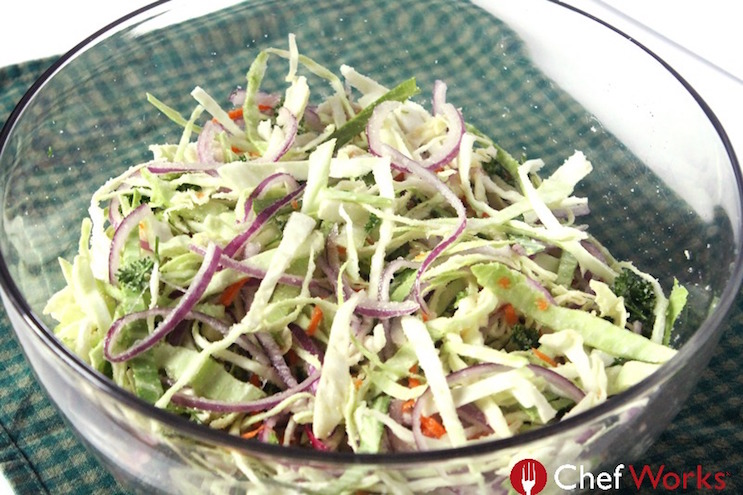 In a large bowl, toss together the cabbage, onion, carrot, and parsley. Sprinkle on the salt and sugar, and toss again to coat. Let sit for 5 minutes. This will make the cabbage less raw tasting and tough to chew, while keeping a crunch and fresh flavor.
While it's sitting, you will see that the cabbage will begin to sweat, and water will collect in the bottom.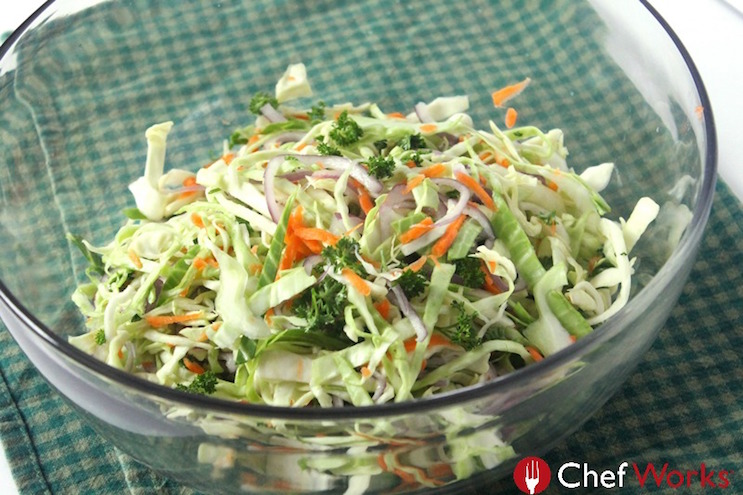 When it is done sitting, you will see that it has reduced quite a bit. Transfer the slaw into a colander and rinse with cool water for a couple of minutes to get the salt off.
Spin the slaw dry in a salad spinner.  If you don't have one, you could also dump the slaw onto a few layers of paper towels and pat it dry. Transfer it back to the bowl, cover it, and set it aside until you are ready to toss it with the dressing.
I normally split it between two bowls for the first step, and put it all back in one bowl at this point.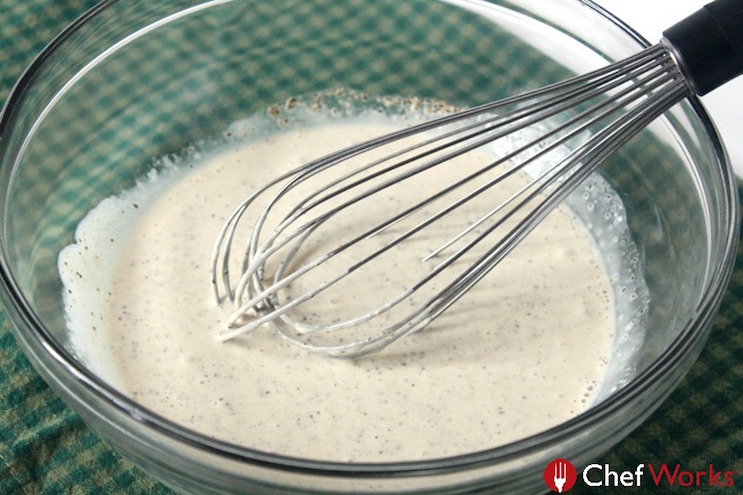 For the dressing, whisk together the mayonnaise, dijon mustard, apple cider vinegar, sugar, and pepper until completely smooth. This could take a while to homogenize.
Pour the dressing over the slaw and toss to coat. At this point you can taste it and adjust seasoning if you would like.
I like to play my  favorite song and swing my hips while making the cole slaw. I know I need to burn some calories before the barbeque the next day.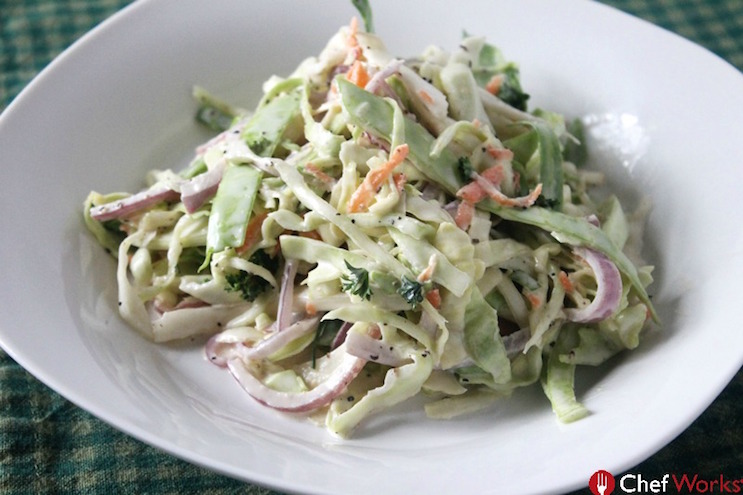 Creamy Cole Slaw
Ingredients:
1 large head green cabbage (about 3 ½ lbs.), finely chopped by mandoline or hand
1 large red onion, finely chopped by mandoline or hand
1 large carrot, peeled and grated on the medium to large setting
¼ cup fresh parsley leaves, roughly chopped
1 cup white sugar
¼ cup salt
¾ cup real mayonnaise
¼ cup apple cider vinegar
2 tablespoons dijon mustard
1 ½ teaspoons freshly ground
3 tablespoons white sugar
Instructions:
Combine the cabbage, onion, carrot, and parsley in a bowl large enough to toss in (if you don't have a bowl large enough, you will need to divide it into two bowls). Sprinkle the slaw with the sugar and salt, and toss to combine. Let rest five minutes, then transfer to a large colander and rinse thoroughly under cold running water.
Transfer rinsed mixture to a salad spinner and spin dry. Alternatively, you could dump the rinsed slaw onto several layers of paper towels or a clean kitchen towel and blot mixture dry. Return to large bowl, cover, and set aside.
Combine mayonnaise, vinegar, mustard, black pepper, and sugar in a medium bowl and whisk until smooth.
Pour the dressing over the cabbage mixture and toss it to coat. Taste and adjust seasoning with more salt, pepper, sugar, and/or vinegar if desired.
Where will you take your creamy cole slaw?