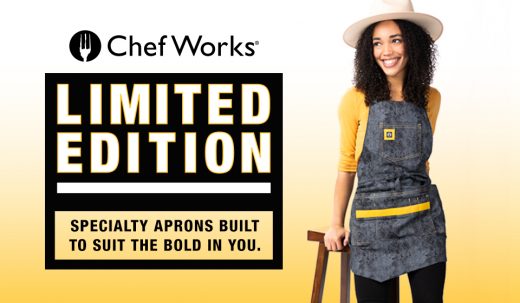 At Chef Works, we design every single garment with style and functionality in mind. Whether you work front-of-house, back-of-house, behind an espresso bar, or in fine dining — our uniforms help you shine at your craft. Our brand-new aprons are no exception!
This limited-edition capsule includes eight designer aprons that celebrate the creativity of the people who wear them. To learn more about our exciting new release, we sat down with Chef Works designers Jeanine Patz and Claudia Rico to talk about their inspiration.
Jeanine Patz, has been with Chef Works since 2004. She got her start in fashion in South Africa, where she worked with design and pattern-making. Claudia Rico has been with us since 2011 and first fell in love with fashion when she was a little girl playing with fabrics and her sewing machine in her home country of Mexico. 
As creatives themselves, Jeanine and Claudia recognize the artistry within the culinary industry — this new collection is a celebration of that!
On taking our design
s to fresh places
Jeanine Patz:
This line is completely different to what we've ever done before with Chef Works. It's more focused on retail rather than corporate. There are eight different aprons in the line: very colorful, all reversible, and very detailed. Just unique. 
Claudia Rico:
We found our inspiration from chefs. All chefs want to be different and want to wear something that makes them feel good. Instead of going for a corporate look, we've had the freedom to be more creative and play with color and patterns. We try to bring out products that help chefs feel connected and happy in the kitchen. We think about all the features that they're looking for: pockets and different ways to wear the apron.
Who we designed this collection for
Claudia Rico:
For this collection, we interviewed chefs with so many different personalities. We tried to design around the different things that each individual was looking for. For example, you have traditional chefs who like a classy look and want pockets and other features. There are other chefs who are really funky and want color. There are ones who are more youthful and ones who are more sophisticated. We wanted to have something totally different from what we usually have out there.
Jeanine Patz:
The chef is a creative person. We created these aprons for chefs to feel good in, to feel excited putting on. When you put on a colorful top, you feel good in it, you know? 
Claudia Rico:
Like everybody says, when you feel good, I think that transmits onto the food. And if you're happy, you're going to get an even better meal.
Every chef has a unique personality — and Chef Works is here to enable you to express yourself completely from the uniform you wear to the edible delights you create. Explore our Limited Edition aprons while they last to find the color, pattern, and fit that resonates with you!