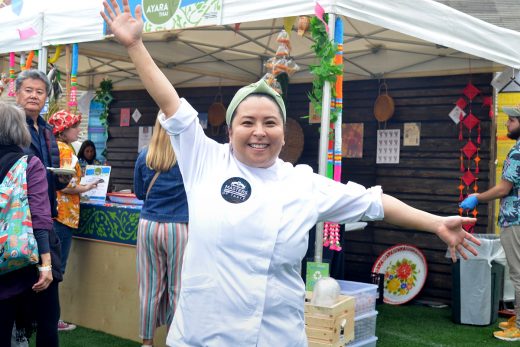 ---
Each month we feature a Chef of Chef Works®. If you're a fan of Chef Works gear and are interested in being featured, fill out this form. Pictured above is our July 2022 Chef of Chef Works®, Chef Vanda Asapahu, in her MARRAKESH V-SERIES CHEF COAT
---
After growing up in a restaurant family, Chef Vanda Asapahu decided to pursue public health. She earned her masters degree in public health and spent several years working in Thailand with the United Nations. Then, while visiting home, she realized she could help keep Ayara, her family's restaurant, strong while also making tangible change in her community. We had the chance to sit down with her and learn more about the restaurant, what it was like to earn a Michelin Bib Gourmand, and what she is planning as the host of this year's Masters of Taste LA.  
Chef Works: Could you start by sharing a bit about your story? How did you get into the culinary industry? 
Vanda Asapahu: I've always been in a restaurant family. I grew up in a restaurant as a restaurant kid. I'd help my mom prepare rice or make chili relish with a mortar and pestle, then do my homework and put myself to bed at night while my parents were still finishing up at the restaurant. Ayara was actually built while I was in college. At that time, my parents were catering out of their house for the Thai Airways crew that flew into LA and needed a quick late night bite before going to bed. We started a restaurant right down the street from our family's house in Westchester, CA, which is a corridor of LAX. And 18 years later, the baton has moved from my parents to me. About 10 years ago, I left my job and rejoined the family business. I'm the oldest of three. My brother is the middle child, and my sister is a pastry chef — she's on this journey with me as well.
My parents started cooking Thai food in the US when Thai food wasn't as trendy. We've watched Thai food "ride the coattails" of Chinese food. We always had to label our former restaurant things like "Thai Chinese" to help Americans understand what Thai food is. Now I have the privilege of a restaurant that allows me to cook more of my identity of being Thai American. 
CW: Do you feel like because this is a family business, there was pressure or expectation on you to take it up and carry on the legacy? How did that play into your personal passion?  
VA: I don't think my parents ever expected us to come back to the family business. They actually wanted me to be a lawyer or doctor. I studied pre-med in college and got my degree in public health. And then got my master's in public health. Then the tsunami happened, and I actually moved to Thailand, and was working there with the UN. They thought I'd never move back. 
But, you know, I think if your parents are entrepreneurs, your first career is whatever career they're doing, right? You grow up with it. I watched my friends spend weekends together as a family and take trips — we didn't do that on the "normal" or "regular" basis, and so it felt a little different. I think I resented it a little bit because it took away the time that they should have had for me.  
But, at the end of the day, I think being the oldest, I feel a sense of "This is everything that they've built for us" and like how could I not? When I took a leave from my job, I fell in love with working at Ayara and making changes. Working in public health, change is super bureaucratic, and requires a lot of work with the government. Working for myself, I could make changes like paying livable wages, providing benefits, creating a fun environment where everyone is accountable for the change that I want to see — I was able to make it happen. From the time I took over about 10-ish years ago to now, I've seen the fruits of these changes. And obviously, it's always a work in progress, we're never perfect, but there's always something we can do. 
CW: Is there anything that you want to bring light to about Thai cuisine that people might not know?
VA: Something that's been on my mind recently, something that is a personal mission of mine, is shining light on the fact that Asian food, Thai food, isn't about being cheap. I think authenticity in Asian food is often associated with it being cheap and fast. I think of educating Americans to help them understand that it takes a lot of time and skill to prepare many of these dishes. We make our curry paste, for example, from scratch with 30 ingredients that have to be layered and bloomed. And when people ask, "Why is your food expensive? And why are there price increases?" We could say there are increases in the supply chain, the raw ingredients are going up, but honestly, it's the labor that goes into it. It doesn't come overnight. It takes years to perfect, and it's generational. Many of the sauces and pastes that we use, were taught to my dad and my mom by their parents and onwards. A lot of our ethnic food, especially Asian food, isn't just a sauce that we put in oil. It actually comes from families that have worked on this for years and years. And authenticity shouldn't be associated with being cheap and fast.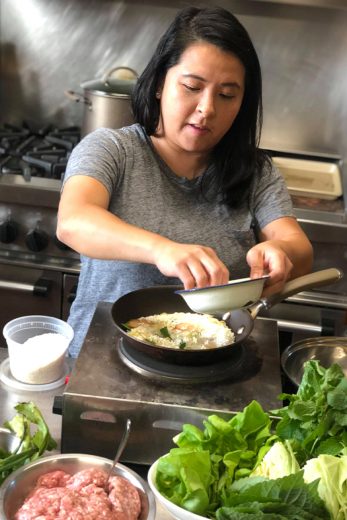 CW: Can you share some of what it was like to get the Michelin Bib Gourmand? 
VA: True story, I found out that we got the Michelin Bib Gourmand while I was doing a produce run. I was picking up mushrooms from one of our vendors. It came as a shock and was emotional because we were also dealing with a team member having had a stroke the previous week. With all of that, and also being recognized — it was very emotional. I think we're one of three Thai restaurants in Los Angeles to be recognized, so it came as a surprise. And it came as you know, a great celebration for all the hard work not only me and my family, but all our team members, have put in.
In this industry we all wear multiple hats. I don't think everyone knows that. As an owner there's a perception that you're running the books and making sure payroll is run. And then as a chef, you're like, in the kitchen cooking and there's nothing else. But, as this industry changes, we all wear multiple hats and do many, many things. And, we're also human, and travel and have fun.
CW: Can you talk some about your focus on providing food for those who have been affected by different types of crises?
VA: Even pre-pandemic, we engaged in any opportunity that allowed us to be of service — we've participated in a lot of food events that benefit the homeless community. We did Vintage Hollywood, an outdoor culinary experience that donates all proceeds to charities in the LA area, and this year is going to be the fifth year doing Masters of Taste. It takes place at the Rose Bowl on April 3, and 100% of the proceeds benefit the Union Station Homeless Services, which serves many of the homeless in Southern California. I'm excited because they selected me this year as the first female chef host of the event. I think that is kind of an indirect way that many restaurants have given back. This pandemic has really shined a light on the needs that our communities have. 
We've also done a type of Thai Thursday meal kits, which we pack in Tiffin style, leaning kind of on the traditional way of Thai Chinese communities, where we cook big batches of food and everyone eats the same three dishes. There's no modifiers, you can't adjust the spice level, everyone eats the same. By doing that, we're pooling our resources together and everyone gets a cheaper meal. We actually provided these to many members of our community that were elderly and couldn't leave their house because of the pandemic. We would drop it off at their houses. 
Also, back in May, we wanted to use our platform to draw attention to the rise in Asian hate. We worked with a Muay Thai studio and gave free self-defense lessons — it was super successful. I still have people stopping by the restaurant asking when we'll do it again. We all need to find our little ways to just contribute.
CW: That's awesome! Could you share more about what you're planning for your role hosting the upcoming Masters of Taste LA? 
VA: I'm honored to be the first female host, as well as the first person of color to host the event in its fifth year. It also happens to fall during the month of April, which is Thai New Year. A big focus during this event will be highlighting not only Ayara Thai, but Thai restaurants across the entire city. I never want the work I do to be competitive. I'd rather bring everyone up with me — there's enough space for everyone, and everyone has something to offer. 
With the event in April, we're going to have a Thai booth where we're going to highlight the "three buddies." I don't know if you're familiar with this, but in Thai cuisine, there is a paste "sahm kler" that translates directly to "three buddies." It consists of cilantro root, white peppercorn, and garlic.
I'm going to be working with three other local Thai restaurants, who will appear on the field at the Rose Bowl as my three buddies. And each of them will be utilizing that same ingredient to highlight their own restaurants and everything they bring to the table. And all of these different dishes are going to utilize those "three buddies" that are so integral to Thai food. 
This paste is as important as the French Mirepoix. It's the base of many Thai dishes, but not a lot of people understand it, and it's so simple to make. We want to show people that they can make it at home and use it to make so many dishes. So, I've challenged my Thai chef friends to put this paste into whatever dish they've made. This will show the spectrum of Thai food that is based on this paste. We're also working closely with the Thai trade center that promotes the products of Thailand. I hope it's a great activation for those who join the event.
CW: When you cook, do you ever use Chef Works gear? 
VA: I think Chef Works is an industry standard. I received one of my favorite aprons in August 2019 at food and wine. At that time, we were on the food festival circuit. And I was like, "I can't cook any more Thai food. Let me do something else." So I entered into the food and wine burger competition. I think I was the only female that was making burgers that day with a bunch of bros, and Chef Works came by and it was the smallest little apron. And I was like, "I want that one."  It was very cute with a little crossback clip, and it made me feel like myself while in tents full of guys just pounding away at burgers. It's still one of my favorite aprons. I wear it when I need that lift.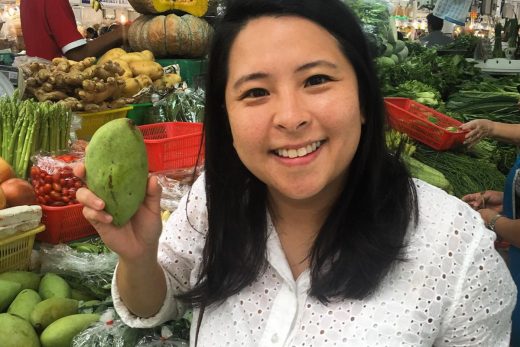 CW: What are some lessons you've learned along your journey that someone else might be able to benefit from? 
VA: My journey to becoming a chef is not the most traditional. Many chefs have a journey that is more like my sister's. She also grew up in a family that cooks and was forced to learn how to assist and be useful in the kitchen and in the household. She went to culinary school and then climbed the ladder — from being the line chef to running her own kitchen to being a sous chef and upwards. I think that's probably the more traditional route. 
For me, it wasn't quite like that. I wasn't classically trained. I didn't go to school for it. I was pretty much thrown in because my family's mentality of running a business was that you should know every aspect of the business at least to some degree — that's my dad's personal mentality. From doing dishes, cleaning the bathroom, cutting knife skills, being on the wok, to making marinades and sauces — we were forced to know every aspect of it. So I guess a token of advice for anyone starting out with an endgame of owning their own business is, don't be too shy to ask and learn. You never know what skills you'll pick up by asking and learning skills from what other people are doing. It can be useful for whatever future you have in this industry. 
If you're in the LA area, try some of Chef Vanda and her team's delicious and authentic Thai food at Ayara. You can also get your tickets to Masters of Taste where Chef Vanda will be this year's host. If you're not in LA, but still want to follow along with the impact she is making in her community (and see pictures of delicious food), follow the Ayara Instagram account! 
---
Want to be featured? Fill out this form