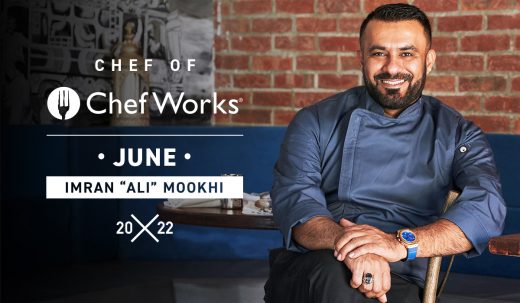 ---
Each month we feature a Chef of Chef Works®. If you're a fan of Chef Works gear and are interested in being featured, fill out this form. Pictured above is our March 2022 Chef of Chef Works®, Chef Imran "Ali" Mookhi, in his Hartford Chef Coat
---
Immigrating from Pakistan to Southern California when he was a teenager, Chef Imran "Ali" Mookhi shares his journey as a creative in the kitchen, starting from a dishwasher, to training under Michelin-Starred Chefs. After opening his Michelin-nodded restaurant, Khan Saab Desi Craft Kitchen in Fullerton, California, he talks about his future projects, and how culture and people come together to inspire his approach to serving others, both inside the restaurant industry, and within his local community.
Chef Works: Tell us a bit on how you got started in the restaurant industry?
 Imran "Ali" Mookhi: I came to the US, in the year 2000, at the age of 17, almost 18, and I didn't know anybody at that time. After I landed here, I was able to get a job at an Indian mom-and-pop restaurant in Glendale. I was supposed to be starting as a busboy, but I guess their dishwasher quit the day before my joining day. So I went in and they said, "We don't have a busboy job for you, the job is for the dishwasher. Do you want to take it?"
I didn't even know what a busboy job was, I was fresh off the boat, you know? I had never washed dishes during my life in Pakistan. So I went in and there was a pile of dishes. At first I said, "You know, I'm not gonna wash dishes. I'm not here for this."
But there was this whole other living situation as well, and the restaurant provided accommodation. If I didn't take the job, then I was gonna be on the streets again, and I had already been on the streets for a couple of days, so I took that job.
CW: When did you decide to build your career in the restaurant industry?
IM: At first, it was just a job, and then obviously the goal was to go to school, to be a computer engineer, you know, like with every other Southeast Asian person… I was one of them [laughs].
I was young and learning really quickly in the kitchen, and then I was going to school. At one point, I wanted to try something different, so I started working at 7-Eleven gas stations. I did that for a year, and it was getting too hard to pay for school, and for my living expenses, so I went back to the restaurant industry. And that's when I changed my mind that I want to do this.
I happened to work at a restaurant that used to be called Gaylord in Beverly Hills, which was one of the staple restaurants. I was able to get a job there, work with Michelin-star chefs, be trained under them, and that's how my journey started in the kitchen.
CW: Have you always been passionate about food or was it something you realized you were really good at?
 IM: I would say in 2004, that's when I made up my mind. I sat down with my Chef and talked to him. He said, "You're good at it, do it, but be a creative, out-the-box kind of person."
I always had a vision to make Pakistani Indian food with a modern twist. That was always the idea that I had, that if I want to stay in this industry, I want to get some modern influence in our food, and I was able to bring that to the table.
CW: Where are you now in your career?
 IM: For two years, back to back, at the restaurant that I was at in Santa Monica, called TŪMBI Craft Indian Kitchen, we got Michelin recognition there as well as in 2020. Then we got Michelin recognition at Khan Saab in 2021, plus the Bib Gourmand, plus the Michelin Plate, so that was a huge deal for me.
Coming from a background of no formal schooling for cooking or culinary classes, to just doing everything on your own and getting recognition like this, I mean, you know, it feels good [laughs].
CW: During the pandemic, you supported underprivileged members in your community by giving free, warm meals to local hospitals, first responders, churches and mosques. Can you share why you're passionate about this, and how this came to be?
IM: When the pandemic started, obviously everybody was in a panic mode, including ourselves, because we had opened Khan Saab 15 days before the pandemic started. We were a group of five people who were all excited that we had started Khan Saab because it was the first ever Pakistani, high-end concept.
And then, 15 days down the road, we had to shut down the restaurant and we didn't know what to do at that time because nobody knew what to do. And then we were seeing people, who worked paycheck to paycheck jobs, who were struggling really badly and we thought, how do we support this, how do we help our people, how do we help the community?
So we came up with the idea that we have all these products here, it's all gonna go to waste because the restaurants are closed, so why not just give it to the people? We started doing this every Friday and then down the road, we figured it out – there are a lot of people that actually don't have food at home, at all.
Then we started delivering groceries to people's homes. The reason we did that was because for me and my partners, we all struggled when we came to the U.S., right? So it's hard for us to see if someone's struggling. You always want to help and we don't want people to go through what we've been through.
CW: What is it that you're looking to create moving forward?
IM: We have a sister restaurant in Laguna Hills, called Mint. The restaurant has been there for about seven years, so now we are remodeling the entire space, coming out with a new menu, and bringing back restaurants where people can know, ok, there is another, high-end Pakistani or Indian place as well. It should be ready in a couple months.
But then moving forward, there is another concept that I have. Halal food is always the food that is the least appreciated, because there's a lot of people that can only eat Halal food. So for them, the options are mom and pop restaurants, but there's nowhere that they can go to celebrate, or to take their friends or colleagues. So the concept is to do anything that will attract this particular group of people.
CW: Tell us more about Halal food as you would define it?
IM: For Jewish people, like the way it's Kosher food, for Muslims, it's called Halal. It's a certain way of slaughtering the animal with a prayer. So there is a little bit of a difference between Kosher (the process is the same) and Halal. It's just the difference of prayers.
CW: Can you tell us a bit more about the type of cuisine you are currently preparing?
IM: Yeah absolutely, so at Khan Saab, we call ourselves Desi Craft Kitchen. The word "Desi" comes from the people on the subcontinent: the people from Afghanistan, Pakistan, India, Bangladesh, they're known as Desi.
We make everything in-house. That's why we call ourselves "Craft".
There are a few dishes from India, from Pakistan, from Afghanistan, and there's some seafood influenced dishes from Bangladesh, so what we were trying to accomplish is to bring the best of the street food from every country, or the different regions of that subcontinent.
So my concept, or what we decided to bring, is everything under one roof.
And then to bring a newness to it, we are playing with fresh farm vegetables, we are dealing with Australian Wagyu meat (which is not available for Halal people) so we had to outsource all that. Those are some of the unique things that we are doing.
CW: What was it like to get a Michelin nod?
IM: First, when we got it in Santa Monica, I was building Khan Saab in Fullerton at that time, so it was an exciting thing. But when it happened for Khan Saab, it was on a different level, because the people that I was working with at TŪMBI Santa Monica, they were into that kind of scene, but what makes it different with Khan Saab, is that the team that we have, is new to the restaurant industry.
So for them, to get that recognition, it was a huge deal. I think we are the only Pakistani restaurant in Southern California that has that recognition. So it's like making you a pioneer: we feel like we changed the game for Pakistani food.
I was actually out of the country at the time when we got that recognition. I was overseas, they were all here, and we all got connected and celebrated over the phone [laughs].
CW: Given your experience as a Michelin noted chef and restaurant, what are some tips, tools, or takeaways that you would like to offer?
IM: Well, one thing, definitely, that I noticed when I was just working as a dishwasher, or just a prep guy, is that you are always left alone in the restaurant, and no one is coming in to talk to you.
So for me, like, if you're a chef, or a business owner – first thing when you go to the restaurant, say "hi" to your people, and make them part of your family.
It's very important to have family together to work, because you spend more time with your staff, with your people at the restaurant, then you spend time at your home.
So you need to support them, and they will support you. You go, and be good with people, and things will work out for you.
If you are in the Southern California area, be sure to visit Imran's restaurant, Khan Saab Desi Craft Kitchen in Fullerton.
Enjoying our Chef Works Insider Series? Sign up to receive the latest stories and interviews from our featured Chefs.
---
Want to be featured? Fill out this form