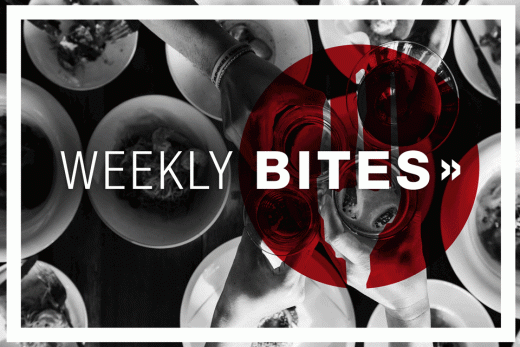 Welcome to Weekly Bites – your weekly dose of inspiring, funny, and delicious food and drink news from around the world. We're here with you and for you — if you have any feedback, comment below and let us know. 
Let's start with Earth Day. This year, it was especially marred with grim news of the irreversible damage we have done to our planet, and what the future will look like if things don't change. When it comes to the type of work we do as culinary specialists, given that the consumption and sourcing of ingredients is a substantial contributor to climate change, what can the food and hospitality industry do to help the future of the planet steer in a better direction? 
Here are three stories that challenge us to think about "sustainability" and "responsibly sourced" as not just buzzwords, but as central to everything that we do. 
Are meat-free meal kits the future of Michelin star food? 
The biggest hand-over-mouth "gasp!" food news moment of 2021 was when Chef Daniel Humm announced that THE Eleven Madison Park was going… meat-free. 
No lobster, duck, lamb, sea urchin…. Completely meat-free. 
Chef Humm has taken it one step further by announcing Eleven Madison Home – a Michelin-star curated meal-kit service that is completely plant-based. 
The risky move was the opposite of a cash grab. It was a deliberate decision to challenge people to commit to at least one plant-based meal a week. Chef Humm is urging us all to rethink what high-end dining means. It doesn't have to include expensive proteins for the sake of the expense. True high dining is about finding delight in new ingredients and preparations. 
How will sushi survive when there's no more tuna in the sea? 
Sushi can be found at every level of dining in America today – from the grocery store to exclusive omakase experiences (think chef-tastings, but sushi) and everything in between. 
But… what happens when the fish we love to eat disappear? 
The "core four" of sushi – salmon, tuna, eel, and hamachi – are expected in any sushi dining experience, but the cost of sourcing these ingredients are becoming uncomfortably high, and harder to ignore. 
Unlike other cuisines, however, few chefs have felt comfortable finding sustainable alternatives if it means messing with a strong Japanese tradition that prides itself in the difficulty of sourcing ingredients. 
This eye-opening article highlights three chefs that are challenging and pushing the boundaries of sushi. They're not doing it  for the sake of culturally confused "fusion", or because they find the tradition of sushi wanting, but instead, because they understand that if something doesn't change now, there might not be sushi for us to enjoy much longer. 
Juan Carrito loves cookies – not his nature preserve 
We'll end this weekly bite with a funny and heart-warming story. 
A small town in Roccaraso, Italy is home to Juan Carrito who, turns out, isn't a person, but a bear! And he really loves fresh-baked cookies. 
After discovering that the bear had eaten all the freshly-baked cookies in the town's Dolci Momenti bakery, authorities peacefully relocated Juan Carrito to the Majella national park, where he could befriend fellow bears and live at peace in nature. 
 Plot twist! A few days later, Juan Carrito was back at his favorite bakery, "playing in the snow, and tentatively trying to make friends with a few curious dogs."
This meme-worthy story of a bear escaping its neatly defined nature preserve to jaunt around an Italian town reminds us that our mere presence forces animals to interact with their surroundings in new ways. 
How are you going to push for a more sustainable food and hospitality industry? 
~~~~
Chef Works blends fashion and functionality to provide chefs and other industry workers with apparel that looks good and gets the job done. Have you explored our online catalog today for the latest styles?