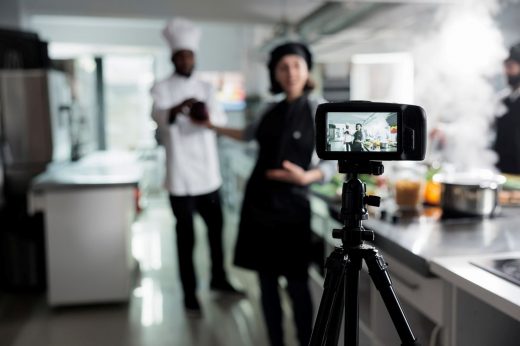 The culinary industry has undergone some seismic-level shifts over the past few years. The pandemic has not only caused restaurants to have to fight to stay open, but has had ripple effects that continue to cause labor shortages, substantial increases in the cost of doing business, and more. 
These tumultuous years have heralded a fundamental shift in how culinary professionals are thinking about what makes great food experiences, and in which direction innovation and creativity are headed. Now, the core of the culinary industry is starting to shift —– away from major cities, towards the internet, and even in our own kitchens. 
What's more, culinary professionals are realizing that their craft doesn't have to occur in a busy restaurant, hustling and grinding every single day, surrounded by inflated egos and toxic practices. Instead, they're focusing on what's fresh, exciting, creative, and above all, nourishing. And, that's "nourishing" both for themselves and the people they feed. 
The industry has been seeing these shifts for a while now, but the existential crisis of the pandemic has certainly rushed things along and forced culinary professionals to think outside of the box in order to survive. 
Here are three of the latest stories that show the bright future of the culinary industry. This issue of our Weekly Bites is all about how the culinary industry is migrating – whether it be to different cities, away from the traditional restaurant concept, and even migrating into our own kitchens. 
It's exciting times in the culinary industry, and here at Chef Works, we're happy to be part of that change!
The Next Best Food City is…. Where?! 
Work-from-home and changing priorities among professionals has seen a shift in where people are moving. Coupled with low mortgage rates, more and more young professionals are flocking away from the coastal epi-centers of NY and LA, and toward cities with a lower cost of living. 
These cities had been culinary gems waiting to be discovered, and now they are… discovered. 
Food and Wine Magazine has named – for the very first time – a list of 11 of the next great food cities of America. These include cities like Tucson, AZ, which is America's only UNESCO City of Gastronomy and is the Southwest's best kept culinary secret (until now), and Omaha, Nebraska, which has a lot more to offer than steak.  
The restaurants highlighted in the article are an exciting mix of local "this is what this city is about" food joints, immigrant-influenced culinary destinations, and fine dining experiences. 
Yes, fine dining in Omaha, Nebraska. It's a thing. 
Chefs and restaurateurs are realizing that they don't need to sacrifice space and a reasonable cost of living to flourish in an exciting food scene. These often-ignored cities in "the rest of America" provide inspiring opportunities for any culinary professional. 
Many of these "up and coming" food cities have been doing the whole locally-sourced thing way before it was a trend, and it's because they have available to them so many great ingredients. These food scenes tend to be highly collaborative, instead of competitive, and there is room for any new concept to breathe and have its moment. 
Will NYC and LA continue to be the global culinary centers in America? Probably. But when it comes to evolving the American culinary tradition, you may need to move inland to taste the next best thing. 
How Do You Score an Invite to a Chef's Supper Club? Send Them a DM
Chefs are now hosting elaborate, multi-course dining experiences… in their own homes. 
Where can you find these meals? Instagram. How do you get invited? Send a DM. 
Instagram has become a platform where chefs can not only carefully curate their image, but actually make money. The idea of hosting supper clubs has attracted many chefs who are looking for an alternative to the nightly dinner rush. These chefs want to instead focus on the fundamentals – hosting, feeding, and delighting people. 
These supper clubs are far from the exclusive "friends-only" affair of the past. They are an open table experience where people who have never met sit and dine together. Supper clubs have also been an important tool for chefs to provide mutual aid, like restaurant workers Katie Yun and Sachi Nagase who create pay-what-you-wish dinners so they can extend the experience of fine dining to their fellow restaurant workers who don't typically get included at the table. 
People are willing to pay good money to sit at a chef's table, which is what makes this such a powerful tool to not only empower chefs outside of the restaurant kitchen, but also to raise money and provide aid. 
The Best Things in Life Happen in YOUR Kitchen 
The past few years have shown just how catastrophic it can be to rely on only one stream of revenue, and how difficult it can be for the restaurant industry to recover from a crisis. 
Many culinary professionals dream of creating diverse forms of income so they aren't dependent on the long hours of the restaurant industry. Cultivating a personal brand on social media is essential to that dream. 
Kittch is a new app on the market that gives culinary professionals a platform to cultivate their brand and make money. Kittch is a live streaming platform that features a mix of free and paid content. Culinary professionals can upload cooking demonstrations, interviews, sell merch, and more. 
Users can "follow" certain chefs and pay for content, as well as watching curated channels with content that interests them. 
With celebrity chefs like Marcus Samuelsson – chef/owner of Harlem's Red Rooster and TV personality – already on the roster, Kittch has a lot of promise as a new way for chefs to build their brand and make money outside of a restaurant kitchen. 
Where do you see the culinary industry going? 
~~~~
Chef Works blends fashion and functionality to provide chefs and other industry workers with apparel that looks good and gets the job done. Have you explored our online catalog today for the latest styles?