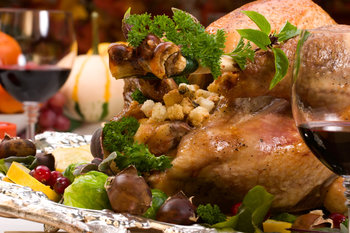 Stuffing isn't just for the holidays anymore—it's a year-round dinner table staple.  So why are you still sticking with the boxed stuff?  Creating mouthwatering and unique stuffing that adds that extra zip to any meal is a whole lot simpler than you think.  Below you'll find 10 of the freshest new and delicious stuffing recipes around.  Try them on your daily dinner table or save them for a special occasion—like dressing up the Thanksgiving bird.  Either way, your family will thank you for thinking outside the box.
Chestnut Stuffing with Leeks and Apples
Chestnuts and apples are fall favorites and often come together in holiday cooking but what happens when you throw in a few leeks and add a special twist?
Recipe via The Parsley Thief
Ingredients:
3 cups of cubed, white sandwich bread
4 tablespoons of unsalted butter
 2 cups sliced leeks (both the white and light green bits)arts}
1 rib of celery (chopped)
1 teaspoon of thyme leaves
1 Granny Smith apple (peeled and chopped)
1/2 teaspoon kosher salt
Freshly ground black pepper (to taste)
7 ounces of roasted chestnuts (coarsely chopped)  These can be purchased canned (usually in a jar or bottle) or you can roast your own (see here for roasting instructions)
1/2 cup of heavy cream
1/4 cup of minced fresh parsley
Instructions:
Preheat oven to 350 degrees
Spread bread on baking sheet
Toast for 8-10 minutes, or until

mostly

dried
(Alternatively:  leave the bread out at room temperature for 24 hours to let it dry)
Transfer to a mixing bowl & set aside
Raise the oven temperature to 425 degrees
Melt butter in saucepan over medium heat
Add leeks and celery
Cover and cook, stirring occasionally, for roughly 8 minutes (or until the leeks are tender)
Add thyme, apples, salt and pepper and cook covered for 5 minutes
Add the leek mixture, cream, and parsley to the mixing bowl with the bread
Stir in the chestnuts
Transfer the stuffing to a buttered casserole dish and bake for 20 minutes (or until heated through with golden brown crust on top)
Wild Rice Stuffing with Cranberries, Bacon, and Pecans
A cranberry's sweet/tartness needs a little savory flavor to really make the taste pop.  What better ingredient to do just that then the Internet's favorite:  bacon?  Throw in some pecans and you've got yourself a Southern-inspired stuffing that will please even the carnivores in the house.
Recipe Via The Tidy Mom
Ingredients:
1 1/4 cup wild rice, uncooked
4 slices Bacon, cut into 1-inch pieces
1 cup onion, chopped
1 14-oz can chicken broth
1/2 cup water
2 tablespoons dry sherry, (optional)
1 teaspoon dried thyme leaves, crushed
2 cups celery, chopped
3/4 cup dried cranberries
1/2 cup pecans, chopped and toasted
Instructions:
Rinse wild rice in cold water and drain well; set aside
Heat oven to 350 degrees
In a large saucepan, cook bacon over medium heat until crisp then remove, reserving 1 tablespoon drippings in saucepan.
Add onion to saucepan and cook until tender (be careful not to burn)
Add wild rice and cook and stir for 3 minutes
Add chicken broth, water, sherry and thyme then bring to boil
Reduce heat and simmer (covered) for 10 minutes
Remove from heat and stir in celery and dried cranberries
Transfer rice mixture to a 2-quart casserole dish
Cover and bake for 45 to 55 minutes or until rice is tender and liquid is fully absorbed (stir once)
Stir in pecans and bacon
Cornbread Stuffing Muffins
For a fun stuffing alternative, try creating cornbread stuffing muffins.  They're fun to eat and easy to make but still have that classic stuffing flavor you savor.
Recipe Via A Spicy Alternative
Ingredients:
7 cups ¾ inch cubes Cornbread (store-bought is fine)
 7 cups ¾ inch cubes crust-free firm white sandwich bread
 ½ cup (1 stick) butter, divided
 6 oz. diced pancetta
 1 large onion, chopped
 1 large crisp apple, peeled and chopped
 1 cup pecan pieces
 ¼ cup chopped fresh parsley
 4 teaspoons chopped fresh thyme
 4 teaspoons dried rubbed sage
 1 teaspoon coarse kosher salt
 1 teaspoon freshly ground black pepper
 4 large eggs, beaten
 2 cups low-salt chicken broth
Instructions:
Cut and lay bread cubes out the day before to dry.  (alternatively, use low heat in oven to dry)
Preheat oven to 350 degrees
Put the bread cubes in a large bowl
Melt 4 Tb. butter in large skillet over medium heat.
Add the pancetta and sauté until brown
Add the onions and cook to soften
Add apples and soften (3-5 minutes)
Finally add the herbs and pecans
Toss and remove from heat
Add 1 teaspoon coarse salt, and 1 teaspoon pepper; stir
Add vegetable mixture to bread and toss
Whisk the eggs and broth together and pour over the bread mixture
Toss and let it stand 5 minutes
Generously butter twelve nonstick muffin cups then spoon ½ cup of stuffing mixture into each
Press to compact
Mound another ½ cup of remaining stuffing mixture over stuffing in each muffin cup, pressing to hold shape
Bake muffins until golden (about 22-25 minutes)
Let cool slightly before serving
Challah Apple Stuffing
Who doesn't love Challah?  Now you can incorporate this traditional Jewish specialty into any of your holiday festivities. 
Recipe via Buzzfeed's Thanksgivukkah
Ingredients:
2 1 pound loaves of challah (cubed and dried for 24 hours or toasted in oven)
2 1-lb loaves challah
1 cup unsalted butter (2 sticks)
2 cups diced celery
2 cups diced onion
2 cups peeled and diced Granny Smith apples
8 sprigs thyme, leaves picked and finely chopped
3 sprigs rosemary, leaves picked and finely chopped
6 sprigs marjoram, leaves picked and finely chopped
3 cups low-sodium chicken broth
Instructions:
Preheat oven to 350 degrees
In a large sauté pan, melt butter over medium-low heat
Add onions and celery
Add three teaspoons of salt and ground pepper to taste
Cook until onions are soft
Add apples and herbs
Cook until apples are soft
In a large bowl, combine challah cubes, cooked vegetables, butter, and chicken broth
Mix until the bread is saturated with liquid
Press stuffing into a 9×13-inch baking dish
Bake at 350 degrees (covered with foil) for 40 minutes
Remove the foil and raise oven temp to 450 degrees
Cook stuffing (uncovered) for 10-15 minutes (until the top starts to brown slightly)
Cool 10 minutes, then serve immediately
Artichoke, Fennel, and Leek Stuffing
Artichokes have come a long way in the popular kitchen (they're not one of those weird veggies no one knows what to do with anymore).  So why not toss them in a fairly easy-to-make stuffing recipe and see what happens?
Recipe via Ocean Mist Farms
Ingredients:
2 cups Ocean Mist Artichoke Hearts, Cooked, Cleaned, and Diced
2 Leeks, greenish-white part only, diced
2 each Fennel bulbs, tops removed, diced
 3 each stalks of Celery, diced
 ½ Yellow Onion, diced
3/4 cup plus 3 tablespoon salted butter
2 teaspoons kosher salt
 1 teaspoon black pepper
 1-1/2 tablespoons fresh thyme, rough chopped
 1 tablespoon fresh garlic, chopped fine
 2 tablespoons poultry seasoning
 2 cups chicken stock (may need more for moister stuffing)
2 large eggs, lightly beaten
 1 cup Italian Parsley Leaves, rough chopped
 12 cups cube bread stuffing (boxed)
Instructions:
Melt butter in a large pot
Add the leeks, onions, fennel, celery, salt and pepper
Cook until the onions and fennel turn translucent
Add the artichoke hearts, thyme, garlic, and poultry seasoning
Cook until the aromas are released from the garlic
Add the chicken stock and beaten eggs
Bring up to a simmer and then stir in the parsley and bread crumbs to combine
Spoon stuffing into a buttered/greased casserole dish, cover and bake at 350 degrees for 35-40 minutes
Uncover and continue baking for the last 15 minutes for a crisper top.
Tortilla Chip and Chorizo Stuffing
This Tex/Mex inspired stuffing is anything but traditional but for those with feisty taste buds it's the perfectly palatable alternative to boring old bread-based stuffing.
Recipe via the Bitten Word
Ingredients:
9 tablespoons unsalted butter, plus more for the baking dish
12 ounces dried chorizo, chopped
4 bunches scallions, chopped
4 4-ounce cans chopped green chiles, drained
2 teaspoons ground cumin
3 cups low-sodium turkey or chicken broth
2 large eggs
1/2 cup chopped fresh cilantro
1 13-ounce bag corn tortilla chips, coarsely crushed
8 cups stale white bread cubes
2 cups cubed queso fresco cheese
Kosher salt and freshly ground pepper
Instructions:
Preheat oven to 375 degrees
Butter a 3-quart baking dish
Melt 8 tablespoons butter in a large skillet over medium heat
Add the chorizo, scallions, chiles and cumin
Cook, stirring, until the chorizo is slightly browned
Add the broth and bring to a simmer
Whisk the eggs and cilantro in a large bowl
Add the tortilla chips, bread and cheese and season with salt and pepper
Slowly pour in the chorizo-broth mixture and toss to combine
Transfer the stuffing to the prepared baking dish; dot with the remaining 1 tablespoon butter
Cover with aluminum foil and bake 30 minutes
Uncover and bake until golden (30 minutes)
Susan's Peach Stuffing
Peaches in your stuffing?  Why not—you've eaten them in your salsa for years.  Get a little South in your mouth!
Recipe via Sarah Carey
Ingredients:
1 loaf rustic Italian bread (cubed)
4 ounces unsalted butter
2 medium onions (diced)
4 celery stalks, (diced)
4 teaspoons minced garlic
Coarse salt and freshly ground pepper
1 small bunch fresh flat-leaf parsley (coarsely chopped)
2 tablespoons coarsely chopped fresh sage
2 teaspoons finely chopped fresh thyme
1 can (29 ounces) clingstone peach halves in heavy syrup, drained, syrup reserved, 1/2 the peaches cut into pieces if desired
1/2 cup thawed frozen orange juice concentrate
1/2 cup low-sodium chicken stock (optional; use if cooking in baking dish)
Instructions:
Dry bread for 24 hours on baking sheet (alternatively toast in oven)
Preheat oven to 375 degrees
Melt butter in a large skillet over medium-high heat
Add onions, celery, and garlic, and season with salt and pepper
Cook, stirring occasionally, until softened
Stir in herbs
Cook for 2 minutes
Transfer to a large bowl
Add bread, and toss to combine
Whisk peach syrup into orange juice concentrate, and add to bread mixture with peaches
Stir in stock
Spoon stuffing into a buttered 9-by-13-inch baking dish, cover with parchment, then foil, and bake for 25 minutes.
Uncover, and bake until golden brown, 15 to 20 minutes.
Rosemary Whole Wheat Stuffing with Figs and Hazelnuts
Rosemary is the perfect complement to any savory stuffing recipe but when you add sweet figs and hazelnuts you've got something truly exceptional.
Recipe Via Vegetarian Times
Ingredients:
1 20-oz. loaf whole-grain bread, cut into ½-inch cubes and dried or toasted
1 ½ cups blanched hazelnuts, coarsely chopped
¾ cup tawny port
1 cup dried figs, finely chopped
½ cup dried sweetened cranberries
5 Tbs. olive oil, divided
2 small onions, finely chopped (2 cups)
6 cloves garlic, minced (2 Tbs.)
1 tsp. finely chopped fresh rosemary
2 ½ cups low-sodium vegetable broth
Instructions:
Preheat oven to 350 degrees
Coat 13- x 9-inch baking dish with cooking spray
Toast dried bread cubes on baking sheet 30 minutes (stirring twice)
Cool, and transfer to large bowl
Heat skillet over medium-high heat, and spread hazelnuts in pan
Toast 7 to 8 minutes, stirring occasionally, or until hazelnuts turn light golden brown
Cool
Heat port to boiling in small saucepan
Stir in figs and cranberries
Set aside to steep
Heat 2 Tbs. oil in skillet over medium heat
Add onions and garlic, and cook 10 minutes
Stir in rosemary, and cook 2 minutes more
Stir onion mixture into bread cubes
Fold in dried fruit and port
Whisk together broth and remaining 3 Tbs. oil in bowl
Pour broth mixture over bread cube mixture, and mix until bread is moist, but not soggy
Season with salt and pepper, if desired
Spread stuffing in prepared baking dish
Bake 45 minutes, or until top is golden brown
Cool 15 minutes before serving
Gluten-Free Quinoa Stuffing
Whether you have an allergy or just enjoy the benefits of a gluten-free diet, this stuffing recipe is for you.
Recipe via In Sonnet's Kitchen
Ingredients:
1 cup quinoa
2 cups vegetable broth
1 cup pecans
1 teaspoon dried sage
1 teaspoon dried thyme
1 tablespoon coconut oil
1 small yellow onion, chopped
2 cloves garlic, minced
3 stalks celery, diced
¼ cup chopped fresh Italian parsley
Instructions:
Rinse quinoa and place in a large saucepan
Add vegetable broth and bring to a boil
Reduce heat to low, cover, and cook for 20 minutes
Remove lid and fluff with a fork
Preheat oven to 250 degrees
Spread pecans on the baking sheet and place in the oven until lightly toasted, about 5 minutes
Remove them from oven
Add pecans to a food processor
Coarsely chop while adding the sage and thyme
Set aside
Heat coconut oil in a large pan
Add onions, garlic, and celery and cook until onions are translucent, about 5 minutes
Add the cooked quinoa and the pecan/herb mixture to the pan and stir until all the ingredients are well combined
Toss with parsley and serve.
Oyster Dressing "Grand-Mere"
This one is a little off the wall but for the adventurous chef it's a hit that packs a wallop of fresh flavor.
Recipe via Food & Wine
Ingredients:
2 ounces slab bacon, cut into 1/4-inch dice
1 stick unsalted butter
1 celery rib, cut into 1/4-inch dice
1/2 green bell pepper, cut into 1/4-inch dice
1/2 small onion, finely diced
2 large garlic cloves, minced
2 tablespoons sweet paprika
1/2 teaspoon garlic powder
1/2 teaspoon cayenne pepper
2 large baguettes (about 1 pound), cut into 1/2-inch dice (12 cups)
4 dozen shucked oysters plus 1 cup oyster liquor, oysters halved (2 cups)
2 scallions, minced
2 tablespoons chopped parsley
4 large eggs
1 teaspoon hot sauce
1 teaspoon kosher salt
Instructions:
Preheat the oven to 350 degrees
Butter a 10-by-14-inch shallow baking dish
In a large skillet, cook the bacon over moderate heat until crisp, about 5 minutes
Add the butter and let melt
Add celery, green pepper, onion and minced garlic
Cook until softened, about 8 minutes
Add the paprika, garlic powder and cayenne and cook for 3 minutes, stirring occasionally
Put the diced baguettes in a large bowl
Spoon the bacon mixture on top
Add the oysters and their liquor along with the scallions and parsley
In a small bowl, beat the eggs with the hot sauce and salt
Pour the eggs into the bowl and mix everything together
Scrape the dressing into the prepared baking dish and bake in the upper third of the oven for about 45 minutes, until heated through and crisp on top.
You Can Do It!
These recipes are anything but traditional—and that's a good thing.  By spreading your culinary wings and trying new things you'll be fast on your way to creating another kitchen classic, good for impressing those picky eaters or wowing the neighbors.