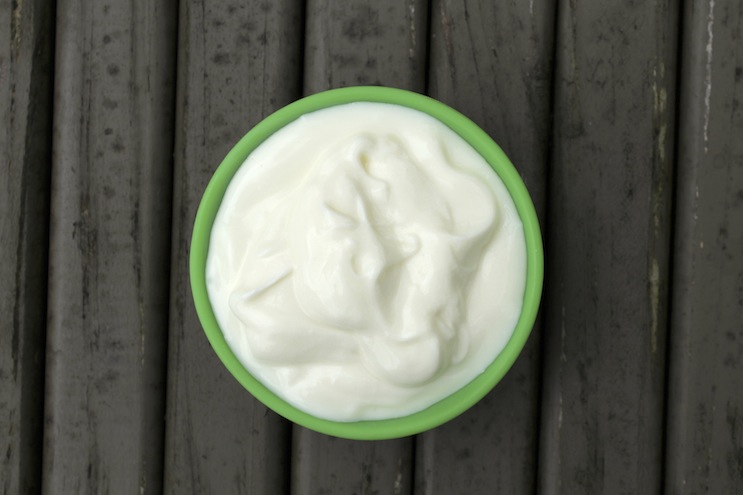 Yogurt is a popular snack food that you've probably eaten in those little cups with fruit on the bottom. While it's easy to enjoy that way, there are also plenty of other ways to enjoy this creamy, cultured dairy product that doesn't involve a berry parfait or a smoothie. Whether you buy the plain variety or a flavored version like vanilla, read on for some ways to use this versatile food, some of which may surprise you.
1. In Baked Goods
The next time you're making a quick bread, pound cake, or muffins, try substituting some of the fat for some plain yogurt (or use flavored if it will compliment your recipe; vanilla is always a good choice.)
Yogurt adds a slight tang, as well as moisture that will go well with a lot of baked goods. It's especially good in coffee cake, cheesecake, or even homemade doughnuts. You can use regular, but plain Greek yogurt works just as well, and adds protein.
2. In Salad Dressings
A good salad dressing can make the difference between enjoying your salad or choking it down, but good creamy dressings add tons of fat and calories that you probably don't want. Since most creamy dressings are made with mayonnaise, you may find yourself going for the vinaigrette more than you'd like, but not anymore.
You can make an extremely satisfying, creamy, delicious salad dressing using plain or Greek yogurt. It blends up beautifully with buttermilk, herbs, and seasonings for a delicious ranch dressing, or add some crumbled blue cheese for a blue cheese variety you don't have to feel guilty about. Use Greek yogurt in place of sour cream in a recipe, and regular yogurt in place of mayo. You'll be amazed at how delicious your dressing is, and with less fat and calories.
3. In Pancakes
Don't have any buttermilk but still want to make your favorite buttermilk pancakes for Sunday breakfast? Try swapping out some plain yogurt instead; you may even like it better. Yogurt adds moisture and richness like nothing else, and is low in fat and calories.  Vanilla or even fruit flavored yogurt can be used; experiment to find your favorite.
You can also use it in other breakfast breads like waffles, coffee cake, or muffins.
4. As a Sour Cream Substitute
Sour cream is creamy and delicious, but too much can be bad for your waistline. If you want a suitable substitute, try plain Greek yogurt. It's an easy, delicious substitute in dips, dressings, and sauces, and can even be used for a topping on tacos or burritos. Love sour cream and chive baked potatoes but hate the fat? Try plain Greek yogurt; you'll be amazed at how close to the real thing it is. It may sound a little strange, but once you try it, you may be surprised at how little difference there is. For fewer fat and calories, it's definitely worth the switch.
While regular plain yogurt can be used, for a more authentic texture and flavor, Greek yogurt is best as a substitute, especially as a topping.
5. Instead of Mayo in Your Chicken Salad
For a lighter version of your favorite chicken salad, substitute the mayonnaise for plain yogurt. It may not be exactly the same, but once you get used to it, you will hardly notice the difference. You can slowly wean yourself off mayo by subbing half the amount of mayo for yogurt, and then replacing a little bit more the next time until you've made the full switch.
It also makes a good substitute for mayo in other uses as well, even for spreading on a sandwich or making your favorite aioli. Use it in place of mayo in dips like spinach and artichoke, or tuna salad. The next time you see a recipe that calls for mayo, ask yourself if some plain yogurt will work. Chances are that it will, and that it will work very well.
6. To Cut Down Heat
Yogurt is often used as an ingredient in Indian and other spicy foods, and the reason is simple: the cream cuts the heat, and actually compliments spicy flavors very well. The next time you find yourself with a bowl of too hot soup, a spicy stir fry, or other dish that is high on the heat factor, try adding a dollop of yogurt. It will cut the heat with just a few calories.
7. Make a Creamy Dip
Instead of using sour cream or mayonnaise for your chip dip, grab a tub of Greek yogurt instead. You won't notice a difference in flavor or texture, but you will notice a difference in your waistline, since plain yogurt has significantly less fat and calories than either sour cream or mayo.
Want a creamy dip? You can mix plain or vanilla yogurt with fruit preserves, peanut butter, honey, or even chocolate sauce. Dip some fruit or graham crackers in it for a sweet treat you don't have to feel guilty about.
8. Drink a Lassi
If you've ever been to an Indian restaurant, you've probably had a mango lassi. A deliciously, creamy, indulgent mix of mango puree and plain yogurt, you've probably never had a drink so amazing that wasn't a milkshake.
You can make your own version with any type of fruit you like. Simply puree fresh, ripe fruit in a blender or food processor and then add some yogurt. Add a little bit of water or milk to thin it out, and add some sugar or honey to taste.
9. Marinate Meat and Vegetables
Yogurt makes a delicious and creamy marinade for chicken, fish, or even vegetables. It's popular in Indian cuisine (think Tandoori chicken), but can be used with any spice mix you like. Simply mix the yogurt with your favorite spice mix and rub on your meat or vegetables. A spice mix with a little heat compliments the creamy yogurt well, but you can use just about anything you'd like. Curry powder, chili powder, or even finely chopped jalapeños make an amazingly good marinade when combined with yogurt.
10. Make Yogurt Cheese
Before you think this sounds complicated, let's just say, it's the exact opposite. All you have to do is line a strainer with cheesecloth or paper towels. Put it in a bowl and add some yogurt. Put it in the fridge for a couple hours to drain. That's it.
What remains is a thickened, cream cheese like mixture that can be used to spread on bagels and toast, or even made into a cheesecake. It's easy and delicious, and makes you feel like you can do almost anything in the kitchen. Try this with vanilla yogurt for an extra indulgent treat.
Conclusion
The next time you're in the dairy aisle of your supermarket trying to decide whether to grab some yogurt, grab one of those large tubs and use it in one of these surprising ways. You'll cut back on fat and calories, and add a bit of tanginess to whatever you add it to. Remember to check labels on your yogurt, as this healthy food can be loaded with chemicals, and sugar. This is especially true of the fruit varieties.