We're pretty blessed here at Chef Works. Sometimes chefs love our gear so much that they volunteer recipes. Who are we to say no?
One of our favorite pastry chefs, Chef Carolyn Friedman of Miami Beach, Fla., was kind enough to whip up a recipe for Pineapple Banana Cake that's just for our blog (and her more than 250,000 Facebook followers!) And why not? It's too good not to share.
Enjoy!
PINEAPPLE BANANA CAKE
Approximate time: 1 hour, 15 minutes
Servings: One bundt cake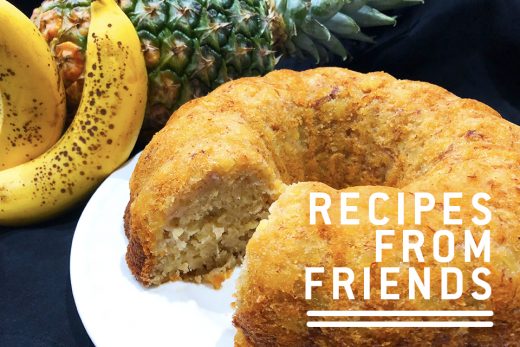 Ingredients:
3 cups all-purpose flour
2 cups granulated sugar
1 teaspoon baking soda
1 teaspoon baking powder
1 teaspoon salt
1½ teaspoons ground cinnamon
3 eggs
1 cup vegetable oil
2 teaspoons vanilla extract
2 cans crushed pineapple, undrained
3 mashed bananas
Instructions
– Preheat oven to 325 F.
– Mix together the eggs, oil, vanilla extract, pineapple and mashed bananas in a large bowl.
– Add the dry ingredients and mix everything together.
– Pour the batter into a greased pan and bake for about an hour or until a toothpick inserted in the cake, comes out clean.
– Allow the cake to cool for about 15 minutes and remove from the pan.
Thanks Chef Carolyn Galsky Friedman! You can follow her here on Facebook.
If you have a recipe you'd like to share with our readers, email marketing@chefworks.com.