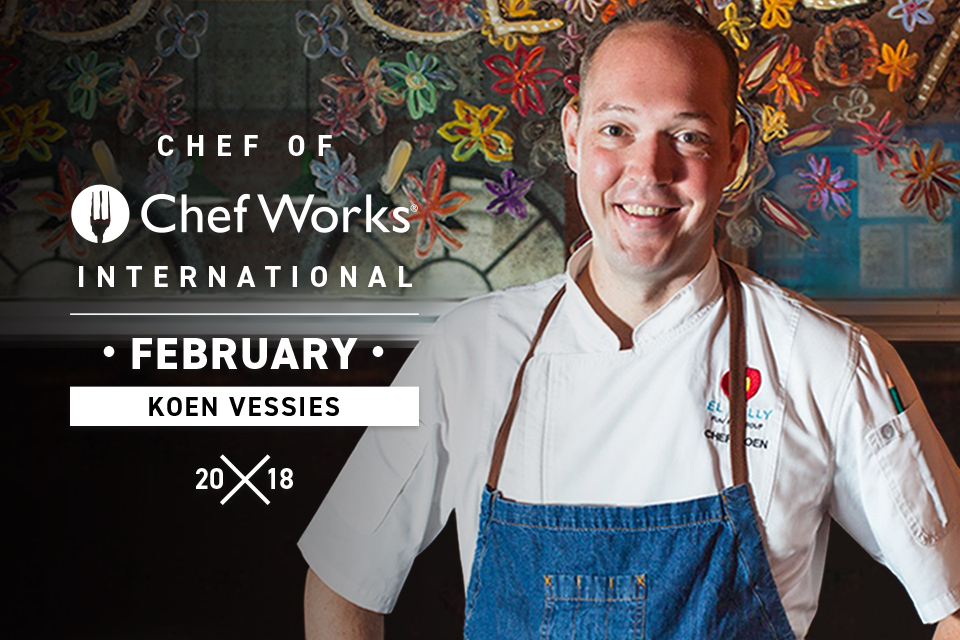 Most people aren't on their career path at age 12. Then again, Chef Koen Vessies isn't most people.
Our International Chef of Chef Works for February was an industrious preteen who started washing dishes in a restaurant when he was 12. From there, he found a buddy to do the dishwashing so he could start peeling shrimp and washing lettuce. It didn't take long for his career arc to be set.
Now the 32-year-old Dutchman serves as executive chef of el Willy in the Huangpu District of Shanghai, serving up European, Mediterranean and vegetarian-friendly dishes. He's also an investor with el Willy group fun f&b (sic) which owns several other restaurants.
As he rose through the ranks of the cooking world, his passion for travel and adventure grew.
"Every year I travel to another part of the world to try the food, cook with the local people and get inspired," Vessies said. "I live in China so my staff brings back local 'delicacies' after they have been to their hometown – monkey, cockroaches, dog. On my travels I had cuy (guinea pig) in Peru and roasted sheep head in the townships of Cape Town."
Things aren't as eccentric in his Shanghai kitchen, though he describes his style as "sexy, contemporary tapas." His Asian passion is obvious in his personal tastes. One of his favorite meals is from "a 100-year-old noddle shop below my apartment. They do amazing sesame noodles. Very unhealthy, but so good." He also cites Tokyo as his favorite city because of the fresh produce and "perfect execution" with their meals.
With his brand expanding through Europe and Asia, Vessies has still kept to his values. He despises people who over-order "just to show that they have money but never touch the food," and would rather cook for people who want to relax and enjoy the experience. An avid soccer and squash player, Vessies likes "nothing more than the first beer after a long, busy and hot service."
---
Follow Chef Koen Vessies on social media!
@cookingkoen
---
---