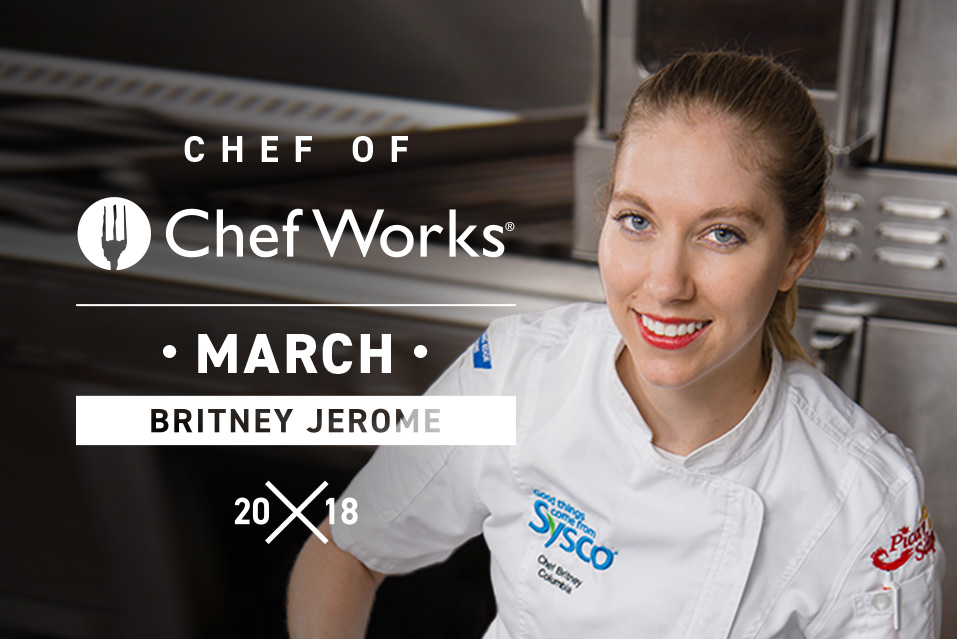 Britney Jerome doesn't have a quintessential moment or inspirational backstory that explains how she was drawn to the kitchen. It was, as she puts it, inexplicable. She began learning about cooking halfway through high school and simply never stopped. "It's not like I grew up under the kitchen table watching an Italian grandmother make Sunday sauce." And yet the corporate chef for Sysco, who is based in Columbia, S.C., has more than 6,000 documented hours in fine dining Italian cuisine.
Jerome, 31, took some time chat with Chef Works about her work, the growing South Carolina food scene and why she loves her Chef Works gear!
---
1. Take us through a typical day as a corporate chef for Sysco.
Lots of planning and organization. There's communication with customers, our sales teams and within my department so we can facilitate a wholly customized, intimate, culinary event that is created to enhance the relationship with our customers and grow their business.
Also, there's lots of ordering, receiving and storing products. Throw in some market research, menu and recipe list creations and then executing those creations and you've got a pretty packed day.
---
2. What's the most gratifying thing about your job?
When a customer is excited and inspired to implement a dish I created just for them. It's even better when I learn that it has become one of their top selling menu items!
---
3. You've got one meal to make to impress (the celebrity chef of your choice). What do you make and why?
There are so many variables that affect the answer. Probably fresh pasta and amatriciana is my favorite. But you absolutely have to use guanciale as the pork in it. Porchetta is fabulously impressive as well. I like to switch up the stuffing though, as I do not care for fennel seeds. Slow cook, slice thin and pair with great bread, a fresh spread, arugula and a grated hard cheese.
Both dishes I dearly love from the ingredients to the process to the final dish. It is the dedication to the craft that makes it impressive.
---
4. How much does region impact what you cook? I imagine day-to-day
South Carolina cuisine is significantly different from New York, Seattle or Southern California.
South Carolina has a booming vacation industry: Charleston, Hilton Head, Myrtle Beach. Most restaurants play to the Southern food theme, which pleases tourists and locals alike.
Another local norm is the farm-to-table/local/slow-food concept — which makes all of those restaurants pretty much akin to one another. I cling to the establishments here that execute the fusion of local ingredients and global flavor profiles.
Unfortunately, there is not a lot of ethnic cuisine in the area, which I love. Every time I get to go to a big city, I seek out ethnic cuisine over fine dining.
---
5. If you weren't a chef, what would you be doing?
I would be a landscape architect. I love working outdoors – hot, cold, clean or dirty, I find it very gratifying. I'm also a big fan of hammocks surrounded by fragrant plants.
---
6. What do you like best about Chef Works gear?
I love how well-made the products are. I can't think of a single time I have had a
seam unravel, a zipper break or even a button come off. I prefer a classic coat with modern fitting. Chef Works offers enough options for me to find something I love, for any chef-coat-wearing occasion; whether it be strictly professional, modern chic or creatively fun.
---
---