Chef Works was proud to serve as the official uniform sponsor of The Food Network & Cooking Channel South Beach Wine & Food Festival for the fifth straight year. Every year we look forward to touching down in sunny Miami for four days of noshing on the beach.
Claire Swarner, marketing & communications coordinator for Chef Works, was part of the Chef Works contingent and offered an awesome first-person account of all the happenings at this year's festival, which ran from Feb. 21-25.
---
From the moment we landed I fell in love with Miami and the vibrant atmosphere pulsing through the city. Our Chef Works team spent the next four days mixing, mingling and of course eating with some of the best chefs in the world.
We kicked off the festival with Barilla's Italian Bites on the Beach with Chef Giada De Laurentiis, sponsored by HCP and the Miami Herald Media Company. It didn't disappoint! From everything pasta and meatballs to refreshing cocktails, the entire night was a blast. And with Smash Mouth providing the soundtrack of the night, hey now, how could you not have a good time? I'm definitely "a believer" in good bites for all.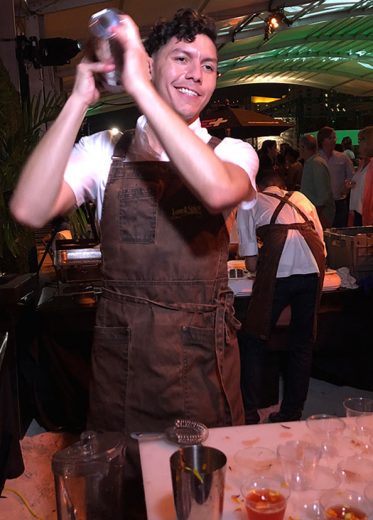 But that was just the beginning. Other tasty highlights included Tequila Cazadores presents Tacos After Dark with Chef Rick Bayless, sponsored by The National Park Board; Heineken Light Burger Bash presented by Schweid & Sons and hosted by Chef Guy Fieri; and Bacardí presents Walshy Fire's Rum & Bass Beach Party. And that's just to name a few. It was a jam-packed weekend.
While it would be hard to pick a favorite bite, a few highlights for me were Chef Jet Tila's spicy basil pork belly with crispy black rice and madras featured at the Tribute Dinner honoring Bobby Flay and Michael Clarke of Treasury Wine Estates. Then there was the Impossible Burger, which was featured at the Goya Foods' Grand Tasting Village. I have to admit … I had two. And Chef Tom Jackson's featured burger and Caesar salad at the Burger Bash was amazing!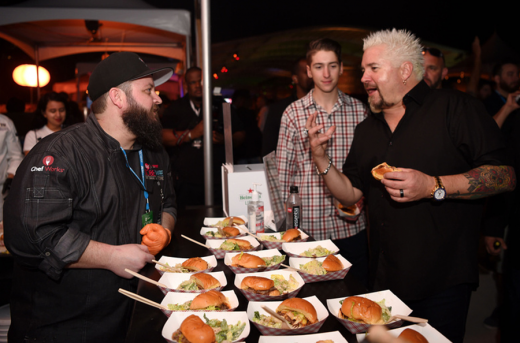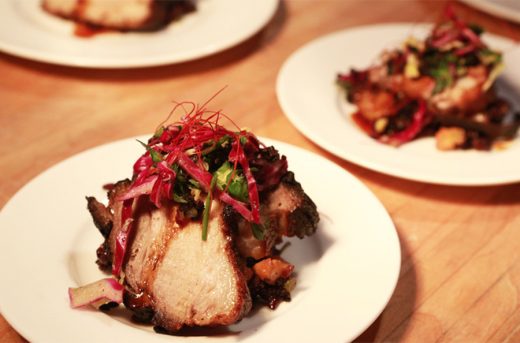 On top of all the good eats and drinks, it was an honor to see so many chefs rockin' their Chef Works gear. It was a great opportunity to talk with so many culinary influencers and ensure they felt comfortable in their Chef Works coats and aprons.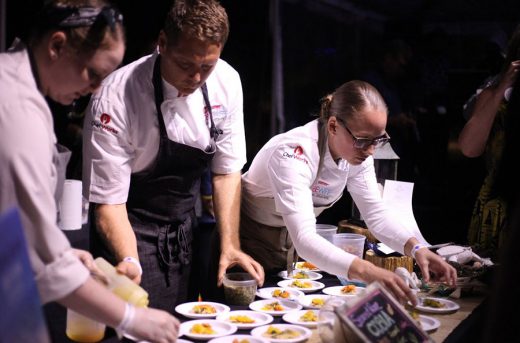 We're also thrilled to help SOBEWFF and their charitable effort: Eat. Drink. Educate. Money raised at the event will help fund the culinary program at Florida International University.
I feel extremely blessed to have had the opportunity to meet so many incredible people … all while feeling the sand between my toes.
Want to see more pics of the SOBEWFF? Click here for an image gallery. And if you like Chef Works gear, visit us at www.chefworks.com and follow us on all of our social channels.