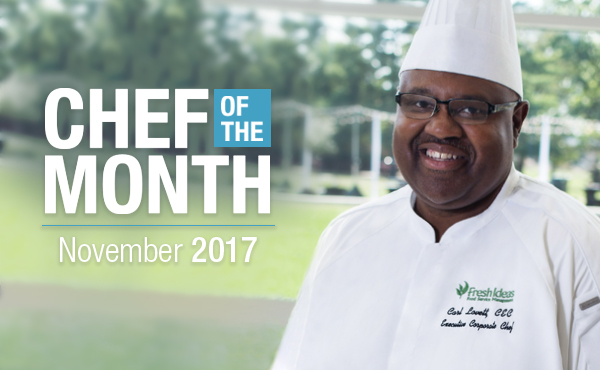 Chef Carl Lovett spends his days feeding a picky, yet adventurous bunch — college kids. Those on their own for the first time and living in the dorms, these kids are fending for themselves when it comes to dinnertime — so it's a good thing Chef Carl is around. As Corporate Executive Chef of Fresh Ideas, Chef Carl is tasked with creating culinary programs for colleges and universities in the Midwest. We were intrigued, so we reached out to this high-flying chef to see what it takes to feed these young adults, and how he preps for a day in the dining commons.
So, meet Carl Lovett, our Chef of the Month for November!
---
1. How do you develop culinary programs for Colleges & Universities?
We want to create a seamless student experience for our colleges, and for us, it starts in the dining hall. We create a restaurant-like environment for our students, and work to bring trend-forward, approachable dishes that push the envelope a bit yet still provide all the comforts of home.
We focus on culinary trends. You have to remember, this group stays the same age. Adapting to what college students are into is of the utmost importance. We're dedicated to trend forecasting, so much so that we've built a special panel of elite culinarians that meet regularly. In these conferences, we discuss every food under the sun, and talk about what's trending, how we can implement these ideas into the dining program, etc.
2. What's a trend right now that you're most excited about?
We're focusing on plant-based menu items, which have been performing really well! We're growing our own leafy greens at our home campus, Maryville University in St. Louis, Missouri. While this is still a pilot program, we hope to roll it out nationwide.
3. What are you doing to reduce food waste?
As the Corporate Executive Chef for Fresh Ideas, I'm based out of Maryville University. Maryville has a food waste program, using composting technologies to reduce our footprint. This is one of the only colleges that is part of the Green Dining Alliance, and we're looking for new ways to implement similar food waste reduction measures across all of our campuses.
4. Favorite ingredient to cook with, and why?
Garlic. I remember the first time I started off as a cook, and the first time that garlic hit the olive oil… I was hooked.
5. Kitchen tool you can't live without?
My knives, I must say. I can't really live in the kitchen without my Wusthof set. And of course, my trusted chef jacket. I love the Valencia Chef Jacket for the breathability. And right now I'm experimenting with the Berkeley Chef's Bib, in classic white.