As the official culinary uniform sponsor for New York City Wine & Food Festival (NYCWFF), our Chef Works Team touched down in the Big Apple for a weekend of food, sights, and celebrity chefs!
Reporting live from Brooklyn to Manhattan, we've got your front row seat to all the action, straight from our favorite Social Media and Sponsorship Strategist, Mai Cao.
Chef Works Team (CW): What was our official role at NYCWFF?
Mai: "This year, we celebrated five years as the festival's official and preferred culinary uniform sponsor! From the chefs to volunteers, our focus was making sure everyone was dressed to impress in Chef Works gear to commemorate NYCWFF's 10-year anniversary in style."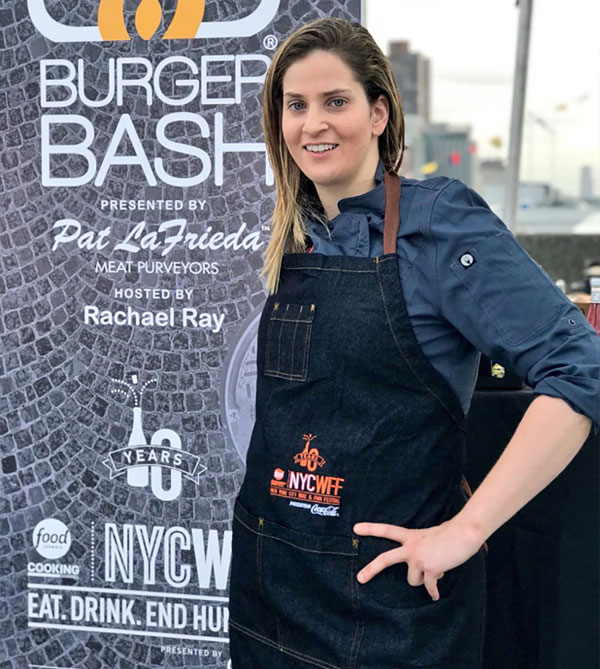 Chef Allison Fasano of Urbano Truffles in our Memphis aprons & Hartford coat at Burger Bash
Chef Works Team (CW): Tell us about the team you went with and what experiences were you a part of as a sponsor?
Mai: "There were three of us in our Chef Works crew – myself, Marcee who directs our Corporate National Sales, and Dale, our company co-founder. As soon as our flight touched down in NYC, we called a taxi, zoomed over to Tacos & Tequila with Chef Aaron Sanchez and it was non-stop from there. From Thursday through Sunday, you could've mistaken us as Sonic the Hedgehog as we sped (add s) all over the city, averaging 5-6 events per day, saying hello to old and new friends and making sure the participating chefs and staff were looking and feeling their best in Chef Works. Promoting confidence in and outside of the kitchen is the whole idea, so our goal was to get direct feedback from our chefs – and from as many as possible! We definitely traded in San Diego's laid back vibes for NYC's hustle for a few days."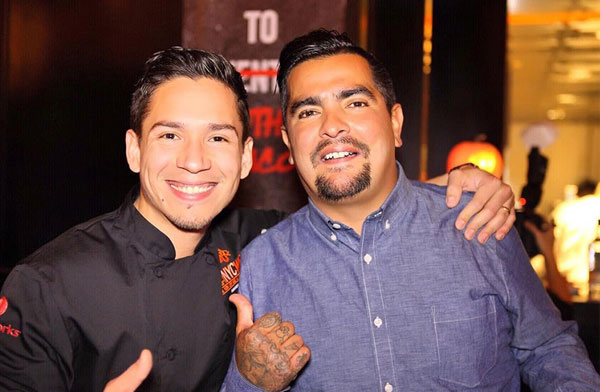 Chef Jose Luis Chavez of Mission Ceviche with Chef Aaron Sanchez
Chef Works Team (CW): What was your favorite event? And who were some of your favorite star sightings?
Mai: "We were in NYC! Every event we attended was full of energy and surprises! No chance in picking out a favorite…that'd be too hard. New York City Wine & Food Festival attracts some of the best chefs and public figures in the world, so we saw everyone from Chefs Katsuji Tanabe, Duff Goldman, Rachel Ray, celebrity Lance Bass and more, it was amazing! And I must say, it's always a party when Martha Stewart's in the house, so seeing her cut loose at the Chef After Party was pretty much one of the biggest highlights of the trip."
Chef Works Team (CW): Anything else you'd like to add to your trip recap?
Mai: "We definitely want to take a moment and thank the NYCWFF team who made this all possible. To Lee Schrager (NYCWFF founder) and Jackie Eisen Nathan, Kristen Sofge, Victoria Garofalo, Christina D'Esposito and the rest of their incredibly organized team, thank you for partnering with us and hosting the best culinary parties in the city! We are so excited to be part of their festival family and having the opportunity to help benefit Food Bank for NYC and No Kid Hungry."
Chef Works Team (CW): What's the next event for the Chef Works team?
Mai: "Aloha! We're off to Hawaii Food & Wine Festival on November 1st as the official culinary apparel sponsor. I hope you follow us on Snapchat, Instagram, and Twitter as we make a splash in Honolulu!"