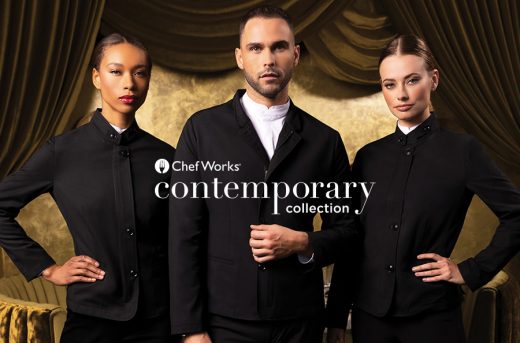 Over the coming weeks, the Chef Works® blog will give you an inside look at what it takes to bring a new launch from concept to market during this three-part series. The entirety of the series will focus on the launch of our Contemporary Collection and additions to our Urban Collection.
---
At the San Diego headquarters of Chef Works® Inc., there's a small, nondescript room that stands in sharp contrast to the tech-driven operation that has helped the company become the global leader in culinary and hospitality apparel.
While the rest of the two-building facility is teeming with technology, this windowless room is a reminder that sometimes the best tech is a pencil, some sketch paper and a keen imagination.
Some call this room The Cave. Others have dubbed it The Secret Room. Though officially, it's just The Design Room.
There are no pictures allowed and no more than half a dozen people can fit in it comfortably.
But if you've ever worn a chef coat with Cool Vent™ fabric, it's because of a conversation that started in this room. If you've ever swapped out the straps on your Berkeley Apron, it's because of a conversation that started in this room. If you've ever noticed the little details that make your life just a little more efficient – be it a back-collar apron holder or an extra utility pocket – it's because of a conversation that started in this room.
In this room, conversations become innovations.
"The creativity and the synergy within our product development team is impressive," said Clive Gross, chief creative officer for Chef Works®, who oversees all product development. "This is a group that puts its heart and soul into everything it does."
Chef Works® announced its 2020 launch last week – which includes the hospitality-driven Contemporary Collection and additions to the Urban Collection. And while the design team has already moved on to their next project, you can still see inspiration boards and sketches of the Contemporary Collection scattered about.
It was a different look two years ago – when the walls were dressed with hundreds of drawings, fabric samples and color swatches. That's when the idea of the Contemporary Collection was starting to take hold.
"I think we were able to anticipate what the market was going to be demanding," Gross said. "We saw that there was going to be a mainstream need for a hospitality-centric line that would fit the environment."
So from Step 1 to Step 5,000, the team began the arduous journey of creating a line of shirts, vests and banquet coats that were going to elevate and alter the face of hospitality.
But that wasn't enough. Still riding the success of the Urban Collection™, which brought edgy designs, artisan fabrics and a street-inspired attitude to culinary apparel, the team decided they were going to add more Urban products.
So while the rest of the country was arguing over Yanny vs. Laurel (circa 2018), the Chef Works® design team was eyeballing early 2020 for a massive launch that would encompass more than 40 base products with hundreds of style/color combinations.
"We develop all of our own fabric so we get a lot of feedback from our customers about what they like," said Jeanine Patz, senior product manager for Chef Works®. "Once we've narrowed down what kind of fabric we're going to be using for a particular garment, then we start the testing process."
Take, for example, the Formel Shirt. Built for hospitality, the Formel features a tri-blend of polyester, cotton and elastane to give it a flexible/stretch fit for added performance. Now, double the research since there is a men's and women's version. Double it again – since it comes in two different colors.
Now spread that out over dozens of products. Only then can you begin to appreciate the undertaking.
"Every item is different and there are always going to be varying levels of complexity," Gross said. "The Formel, for example is months and months of refinement to get the perfect fit and the perfect shape.
"Every garment involves a process of refinement. Every garment counts. Every item in the range counts. We don't take anything for granted."
And it all started with a conversation.
---
Come back next week for Part 2 of this three-part series, where we talk about how the marketing team brought the Contemporary Collection to life while still being able to refresh the Urban Collection.