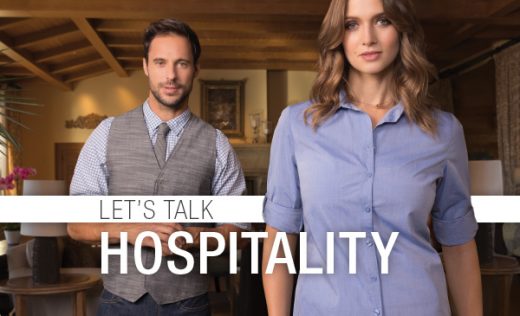 Creating a uniform look at a hotel isn't just about continuity across the property, it's about branding. Setting a consistent and on-trend tone from valet to check-out — and everything in between — can help turn every employee into a brand ambassador while bolstering employee pride.
Chef Works has the gear for every level of your property! Need some suggestions? We'll help get you started!
---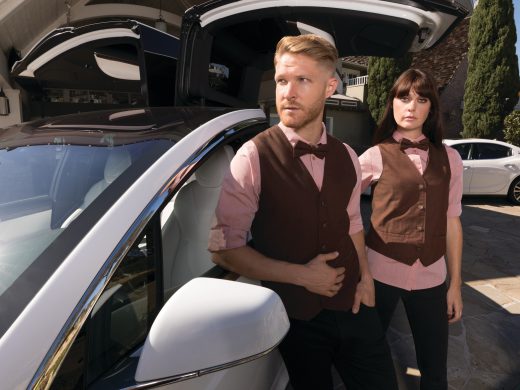 Valet
The moment your guests step out of the car, show them that your property is a lifestyle brand that believes all of its employees should look the part. We recommend the Modern Chambray Shirt (women's or men's) paired with a Fairfax Vest or Augustine Vest with a Rust-Colored Crosshatch Bow Tie to complete the look. It's comfortable, classic and sets an immediate, sophisticated tone.
---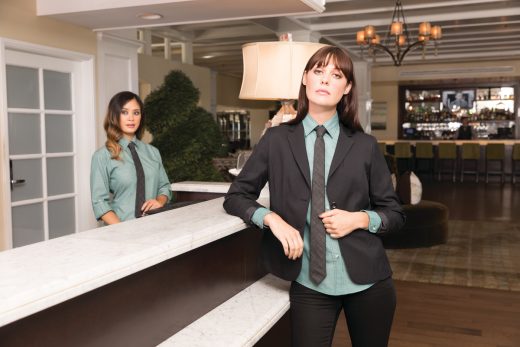 Reception
Smiles aren't the only thing your reception desk should be wearing. A polished uniform – like a Chambray Shirt (women's or men's) and Urban Necktie – creates a smart look that elevates the check-in, check-out and concierge experiences. You can take it to the next level with a vest or blazer.
---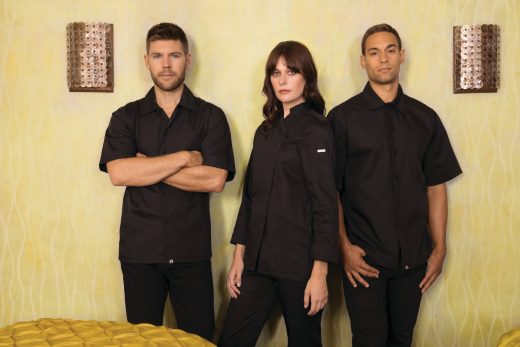 Spa
You want your employees to feel just as relaxed as your clients, so putting them in the right gear to look and perform at their best is essential. A Cool Vent™ Shirt is a great place to start! The side panels have a breathable mesh that's going to keep your staff cool and comfortable! For a more upscale look, women massage therapists will love the Marrakesh Coat with its lite-twill fabric and turn-back cuffs.
---
Pool
Like your massage therapists, your pool staff will be on their feet a lot. So a Cool Vent™ or Havana shirt is going to provide them with the style and comfort they crave. Pair it with a Chambray or Low Profile Baseball hat and an Indy Hipster Apron and they are sporting the perfect balance of fashion and function.
---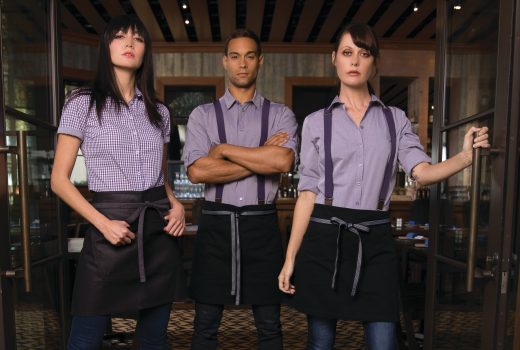 Servers
There's a good chance your guests will interact more with servers than any other employee. So their look is going to send a powerful message about your brand. While there's nothing wrong with going clean and basic, we believe in the power of color. Try a Gingham (women's or men's) or Modern Chambray Shirt (women's or men's) paired with Berkeley or Boulder half-bistro aprons. The Pant Suspenders are a nice way to add an additional pop!
---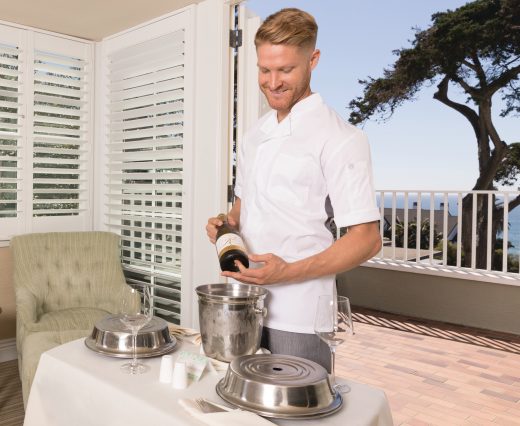 Room Service
Don't confine some of your best branding opportunities to just your on-site restaurants. By including room service-specific uniforms, you'll create an added sense of continuity throughout the property while also making the FOH staff feel good about what they're wearing. If you want to create some distinction between in-restaurant servers and room service, try a Valais Coat with Vertical Stripe Pants for a top-to-bottom look.
---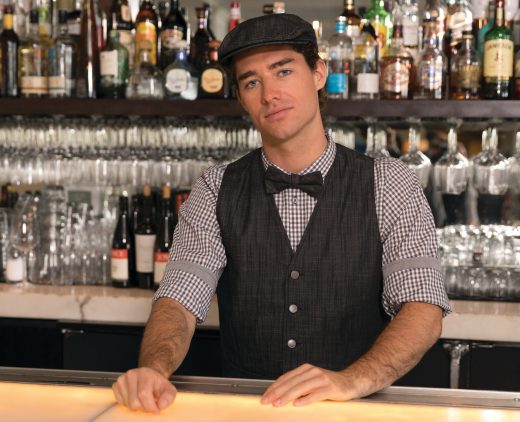 Bar
Whether you're serving top-shelf Manhattans and scotches, or simply popping bottles, the bar should always maintain that balance of relaxed, but classy. That look is easy to achieve with hundreds of pairing options from Chef Works. A Gingham Shirt with Fairfax Vest and Crosshatch Bow Tie creates that perfect symmetry. Top it off with a Fairfax Driver Cap to complete the look.
---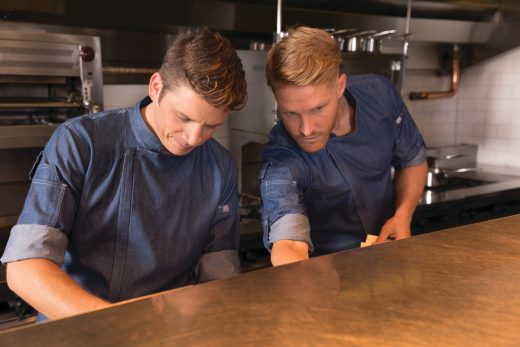 Back Of House
Whether you have one or multiple restaurants on your property, a consistent uniform across the back of the house brings the team together. The Gramercy Chef Coat (women's or men's) flips the script on traditional culinary fashion with 100 percent denim fabric, roll-up sleeves and a single-breasted zipper closure. Bold makes a statement.
---
For even more looks, be sure to check out our hospitality look book below.