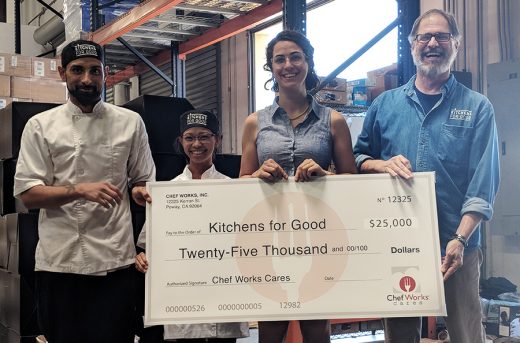 When the Chef Works Cares initiative was started in 2014, there was a very specific mission in mind.
That first year the charitable arm of Chef Works – the global leader in culinary and hospitality apparel – granted up to $5,000 to a number of worthy organizations that were working towards the following criteria:
— The elimination of children living in poverty
— Aiding children and adults living with intellectual and developmental disabilities
— Protecting and improving the environment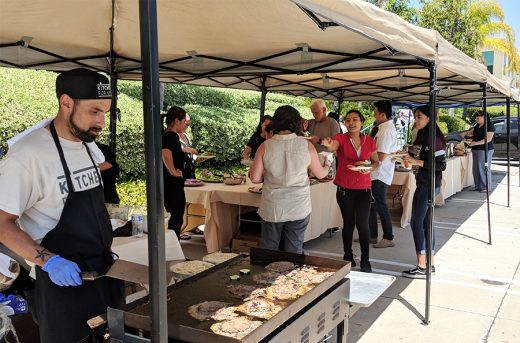 As the success of Chef Works Cares grew, so did the size of the grants. This month, Chef Works Cares was honored to grant $25,000 to Kitchens For Good, a non-profit organization that tackles issues of food waste, poverty and hunger. By taking food that would otherwise go to waste, Kitchens for Good uses that surplus and creates nutritious meals through a culinary apprenticeship program for those formerly incarcerated, homeless or aging out of the foster care system.
"Kitchens for Good was an obvious choice for this year's grant gift," said Cynthia McCormick, the vice president of human resources for Chef Works, who also oversees Chef Works Cares. "When you look at the mission of Chef Works Cares you see that Kitchens for Good is at the very core of what we're trying to accomplish."
At a ceremony earlier this month in the Chef Works distribution center at its Poway, Calif. headquarters, several members of Kitchens for Good were on hand to accept their check.
"Chef Works truly understands what we're trying to do and we couldn't be more excited about this partnership," said Chuck Samuelson, founder of Kitchens for Good.
This year's grant comes on the heels of the 2017 gift, where Chef Works gave $25,000 to Paving Great Futures. This funding grant to Kitchens for Good matches the highest ever awarded by Chef Works Cares.
"We are proud to put the Chef Works name next to Kitchens for Good," said Chef Works CEO Neil Gross. "While we're a global company, we believe in helping our neighbors and finding ways to make our community better."
This month's presentation was just the first step in what's going to be an important pairing in the months to come. On Oct. 14, the companies will team up again for WASTED: A Celebration of Sustainable Food where chefs and mixologists will compete with food and cocktails that would otherwise be discarded.
Celebrity Chef Elizabeth Falkner has signed on to emcee the event.