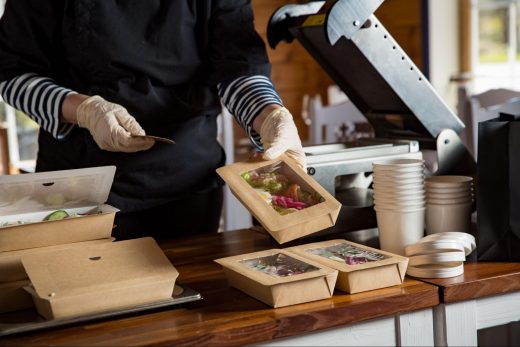 The start of fall brings cooler air (in some places) and pumpkin-spice everything. It also brings an opportunity to reflect on trends that have emerged over the past year, so that you can plan for the year ahead.
The year 2022 saw a world emerging from a global pandemic that is still affecting us, even as restrictions and public health recommendations relax. It's no surprise, then, that some of the newest trends in the hospitality industry come out of pandemic necessary changes. These are the good changes, the ones that had us thinking this is so much better than how we've been doing things.
This edition of Weekly Bites is part two of our 2022 emerging restaurant trends. From restaurant-market combos to digital regulars and inclusive bathroom designs, this week's bites are sure to give you plenty of ideas for what's next in the industry.
Restaurants are no longer just a place for people to enjoy a sit-down meal — some restaurants are now using their space to offer carefully curated pantry delights. Like all new positive trends, the restaurant-market combo came out of the pandemic, when many restaurants pivoted to selling dry goods and already-prepared meals as a survival strategy.
Specialty pantry ingredients — think high-quality olive oil, small-batch chocolates, and artisanal anything — can be hard to come by. Large markets, like NY's Eately, have been providing a spot for high-quality ingredients and can be found in more and more U.S. cities. The problem is that these large markets can sometimes be overwhelming.
Restaurants are offering small markets where they carefully curate pantry items for diners to shop for after their meals. They're the type of place that you go to when you want to cook a special meal for a special someone.
With more people than ever sharpening their cooking skills, these pantries are a resiliant way for restaurants to offer experiences beyond dining to customers. Now diners can try a dish at a restaurant and purchase hard-to-find ingredients in the market to experiment with at home. While restaurants may sacrifice smaller dining rooms in order to accommodate a small market, they stand to gain diversified income and more ways for diners to keep coming back.
The pandemic has forced many restaurants to quickly develop a robust online ordering system. Even restaurants that wouldn't have otherwise offered online ordering found they couldn't survive the pandemic without it.
Many great restaurants aim to offer unique experiences and exceptional hospitality, but what does that mean when you can't greet your diners face-to-face? This question is especially important when it comes to attracting and retaining restaurants' most important customers — regulars.
Some restaurants are trying to find new ways to cultivate relationships with their regular customers, even if they've never met them in person. Some ideas that have been successfully implemented have been including cute illustrations on the brown paper to-go bags, or including a customer's favorite side or dessert for free. Sometimes, all it takes is reaching out directly with a handwritten note or email to make a customer feel valued.
Restaurant decor is often meticulously thought out to provide diners with a multi-sensory experience… But what about the bathroom?
Having access to a bathroom is a matter of dignity. Providing gender-neutral bathrooms is a matter of indicating that all genders are deserving of a clean and safe bathroom, making them a must-have for every restaurant that wants to welcome all. In the hospitality industry, where the name of the game is excellence in service, providing inclusive bathrooms is essential.
To this end, restaurants are going beyond what the ADA legally requires restaurants to provide, and thinking about ways to implement inclusive design to create an elevated experience for all. The biggest misconception that people may have is that providing accommodations only improves the experience for a small number of people who live with disabilities. The truth is, that a greater number of people live with disabilities that are not immediately obvious, and that inclusive design can benefit everyone.
For example, instead of including grab bars and wheel-chair height latches in the accessible stall, consider installing them in every stall. Grab bars can be an eye-catching design feature, and can provide a little bit of extra stability for many people using the bathroom, like the eldery, someone who's had a few too many drinks, or someone who is sore from working out. Latches at wheelchair height also help children lock and unlock stalls by themselves. ]
Inclusive design is truly a win-win, so it's not surprising that more restaurants are utilizing inclusive design to make bathrooms that are more beautiful, luxurious, and inclusive. If you want more ideas for making inclusive spaces in your restaurant, read the Eater article that this summary is based on.
~~~~
Chef Works blends fashion and functionality to provide chefs and other industry workers with apparel that looks good and gets the job done. Have you explored our online catalog today for the latest styles?