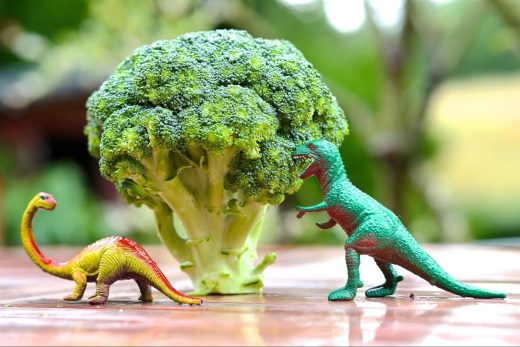 We spend a lot of time consuming food, and, as culinary experts, we think about food a lot, too. Dishes start out as daydreams, and our imaginations are sparked by new flavors and new combinations. Food activates our imagination, and our imagination creates new foods. 
This edition of Weekly Bites summarizes three ways that the culinary industry can be activated by our collective imagination. From a restaurant-based horror movie to fandom-inspired menus and crassly creative names for dishes, these stories are sure to give you some new ideas about how to honor imagination in your establishments. 
From Masterchef to The Bear, chefs have been featured in TV and movies for a while now, but one of the most anticipated new movies of 2022 represents the culinary industry in a new genre — horror.
In The Menu (premiering November 18th), guests come from all over the world to experience the tasting menu at an exclusive Michelin-starred restaurant, but are instead trapped and hunted by the chef, played by Ralph Fiennes. We haven't seen the movie yet, but any movie with Ralph Fiennes as the villain is bound for greatness.
Like The Bear, The Menu focuses on what goes on in the back-of-house, as you see chefs move and "yes, Chef" in creepy unison. The crew is referred to as "family" and the restaurant grows, harvests, and processes all of their ingredients right there on the island. If this fictional restaurant is sounding a lot like a cross between Willows Inn on Lummi island and Blue Hill at Stone Barns, you're not the only one who thinks so.
Is it a restaurant, or is it a murderous cult? Three-Michelin-starred chef Dominique Crenn served as a consultant for the movie to ensure that it accurately depicts how a fine-dining restaurant runs. For those in the industry, perhaps murder isn't needed to make this a true horror movie. 
Beloved fantasy stories like Game of Thrones and Harry Potter have long inspired food, mostly in the form of themed cookbooks. But can this concept of fantasy-inspired cooking be expanded into the concept of a restaurant? 
Chef Iliana Regan of restaurant Elizabeth in Chicago certainly thinks so. Although Elizabeth is a typical farm-to-table tasting menu kind of restaurant, Chef Regan often hosts fan-inspired themed dinners at the restaurant. 
Being an ardent fan of fantasy or science fiction has become more mainstream. While it might've labeled you as a "geek" in the 80s, being a fan of Game of Thrones is now considered completely normal. 
More involved fans often create what's called fanfiction — transformative pieces of unpublished fiction based on existing stories. Fanfiction is considered a transformative process because it usually comes about when a fan loves a story but does not see themselves represented in it. They then take the bits they love, and change the rest. 
Fanfiction can be healing for people who are marginalized and often excluded from popular stories, but what does it have to do with fine dining? 
This Eater article argues that Chef Regan's fan-inspired menus are like works of fanfiction (fanfood?) in and of themselves. Chef Regan's menus aren't just flavored with inspiration from fiction stories — she tells a story with each and every dish. Some dishes are recreations from the movies or books, while others are careful studies on specific characters or plot points. 
Chefs often talk about tasting menus as being a progression, but what does it mean to really tell a story with a menu? At Elizabeth, servers are encouraged to co-create the story with diners, asking them questions that prompt them to connect their own experiences with the story being told. These menus are more than a dinner — they are like a museum tour where the tour guide explains why each piece of art is there, and invites viewers to think about what the art means to them. 
There is a lot of creativity and imagination that goes into composing dishes, but what about naming them? 
"Devils on Horseback," a recent cookbook from Long Praw (an Australian food collective) tells the story of some of the most unexpected, creative, and crass names for dishes, like "sh*t on a shingle." Did you know that there is a French donut whose name translates to "nun's fart"?
It's utterly delightful. 
These funky names came mostly from communal cookbooks, but can they be expanded into the restaurant space? What could it mean to have crass and creative names for restaurant dishes? Will it activate the diner's imagination, or will it create confusion?
~~~~
Chef Works blends fashion and functionality to provide chefs and other industry workers with apparel that looks good and gets the job done. Have you explored our online catalog today for the latest styles?