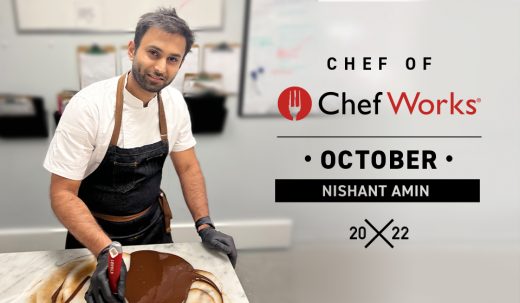 ---
What does it take to become a master of your craft, even when the odds are stacked against you? "As long as your mind is set free, you can do whatever you want," says Chef Nishant Amin, who holds the title of Canadian Chocolate Master.
In this month's edition of Chef of Chef Works, Nishant shares about the life-changing diagnosis that pushed him to pursue his real passion, his personal tips for being creative inside and outside the kitchen, and how to live a life with no limits.
Chef Works: How did you get your start in the kitchen?
Nishant Amin: I'm from Mumbai. In India, we celebrate a lot of festivals and go to each other's houses. Every time I'd go to someone else's place, I wouldn't play with the kids; I'd spend time with my aunts and mom in the kitchen. One day, I was home alone, and I knew where my mom kept her flour and eggs. I made Indian scrambled eggs and roti, and that was my first dish.
CW: Did you know you wanted to be a chef right away?
NA: I just liked being in the kitchen. It wasn't like I thought, "Okay, I want to make this my career." Growing up, I wanted to be an engineer. Then, when I was 15, I was diagnosed with type 1 diabetes, so there was a lot of stress on me and my family. In Indian culture, your family usually pressures you to become a doctor or an engineer or a lawyer, but because of my health, my parents thought, "Let's not put a lot of pressure on his studies right now." That's when I realized I didn't want to go into engineering; I wanted to do something more creative, fun, and open. So, I decided to go to a hospitality and hotel management school because I loved the service industry. By then, I was comfortable with cooking, but I had never done baking or pastry in my life before going to my hospitality school. It was a very big turn. By the end of the third year, I realized: I love breads and chocolates. I loved the science that goes behind it — how a small grain is milled and made into a loaf of bread. And how a cocoa pod is harvested, broken, fermented, and made into a chocolate bar. That process was very interesting, and that's how I fell in love with pastry.
CW: What's it like living with type 1 diabetes and being a pastry chef?
NA: I always say I was type 1 diabetic first — and then I decided to become a pastry chef. It wasn't that I was a pastry chef and then I was diagnosed. In my mind, I decided that pastries were a good path for me and I'd continue with it, no matter what. Of course, there are concerns when you live with a disease or illness, but I feel privileged in that I work, I have medications, and I have a house. At my diabetic support group, I always say, 'The only limit is your mind. As long as your mind is set free, you can do whatever you want.' Never limit yourself.
CW: Where else do you find yourself applying that no-limit mindset?
NA: At 16, I moved to Canada. I did my Master's in Baking and Pastry Arts Management from George Brown College in Toronto. And once I graduated, I started working at a restaurant in downtown Toronto called Richmond Station. I joined as a pastry cook, and within eight months, I was promoted as a pastry chef. It was an amazing time for me, going from a cook to a chef. Before that, I had thought that a person needed to be a cook for three to four years before becoming a chef. Then I realized that my only limit was my mind. I thought, "Don't think about how much time I need to spend as a cook. What if I just do my best work every single day, keep learning, and keep progressing?" It worked, and within eight months, I became a pastry chef and was handling the section for almost two and a half years.
CW: What do you do personally to shake off the stress after a long day?
NA: I have a lot of houseplants. Also, I love to come back home and cook for myself. People think I'm crazy, especially after baking so much at work, but I just enjoy the slow process. It makes me feel better. Sometimes I read pastry books. I watch TV shows. I think those things help — it's not about distracting yourself but letting yourself deviate from the routine and exploring new things. Sometimes I sketch. I'm not the best at it, but I think it's a process. As long as I'm creative, as long as I do something on paper with a pen or a pencil.
CW: Speaking of creativity, your creative skills and hard work recently paid off at the Canadian Selection for World Chocolate Masters. Can you tell me about that?
NA: When you have a creative mind, you can't sit in one place. And last year, because of the pandemic, I just wanted to explore. So in July, with my diabetic support group, we went for a hike from Alberta to B.C. and in those 10 days, I realized how much I like being outside in the wild. I saw and tried a lot of things. I did backcountry baking, I made my own oven, and my next goal is to make bread on my next hike. I love how creative you can get. For example, I was making a brownie, and someone had to leave early. I was like, "Oh my god, I have to cool it down as fast as I can." So I took a pot and started running towards the river. It's cold up there, so the river was basically my blast chiller. When you're in the open, your mind is not in one place. It starts thinking, it starts exploring. When I was hiking, I picked some spruce tips, and I used that to flavor my brownie. It's always fun to try something new.
And so, once I got back from the trip, I was like "I'm refreshed, and I want to do more things." That's when I signed up for the World Chocolate Masters out of nowhere, and I had only two and a half months to practice for my nationals.
I went in with a very open mind. I just wanted to see what other competitors were doing, because that's something you don't see when you work at a small restaurant. I wanted to see: How is the industry changing? What are the trends? How do people look at desserts now? My goal was to learn. Then I did my competition, and I won!
CW: What's your mindset going into the World Chocolate Masters?
NA: Yes, I'm representing Canada. Yes, I'm representing myself. But I'm also representing the type 1 diabetic community. Because you don't come across a pastry chef who's a type 1 diabetic. You don't come across a Chocolate Master who's a type 1 diabetic. So this is my chance to represent on very different levels. I think it was also amazing to see a type 1 diabetic being a winner because Canada is the country where insulin was discovered. And it was in Toronto!
CW: What advice would you give to future chefs?
NA: It's not my advice, but it's from another chef who I really admire, my inspiration, named Albert Adrià. He says, "Shut up and work." Just focus on what you're doing. Keep practicing, and you will master it.
Want to support Nishant in his training to become World Chocolate Master this October in Paris, France? Click here to donate to his GoFundMe.
---
Want to be featured? Fill out this form