Seems like a lifetime ago these days but a mere 15 months pre-COVID, Chef Works launched a new collection of uniform apparel. This launch featured an extension of the already popular Urban Collection™ that included print-inspired shirts plus fun and flirty aprons. The launch also included the debut of the Chef Works Contemporary Collection™, its newest designs, fabrics, and styles focused around outfitting the wait staff and servers with minimalistic and stylish options.
Chef Works product development team interviewed multiple individuals who stated that the server styles and shirt options were limited to common, everyday polos and old-school button-downs. They stated they were felt stiff, uninspired, and deflated having to wear such drab garments. While the apparel was practical it lacked fashion and function – Chef Works signature design foundation.
There are too many new styles to review, so for the purpose of this article we are going to focus on two shirts; the Voce and the Verismo. The Contemporary Collection™ designs are pieces of art – thus our naming convention leaned towards crafts that inspire people worldwide; music and architecture. Showcasing structured silhouettes for the wearer yet you find yourself wrapped in a soft, lightweight fabric that you find you want to keep on and not take off at the end of your shift.
The VOCE Dress Shirt
Its name literally means voice. Finding your voice through understated details, in turn, magnifies your voice with this statement piece. The Voce shirt features a 3.1 ounce fabric that has a minimal, striped pattern giving the illusion of elongation. Complimentary features such as roll-up sleeves and a back neck apron tab, allow you to transform this shirt from formal to casual with a few strategically placed buttons. Unbutton the mandarin collar and you've successfully gone from fancy to fun. The Voce comes in both male and female fits and is available in three classic colors; blue, taupe, and gray.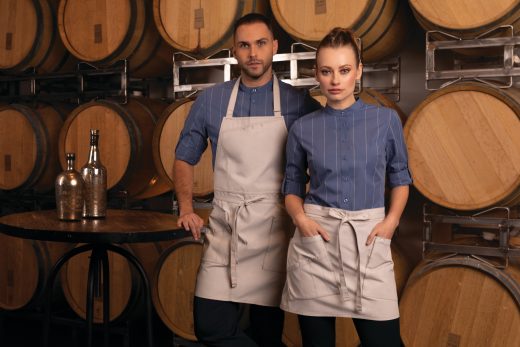 The VERISMO Dress Shirt
Its name means true or realism; this shirt will change your "truth" about shirts after you put it on. Made from a fabric even lighter than the Voce, the Verismo shirt has a 2.6 ounce featherweight fabric that floats into place. A fine, thin striped pattern, so subtle you may miss it unless you look close enough, gives you instant confidence because we all know if you look good, you feel good. Intended to be worn as a long-sleeved option, you can envision yourself pairing it with slacks for a formal look, jeans for a casual look, or add an element of modernization and throw on a Bridge vest. Hello good looking.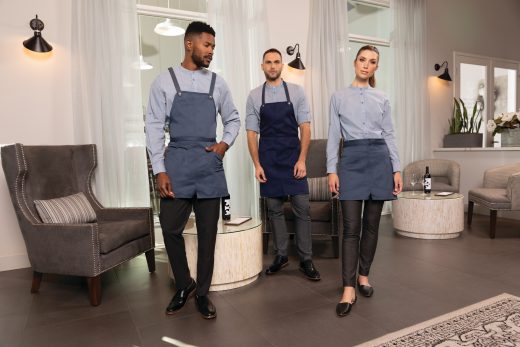 The beauty of the Contemporary Collection by Chef Works is in its subtle details and attention to design. The apparel in this collection has a dual purpose allowing the uniform program to lean toward casual and classy during the day; transforming into formal elegance in the evening. The Chef Works Contemporary Collection is a true one-stop-apparel shop for waitstaff, servers, bartenders, mixologist, and anyone looking to maximize your wardrobe but minimize your closet.
Check out the entire Contemporary Collection for more options in shirts, aprons, coats, and accessories.