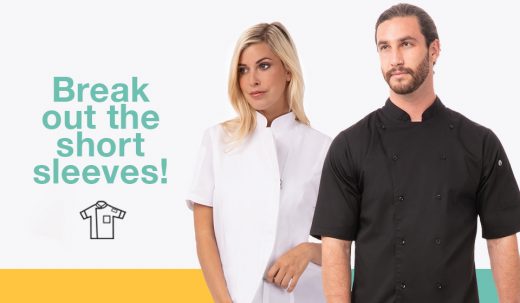 As the world opens up and businesses start to move back towards pre-COVID activity, culinary professionals of all levels are looking to freshen up their wardrobes. Tack on that summer is in full swing and the heat is on, short-sleeved coats are a must-have in one's closet. Online shopping popularity was already increasing pre-COVID but once COVID locked us all down, the world seemed to come to a standstill, eCommerce sales jumped by 32.4% in 2020 and we are already seeing a spike of 39% in 2021 according to digital commerce 360[i].
This brings us to our topic for today on some methodologies of how you can choose your next chef coat with short-sleeves. With endless choices and variations on style, size, fit, color, closure, cost, and availability; today's marketplace centers on shopping by preference now more than ever before. Chef Works gives you the ability to quickly identify and select all your preferences, giving you the options that match your criteria, making it easier to find what you want, faster.
Looking at the shoppers on chefworks.com, we found there were three primary preferences that seemed to bubble up repetitively. Those top three preferences were; price, color, and oddly enough, closure.
It makes sense that price was the number one search criteria but not in the manner in which you would automatically think. Because Chef Works offers a wide range of prices from essentials starting at $20.99 all the way to our executive chef coat range, you can find the coat the meets your budget. With COVID getting under control and life heading back into a sense of normalcy, everyone is watching their pocketbooks, and rightfully so. Whether you are ordering just for yourself or dressing an entire kitchen, we understand that price does play a part in the final selection and decision-making process. But it was not the only factor involved in the final decision. While important to stay price-conscious, we found that price was just a starting point.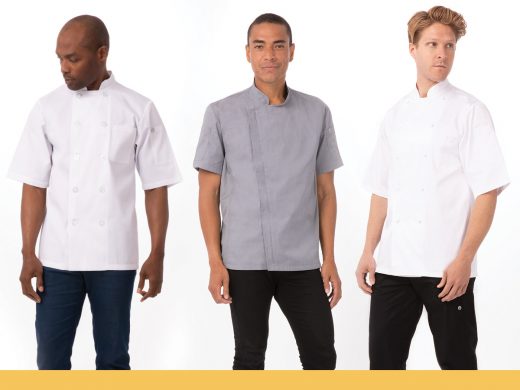 Enter stage left; color. Color played the second most important filter in finding the right chef coat for the job. From farm to table to formal events, Chef Works offers a mostly neutral palette of chef coats that will match almost every property. But not everyone likes to play it safe, we also offer a few pops of color for those a little more bold like lime green, brick red, and popping purple. Hands down, however, the most popular colors  – drum roll please – you guessed it! – black and white. There is just something about a classic, crisp, white chef coat that screams "I've dedicated my life's learning to creating culinary beauty to share with the world."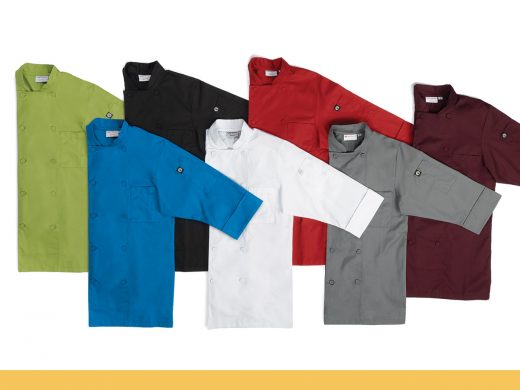 Moving on to the final preference we find ourselves fascinated and pleasantly surprised by closure coming into play. For those seasoned culinary professionals, you know what closure is and it's not what Webster's dictionary defines it as, it means how the coat secures across your body. We are talking about plastic buttons, metal snaps, zippers, hand-rolled buttons, and more. Your closure preference even speaks to your personality type (mostly), it's not an exact science of course. Here is what we have found.
For those of you who love hand-rolled buttons, you're going to find those on our premium cotton executive chef coats. You recognize and appreciate that hard work often leads to great rewards. You thrive when everything is in order and in its place or what the French call "Mise en place". Maybe you prefer zippers? We have found that those who love our best-selling zipper chef coats are spunky, driven, showcase your passion on your sleeve (or in this case – lack of sleeves), and often blaze your own trail. Pushing the status quo and eating up challenges for breakfast, lunch, and dinner. Making waves is what you love and zipping into your chef coats puts that on display for all to see.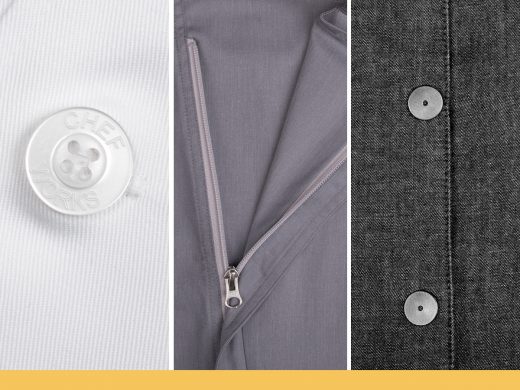 To check out all of Chef Works' short-sleeved coat options head here and sort by features to find the perfect match for you and your crew.
[i] https://www.digitalcommerce360.com/article/coronavirus-impact-online-retail/