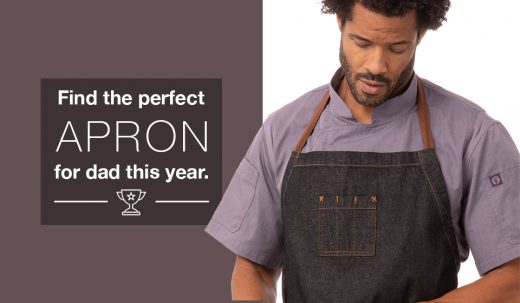 Father figures no matter what shape, size, or form they come in, bring a wealth of knowledge and quiet understanding to most households. They are always there to lend a helping hand or offer you their ear to listen. Father's love and appreciate you in their special way and none are alike. Celebrate your unique father figure this year with something as unique as they are.
Since we are in the business of apparel, and the fathers we know and love at Chef Works tend to lean towards cooking, in particular grilling, we want to show you some aprons that we know are sure to please for years to come. The fathers around here love them so we think yours will too. Meet the Memphis apron family.
Denim never goes out of style. It's a durable fabric that can take a licking and keep on ticking, time and time again. It's sturdy, reliable, and always ready to help you out – similar to the fathers in our lives. Featuring contrast apron ties, perfectly placed pockets, and available in black denim or dark blue denim – you really can't go wrong with one of these aprons for dear ol' dad.
Fire pits have met their match with the Memphis Bib Apron. It has all of the features you need to be at your best when you're working the grill, smoking meats or prepping the kitchen for a family gathering.
For the fathers that are big and tall, this apron is the one you want to go with. Forged by the fires of 1,000 barbecue pits, made extra-wide and extra-long, the Memphis Chef's Bib Apron captures the joy of cooking with open flames and smoky wood chips. Pitmasters love its durability and functionality.
Got a father who has a habit of wiping their hands across their thighs with no towel in sight? Wipe away we say with the Memphis Bistro Apron. This is the perfect apron for those who don't need full coverage from their apron yet still want convenience and cool at the same time. PRO TIP: Grab a pack of towels and stuff it in the oversized pockets for some extra Father's Day thanks.
Above all, we want to thank the father's in the world that helped shape who we are today. Without your guidance, love, and patience we know our life paths would have been vastly different. From all of us here at Chef Works, we wish you a Happy Father's Day. #dadsrule