Great question. Some of you who are familiar with Chef Works' brand of chef coats, chef pants, chef aprons, server shirts, headwear, and more, you know that Chef Works has a proprietary fabric known as Cool Vent™. For the rest of you, let's do the time warp together and go down memory lane.
Launched in 2005 with only 4 products, Cool Vent fabric technology was developed from speaking to multiple culinary professionals in the industry who complained how hot it was in the kitchen and shared what they had to wear in that hot environment, compounded the issue. The uniforms, at that time, were mainly heavy, hot, 100% polyester that was as far away from breathable as one could get. One conversation led to another, a pattern emerged, and the brainchild combination of performance fabrics plus lightweight, breathable fabric sprung to life. Cool Vent fabric allows airflow while wearing it to help facilitate and accelerate the natural evaporation process of the body.
It's no wonder that Cool Vent products grew into 35 garments in 4 different categories; chef coats, shirts, pants, and headwear. And most of these items happen to be some of our customers' most loved products. But don't take our word – check it out yourself.
Rated a 5 out of 5 stars. By far one of our chef favorites and has been year after year for good reason. Imagine, for a moment, that you are in a hot kitchen, it's booming with business, and you are hoping to catch a break to jump in the walk-in cooler for just 5 seconds. Now, imagine that same scene but a fan is pointed directly at your back and cool air is constantly flowing inside your coat, around the front, and out your sleeves. The sound Ahhhhh comes to mind, no? The Montreal Cool Vent Chef Coat was designed with an entire back panel of Cool Vent fabric. The area starts from right below your waist all the way to your neck and out to your arms. This breathable, lightweight fabric panel wicks away moisture and helps accelerate natural evaporation.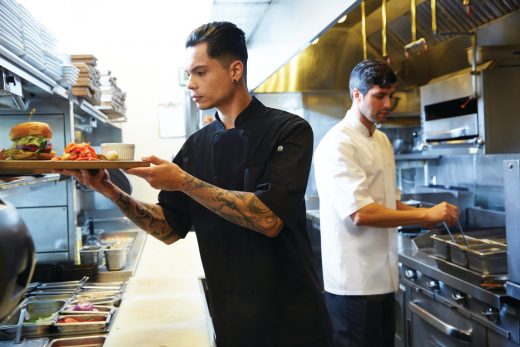 Rated a 4.9 out of 5 stars. This chef coat comes in both male and female fits and in 5 different colors. If you are looking for a great fit, modern feature like a zippered front, back collar apron-holder, and roll up stay-in-place sleeves this might be the chef coat you've been searching for. Cool Vent panels run up the front, over the shoulder, and down the back creating left and right "cooling zones" and also making it one of the most comfortable coats ever – since our Cool Vent fabric has a bit of stretch in it (*wink*).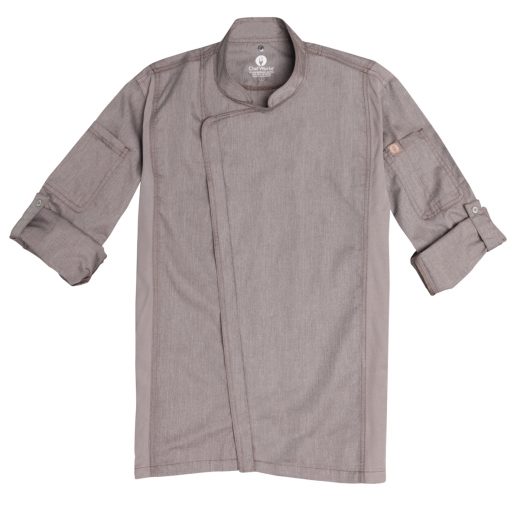 Rated a 4.5 out of 5. Customers rave about the fit, how it's lightweight, that it is breathable, and highlights the underarm vents which are where our in-house designers strategically placed the Cool Vent fabric. Add three-quarter sleeves, contrast details, and it's available in black and white – you have a great women's coat that was designed by women, for women.
Our Cool Vent products speak for themselves. And the social proof from customer reviews confirms that the design, development, and innovation around Chef Works Cool Vent fabric technology remains the leader in the industry. We invite you to explore for yourself and make your own assessment.