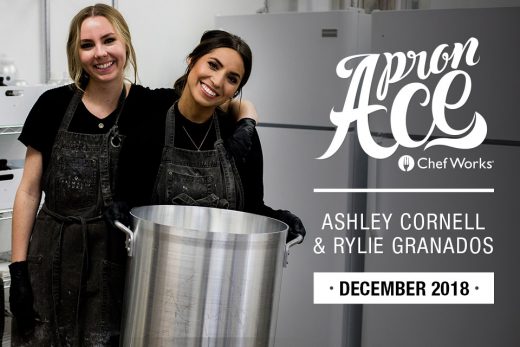 ---
Each month we feature an Apron Ace. If you love your Chef Works apron and wear it outside of the traditional kitchen setting – makeup artist, potter, florist, barista – we want to know! To be featured, email marketing@chefworks.com. Pictured above are our December Apron Aces, skincare chefs Ashley Cornell and Rylie Granados of Primally Pure, photographed in their Dorset Bib Aprons.
---
The Chef Works blog talks to a lot of chefs: executive chefs, sous chefs, pastry chefs, chefs de commis, etc. But this is a first for us. Never before have we featured not one, but two skincare chefs!
Meet Ashley Cornell, 22, and Rylie Granados, 26, of Primally Pure, a Southern California skincare company that makes non-toxic products for men and women. Cornell and Granados took some time to chat with the Chef Works blog about the products, their day-to-day routine as skincare chefs and why they love their Chef Works aprons!
How does one get into the business of being a skincare chef?
Ashley Cornell: I originally wanted to do floral design, so I was working with flowers and I was really in love with nature and anything that had to do with plants. Loving flowers turned into me loving rose water and I started to make that on my own. A friend told me about Primally Pure and they told me about all of the natural products they use made from plants. I started to use the products and that turned me into loving skincare and wanting to help my skin by using natural ingredients.
Rylie Granados: I just kind of dove right in. I didn't necessarily have a lot of background in manufacturing. I had always worked in retail. This was a new venture for me. I had worked in the makeup and skincare line so I guess I had a little bit of background, but nothing behind the scenes. It's been really cool to actually see how products are made. I had been selling these products, but now I'm the one behind the scenes and helping to create them.
Take me through an average day.
RG: On an average day, we get our schedule of what needs to be completed from start to finish and it's always based on what the demand is and what is most popular. We usually start with our deodorant first because that's usually the top priority because it's one of our top sellers. Our charcoal deodorant is really popular so both of us are involved in creating that from start to finish.
What do you love most about the job?
AC: I would say the best part of it is that while we're meeting demand, every day we get to do something new and different. You get to be creative and expressive in what you're doing. It helps when you believe in the product and you love what you're making. That makes going to work each day really satisfying. We love our collectors and the people we work with.
What do you love about your Chef Works Dorset Apron?
AC: This job can get messy. Very, very messy. All of our products are clean and smell delicious, but by the end of the day I'm usually covered with deodorant so my apron does a great job keeping everything off of my actual clothes. My apron always smells good though! It's super stylish and I love having the pockets. We use box cutters a lot so having everything within a hand's reach is great.
RG: I love the length of it. When deodorant splatters on me, it always seems to cut off right at the pants, so it's the perfect length. I also love the pockets. I use our baby balm all of the time to keep my hands from drying and cracking out so it's always right there in the front where I can reach it. And they look great!