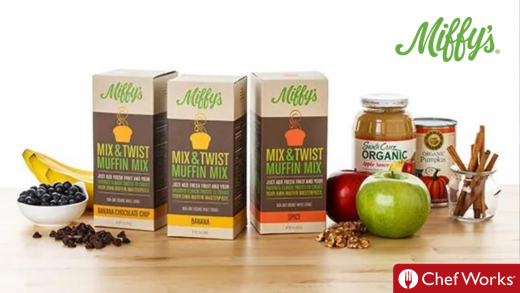 Ever wondered how to turn your passion into a thriving entrepreneurial venture — while also keeping the planet in mind?
Meet Miffy Jones: the owner and founder of Miffy's Foods, a sustainable baking mix company based in Portland, Oregon. Formerly a film producer for Nike, Miffy contributed to filming campaigns featuring iconic figures like Michael Jordan and Lebron James. After raising a family, she developed a passion for creating a brand centered around simple ingredients and three core values: health, wellness, and sustainability.
"Great ideas start small," Miffy says. Born in Melbourne, Australia, Miffy credits her Greek mother with being a major influence in how her own story begins — a story we'll explore in this Chef Works exclusive.
A family tradition continues
"I think I am definitely a product of my environment," she says, fondly describing her mother as "a tiny little five foot four Greek lady who took command of the kitchen…[saying] 'Hey, we are not going to have sugar. We are going to have all whole grains. We are going to bake everything fresh and from scratch.' And not only baking, but cooking savory stuff as well. So it was just how I grew up."
It's no surprise then that Miffy has followed a similar style in her own home, not only raising her own children on similar fare but doing the same for her food company.
"The first product I developed was the Whole Wheat Muffin Mix. I just did it for my kids, my family and friends because there was nothing available that was both healthy and tasty — then people would say, 'This is really good. You should take it to retail.'"
Great taste and zero waste
Miffy's Muffins thrive on the concept of using overripe fruit, especially "grumpy bananas" as she calls them. Back in the '70s, her mother practiced salvaging whatever they could. It wasn't driven by some trendy fad, but came from a practical approach to making the most of what they had. Overripe bananas, slightly bruised peaches, or ready-to-be-enjoyed blueberries all found second lives in baked treats.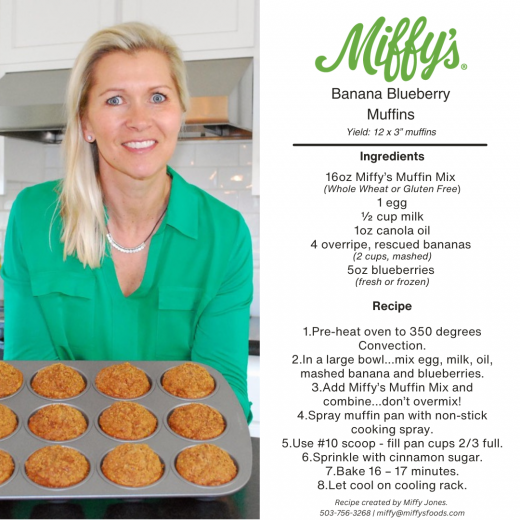 "It was considered smart and being grateful for what we had," she shares, painting her choices as practical. "It was just built into the fabric of our lives that we would not waste anything. My mom relied on the overripe fruit — bananas, berries, peaches, and everything throughout the seasons to sweeten her baked goods. That, to me, is where my passion lies."
Her 'Just do it' moment
Miffy started her career in the USA as a Film Producer at Nike World HQ, in the Brand Design Department in the late '90s. Some of her inspiration came from witnessing the basketball greats pursue their passion. "They didn't shoot hoops to become famous, it was obvious to me that they were just compelled to do what they loved." Nike's founder, Phil Knight, was another source of inspiration.
"I was working out at Nike," Miffy recalls, "and walking across campus one day I thought, If Phil Knight can start a brand, so the hell can I. Ground breaking ideas come from anywhere and everywhere, who would've thought a waffle iron could be the inspiration for a global footwear company!"
A lot of the beginning parts of getting into food were winding and practical in consideration. After deciding to focus full time on her young children and leave Nike to become a stay-at-home Mom, it took two years for Miffy's decision to start her business. During the early days with her first business model of the retail sized Muffin Mixes which were very popular in the high-end grocery stores, she was invited to be a vendor at the Nike Farmer's Market.
During this time, the head dietician at Nike, seeing the perfect health and wellness fit and loving the muffins, asked if she could bake and deliver these muffins every day for the whole campus and its 16 cafes — so Miffy started a commercial kitchen as a second business model, developed and introduced new menu items and grew the business exponentially over the next four years.
Baking in her boundaries
Soon after, she realized that managing employees and all the intricacies that combine for the smooth operations of a large kitchen, wasn't where she wanted to devote all of her time. But what it did highlight was the beginning of one of the key tenets that successful chefs and entrepreneurs rest on: a central tenet of partnership. Miffy had acquired numerous local accounts, not only Nike but also the nearby Intel headquarters in Hillsboro, Oregon.
Through these ventures, she was invited to become a contracted vendor for Compass Group, the global leader in food service management. This took her further along the road, developing connections, where she was introduced to Foodbuy USA, the procurement company for Compass along with many other accounts and members.
Then COVID hit, and as they say, necessity is the mother of invention.
Scale up, buttercup
Miffy closed up shop at her commercial kitchen. She shifted her focus to food service sized 25-pound bags of baking mixes, which are shelf-stable and compatible for all markets, whether it's large commercial buyers or smaller solo customers.
Spanning the prior eight years of her company, and having her former creative career in her back pocket, she invested a lot of thought and energy into the part she likes the most: Branding and Marketing. "People still say, 'Oh, you're still making the muffins!' I like to add, 'Well actually, I set out to create a brand. I don't just make muffins.'"
After fully restructuring the business for Food Service and obtaining her Woman Owned certification, Miffy was invited to apply for the Foodbuy Diverse Supplier Accelerator Group in late 2021.
She was one of ten companies in North America accepted into the 2022 group, which has propelled her reach and trajectory across multiple sectors. It also offered a huge platform to highlight her three core values and initiatives: sustainability being the most near and dear to her heart, and what she learned in her childhood home, which is rescuing overripe fruit and reducing food waste. As she points out, "Working with Compass Group and Foodbuy, health and wellness is the norm, the standard. But joining forces for the sustainability aspect of reducing food waste is something very rewarding and special!"
Pathways to partnership
Miffy's ten year mission was to rescue 450 tons of overripe fruit by 2030, already saving a stunning 26 tons in the first half of this year alone. Partnering with Compass, Foodbuy and her other accounts, she's determined to keep the momentum going and has accelerated her sustainability goal to upcycle 450 tons of overripe fruit every year. That's the equivalent weight of 450 elephants every year being saved from the landfill. Her mantra is refreshingly simple, "Together, we can do our part for the planet and serve the most delicious, healthy and innovative pastries and breakfast breads at the same time! What's not to love about that?"
With a Whole Wheat Muffin Mix, Gluten Free Muffin Mix and Whole Grain AP Baking Mix her product range hits the sweet spot and offers 100+ recipes. This year in 2023, her company's success has skyrocketed, tripling her accounts and sales with exponential growth.
Ultimately, Miffy's triumph lies in vibrant, sustainable growth fueled by passionate yet reliable partnerships.
Paving the way for passion
Miffy is combining health and sustainability, whipping up products that tackle food waste head-on. She states, "Ultimately, impact is more important to me than income."
For aspiring chefs and entrepreneurs, Miffy's journey offers priceless lessons. Nurturing a company requires strong client relationships. Embracing collaborations with accelerator groups can be a game-changer. And, passion is a must-have.