While you're busy running service, we're scouring the Internet in search of the latest and greatest stories to hit the airwaves. This week, we take a road trip through the best BBQ trails in the country, an $8 wine takes home top honors, and Conde Nast helps with your summer travel plans with their roundup of the best rooftop bars in the world.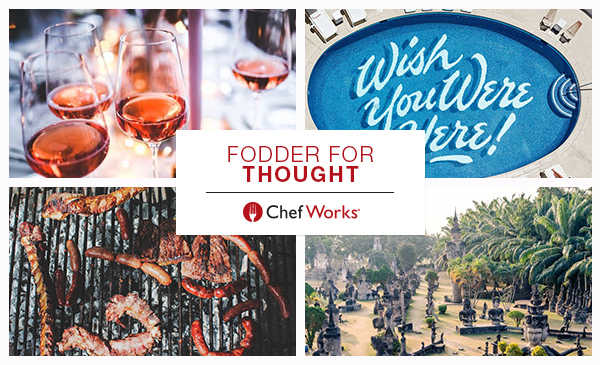 Fire up the grill and get ready to hit the BBQ trail – Tasting Table's top stops around the country include everything from mind-altering brisket in Austin, Texas, to traditional kalua pork in Honolulu, Hawaii, and is making our stomachs pine for some good ole Americana grub.
Eight bucks doesn't get you much these days – but it does buy you the best bottle of rosé out there. Grocer Aldi's Exquisite Collection's Côtes de Provence, which rings up for a mere $8, took top honors at the International Wine Challenge, the industry's most prestigious competition. During a blind taste test of almost 13,000 bottles, Aldi's rosé earned second place for its intricate mix of "strawberry, white fruit, and subtle spice." So for less than the price of a Dominos pizza, take a step away from your usual Chardonnay and sip on this rosé champ – your credit card and taste buds won't regret it.
From the islands of Greece to the jungles of Rwanda, Travel and Leisure just released their list of the best places to go in 2017, and we are freaking out. The destinations that made the list aren't all a 15-hour flight away, with some culinary hotspots right here in the U.S and beach destinations in the Caribbean, there is an abundance of options for every itinerary. So get your passports renewed, your binoculars cleaned, and use those miles you've been saving, because the world is waiting and these destinations are sure to knock your socks off.
Let's be honest – the best part of any vacation revolves around the food and drinks…well mostly the drinks. With this new list from Conde Nast Traveler, the best rooftop bars around the world are leaving us wanting more and most importantly, another drink. From the rooftops of London to the terraces of Ecuador, these bars will not disappoint and the drink lists are revolutionary.