While you're busy running service, we're scouring the Internet in search of the latest and greatest stories to hit the airwaves. This week, Bon Appetit profile women in the culinary world, Travel and Leisure travel across the country in pursuit of the best milkshake, discover the secrets of Shake Shack, and give Dad the ultimate gift using Tasting Table's ultimate gift guide.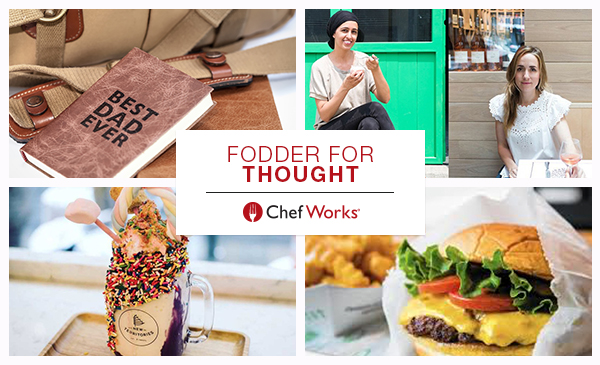 Bon Appetit | 7 Women in Food Share Their Best Career Advice
The culinary industry has a reputation for being rough, and if you're a woman – well sometimes it may seem as though the deck is stacked against you from the get-go. Bon Appetit spoke with seven female culinary power players, ahead of the FAB workshop for women in hospitality, and asked for some useful advice for those just starting out in this wonderful, wild, and sometimes plain frustrating world of food.
Travel and Leisure | Where to find the best Milkshake in the U.S.
With summer just around the corner, there is nothing better than a cold milkshake on a hot summer day. Whether you stay simple with chocolate or vanilla or shake it up with a topping of gummy bears, Travel and Leisure has the ultimate list of top milkshakes across the country. From Kaminsky's in South Carolina to the Burger Joint in Houston, these creamy blended drinks will keep you coming back for more. And more. And then maybe one more.
Tasting Table | Love Shack
Shake Shack may just be one of the most successful burger chains in history. Founded by culinary master Danny Meyer, Shake Shack has spawned a fast-casual revolution – and it all started with… Chicago-style hot dogs in Madison Square Park (yup, you read that right). Read all about the meteoric rise of this burger joint, and learn how you can recreate their famous smashed burgers at home.
Tasting Table | Father's Day Gift Guide 2017
We're a hop, skip, and few days away from Father's Day – and Tasting Table has a whole array of Dad-centric gifts that are sure to please. While stressing and shopping, just remember: it doesn't matter if you get him the new Nespresso or make him a handmade card, the importance is being together. And laughing at his dad jokes. They like that.
SaveSave
SaveSave