While you're busy running service, we're scouring the Internet in search of the latest and greatest stories to hit the airwaves. This week, the James Beard Foundation names it's 2017 semifinalists, Merriam-Webster adds some new and funky food words to the dictionary, and Michael Bolton serves up third wave coffee with a catchy tune.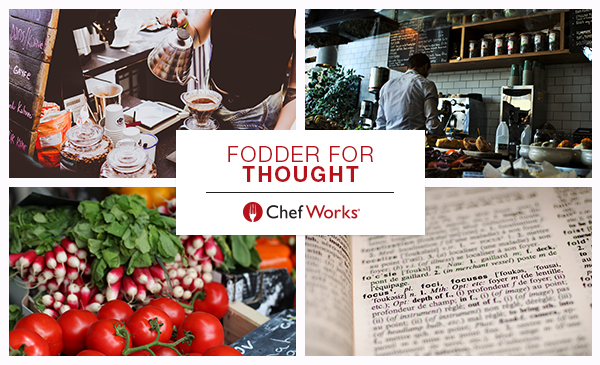 Meet the 2017 Restaurant and Chef Award Semifinalist | James Beard Foundation
The "Oscars of food," the James Beard Awards is easily one of the most coveted culinary honors. Celebrating the best of the best in the worlds of food, dining, and culinary writing, this year's list of semifinalists include such heavy hitters as Dominique Crenn (Atelier Crenn, San Francisco), and Kevin Gillespie (Gunshow, Atlanta). With nominees from around the globe, hungry diners won't have to venture far to sample some potentially award-winning cuisine.
Merriam-Webster Just Added These 30 Food Words to the Dictionary | Food52
Olericulture has officially gone mainstream. Merriam-Webster, the authority on the spoken word, announced last week that it's added 1,000 new words to the dictionary, including 30 new food-related words that are sure to send tongues wagging and kitchens spinning. From acai (a small, dark purple, berrylike fruit) to strata (a dish that is made up of layers of bread, cheese, and meat or vegetables), Merriam-Webster's additions show that food culture continues to enter the conventional cultural vernacular and shows no signs of stopping anytime soon.
20 Flavors Poised to Pop | Restaurant Business
Step aside Sriracha, there's a new trendy flavor in town. Or twenty new flavors, according to Restaurant Business. Looking at the most popular menu categories: burgers, sandwiches, pizza, sides and desserts, Restaurant Business reports that there is a distinct rise in breakout ingredients, with creative restaurateurs and chefs emboldened to reach for flavor-boosting spices to increase sales. Marco trends that are driving the flavor craze forward include Southern regional dishes, unique and housemade condiments, and healthy toppers to balance bloated plates. So grab your Nashville hot chicken and top it with a kale leaf, 2017 is bound to be a wild ride in the world of food.
Michael Bolton Goes Undercover at a Third Wave Coffee Shop | Eater
Everybody's favorite mid-90s crooner plays barista for the day and proceeds to sing coffee orders to unsuspecting hipsters at third wave coffee shop Alfred. No words needed on this one, just press play.