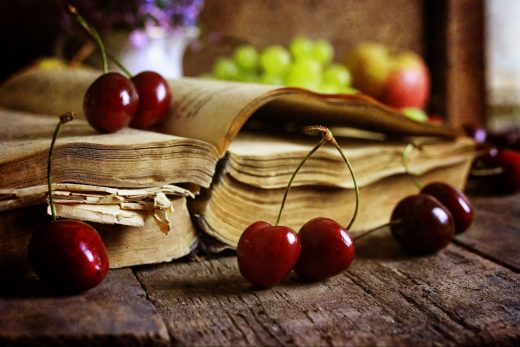 Books are consumed and devoured, not unlike a cheeseburger. 
This edition of Weekly Bites reviews three stories of how the worlds of books and food collide. 
Food has always been part of the literary imagination, just like words are important in the food industry. Food captures our imagination because of its ability to create something entirely new out of basic ingredients. Magical realism novels (e.g. Like Water for Chocolate) and historical fiction novels (e.g. Outlander) tend to heavily feature food, showcasing our fascination with food as both a source of magic, and a window into the daily lives of those who lived before. 
Many fantasy series — like Harry Potter, Game of Thrones, and Lord of the Rings — have even inspired their own cookbooks based on the dishes described in these fan-favorite books. 
For many fantasy novels, food becomes part of how we imagine new worlds. 
From chefs as heartthrobs in romance novels, to Sci-Fi predictions of the future of food, and how to literally bring books and food together under one roof, we take a look at three stories that tell the tale of the love affair between food and the literary imagination. 
Although often ignored by the upper echelons of literary critics, romance novels are progressive works that focus on (mostly) female pleasure and the fantasy of passionate love and partnership. 
While romance novels usually elicit the image of the sailor/carpenter/businessman "bodice ripper," there is a new hero emerging in the romance novels of today — the chef. 
The tortured hero is a favorite trope in romance novels, and love interests tend to be in positions of power and authority that nonetheless leave emotional scars (think: firefighters and doctors). With the long hours and emotional toll of kitchen work, chefs are now joining that cadre of sexy-yet-tortured successful heroes. 
"The thing that's sexy about power is the possibilities and freedom that money gives you under capitalism…You can do what you want, because you have the means," says author Akwaeke Emezi about why their book, You Made a Fool of Death With Your Beauty, centers around a Michelin-star chef. 
Chefs are the perfect mix of the gentle provider and the commanding boss who can run a business and make a lot of money (it is fiction after all, so everyone makes a lot of money). 
In the romance novels of 2022, chefs are not just the male side of white, hetero romances. Featuring chefs in romance novels coincides with a new wave of romance books that feature all kinds of love stories. Perhaps the use of chefs as the heroes of diverse stories reflects how the world sees the culinary industry — as a more diverse industry where anyone can be successful. If so, this is good news for an industry that has been increasingly celebrating diversity. 
While novelists have helped us understand how people may have eaten in the past, or in pre-industrial fantasy worlds, Sci-Fi authors are helping us envision how the food industry might look 100 years into the future. 
Bon Appetit interviewed a handful of Sci-Fi authors and asked them for their wild takes on what we'll be eating and drinking in 100 years. Predictions ran the gamut from using ingredients like crickets and plankton as our main sources of protein, to the prediction that iconic brands like Le Creuset will always be part of our kitchens. Other authors predicted oversized produce farmed by robots, a kind of logical extension of GMOs (genetically modified foods). As with many predictions of the future, 3D printing plays a part in the imagination of future food. One author imagined beans farmed in Venus being used in a paste and 3D printed in the shape of a tortilla chip (because, of course, our love of tortilla chips will never fade). 
While some of these ideas may seem wacky or unlikely, the imagination of the future always starts with projecting from the present. With climate change affecting the food supply chain, there's a serious question in the culinary industry of what our food will look like in the future. Instead of viewing these futuristic projections as a cautionary tale, you can also use them as calls to action in our present to change the course of our future. For example, could we not think about using underutilized proteins like crickets (as many cultures currently do) instead of continuing to consume resource-intensive cattle? 
Cafés and books go hand in hand, and not just in the movies. For many readers, there is no greater pleasure than sitting with a good book, sipping a hot beverage, and nibbling on a scone. It used to be that our only options were chains like Borders and Barnes & Noble. However, we are currently in the age of the independent bookstore-café. 
These establishments provide books, drinks, and sometimes food under one roof. Some establishments, like Yu and Me books, are setting themselves apart by curating both their menus and their book selections. Yu and Me offers books that center around the immigrant experience, and they also carry the message of diversity and inclusion in their menu by partnering with local vendors from marginalized communities. 
Combining books, beverages, and food is a great way to support local businesses. For example, bars and cafés can partner with independent bookstores to source their literary collection, and bookstores can partner with local bakeries and coffee shops to provide the nosh. 
The world needs more bookstore-cafés, so consider this your invitation to create one in your own city. 
Food will always be a part of the literary imagination, just as books are an endless source of inspiration. Have you ever been inspired by a book? 
~~~~
Chef Works blends fashion and functionality to provide chefs and other industry workers with apparel that looks good and gets the job done. Have you explored our online catalog today for the latest styles?