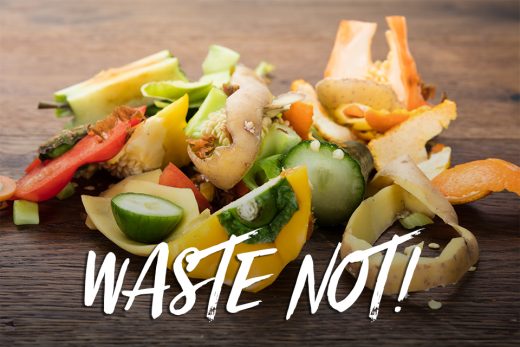 The farm-to-table movement had its time. Now another, more pressing movement is needed to protect the globe's natural resources. Chef Rob Ruiz calls it farm-to-table-to-soil. And if the world doesn't get on board, we could be setting ourselves up for what he calls a "genetic catastrophe."
"Our duty as chefs is we are stewards of the food — which means we are stewards of the land, we are stewards of the sea and we are providing a service of providing sustenance to our communities," said Ruiz, executive chef and owner of The Land & Water Co. restaurant in Carlsbad, Calif. "No one can be in that position without finding the red flags and finding the concerns."
Ruiz is one of more than 30 chefs and mixologists who will be competing this weekend at WASTED: A Celebration of Sustainable Food in San Diego. The aim of the event is to raise awareness about the issues of food waste and sustainability. Chef Works is the title sponsor and all money benefits Kitchens for Good.
"The only way that we're going to be able to get out of this problem is we have to eat our way out of it," Ruiz said. "We have to spread the awareness as chefs that this isn't someone else's job. I have dedicated my life, my ethos, my philosophy is that I'm going to find the sources of these problems and fix them."
Ruiz isn't alone in his quest. Some of the nation's most celebrated chefs and food sustainable advocates will be cooking in a three-part competition – savory, cocktails and desserts — to raise awareness and funds for Kitchens for Good. KFG uses sustainable food to fuel its culinary program while helping students – many of whom have faced adversity – gain employment in the food industry.
Among those competing is Davin Waite, executive chef of Wrench + Rodent and food sustainability advocate.
"For the first time ever, chefs have a unique platform to educate and lead by example," Waite said. "There is a tremendous amount of food waste in our industry. The solution is not only simple and good for the planet, but can lead to a more interesting and delicious culinary experience."
A study published earlier this year by researchers from the University of Vermont, the University of New Hampshire and the Department of Agriculture estimates that enough food to feed approximately two billion people is wasted each year. They report the average person in the United States wastes about one pound of food per day.
That also takes its toll on the environment — impacting approximately 30 million acres of cropland and wasting 4.2 trillion gallons of water. Ruiz – who has won numerous awards for his ocean conservation efforts – also sounded the alarm about the strain food waste puts on farming.
"We're setting ourselves up for genetic catastrophe by only growing one species of corn and one species of soybean all across our farm belts," he said. "As soon as one of those falls victim to a parasite or plant ailment, the entire system will collapse and we'll be left with a dust bowl scenario.
"People just need more information. It's events like WASTED and having all of these chefs come together and have a chef's congress and discuss ideas and organize and to work more with farmers and share the ways we've learned to eliminate waste."
Chef Maeve Rochford, who won the 2017 Holiday Baking Championship on Food Network, will be competing in the dessert competition.
"Shared food can stop wars," said Rochford, executive chef and owner of Sugar and Scribe. "That's how important what we do is. Sustainability in food is a necessity to honor our past and nourish the future generation."
---
For details and ticket information about WASTED, visit www.wastedcelebration.com