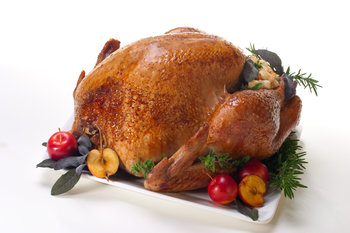 Going gluten-free on Thanksgiving is much easier than you might think. Here are six recipes to help you plan your gluten-free Thanksgiving.
Turkey
According to About.com, "You can't go wrong with a fresh turkey. Fresh, plain turkeys—those without any added broth, spices or other ingredients—are always gluten-free. Don't open any gravy packet that's included with a turkey, though—those almost certainly contain gluten. If you prefer smoked or pre-flavored turkey, don't buy it unless you can verify it's gluten-free."
You can also make your dry-rub at home like this Turkey Spice Rub recipe featured on GlutenFreeGirl.com. It's made with kosher salt, turbinado, garlic powder, fennel powder, fennel pollen, ground white pepper, ground black pepper, ground ginger and paprika.
In a small bowl, combine your rub ingredients and set aside. Coat your turkey in some kind of fat such as butter or duck fat. Next rub your turkey with the spice mixture, leaving it to set in the refrigerator overnight. The next day, roast your turkey for about 20 minutes in a 450-degree oven. Reduce oven temperature to 375 degrees and roast for another 1 1/2 hours.
Stuffing
Just because you're eating gluten-free, doesn't mean you have to miss out on your favorite Thanksgiving stuffing. In fact, it's pretty simple to make gluten-free stuffing. And, once you add the right spices and other ingredients, it's likely to taste just as delicious as the traditional stuffing you remember.
Try this Gluten-Free Bread Stuffing from WholeFoodsMarket.com. It starts off with gluten free bread cubes, shallots, onions, celery, carrots, salted butter, dried sage, thyme, white whine, gluten free chicken broth and a few other essential ingredients.
In a 300-degree oven, carefully toast your bread cubes for about 20 minutes. Meanwhile, sauté shallots, onions, carrots and celery in butter until caramelized. Add spices and wine and cook according to recipe. Then, in a large bowl, toss bread cubes with mixed vegetables, broth and parsley. Transfer to a baking sheet and bake for about 20 minutes in a 325-degree oven. What's even better? This recipe is only 180 calories per serving.
Mashed Potatoes
Like fresh turkey, there's no reason for mashed potatoes to contain gluten. Make yours with fresh potatoes, butter and some milk. 
"Mashed potatoes with roasted garlic and gluten-free gravy is a perennial crowd-pleasing gluten-free combination," said a recent article on About.com. This is a perfect side for your Thanksgiving turkey or even an everyday meat or poultry dish.
This Smashed Potatoes with Roasted Garlic recipe from About.com are quick and easy to make. Start with the following ingredients: two Russet (or baking) potatoes, scrubbed; 3 cloves garlic, peel on; ½ stick butter; ¾ cup sour cream; and Kosher salt, to taste. 
Roast unpeeled garlic for about 20 minutes in a 375-degree oven. Meanwhile, boil potatoes in a large pot of salted water. When potatoes are tender, cut potatoes and add rest of ingredients according to recipe. Serve with gluten free gravy and enjoy!
Vegetables
There's always room for fresh vegetables at the Thanksgiving table. To stay gluten-free, simply make sure to avoid any store bought sauces for your veggies. For instance, instead of a heavy green bean casserole, bake your green beans with a little salt, pepper and olive oil. They'll taste crunchy and absolutely delicious.
If you're looking for a side dish that's a little more creative, we recommend these Roasted Parsnips and Carrots featured on FoodNetwork.com. To make them, you'll need two lbs. peeled parsnips, one lb. unpeeled carrots, olive oil, kosher salt, fresh ground pepper and minced fresh dill. Season vegetables according to recipe and toss into a 425-degree oven for 20-40 minutes.
Cornbread
Light and fluffy cornbread is a must-have at your Thanksgiving gathering. With this Old Fashioned Gluten-Free Cornbread featured on GlutenFreeOnAShoestring.com, you won't even miss the old store-bought bread.
Start with two cups of coarsely ground yellow cornmeal, kosher salt, baking soda, one egg, unsalted butter, plain yogurt and honey. Mix ingredients according to recipe to create a batter. Pour into a cast iron skillet and bake in 400-degree oven for 20-30 minutes. Slice and serve immediately.
To make your cornbread even more unique, try adding apples and thyme like in this Gluten Free Skillet Cornbread Recipe featured on About.com. According to the website, "Gluten-free cornbread with apples and thyme is a flavorful diversion from plain, often dry and bland cornbread. Apples add moisture and natural sweetness and thyme adds a nice savory note."
Pumpkin Pie
"The trick to making a decent gluten-free pie is placing the emphasis on the filling, not on the crust," notes a recent article on About.com. "That being said, though, it's not difficult to make a decent gluten-free pie crust, or you can buy one pre-made and frozen at many high-end grocery stores."
Check out this Gluten-Free Cream Cheese Pumpkin Pie from BettyCrocker.com. The crust is made with three simple ingredients, including gluten-free mix, cold butter and water. For the filling, start with four ounces of softened cream cheese, sugar, vanilla, cinnamon, ginger, nutmeg and a few other essential ingredients. Create mixture according to recipe and bake in a 425-degree oven for 10-12 minutes. Let cool and enjoy.
Are you planning a gluten-free Thanksgiving this year? Tell us what recipes you'll be making.